Jelly Deals: Humble Capcom x Sega x Atlus bundle live now
Sonic Generations! Resident Evil 4! Bionic Commando!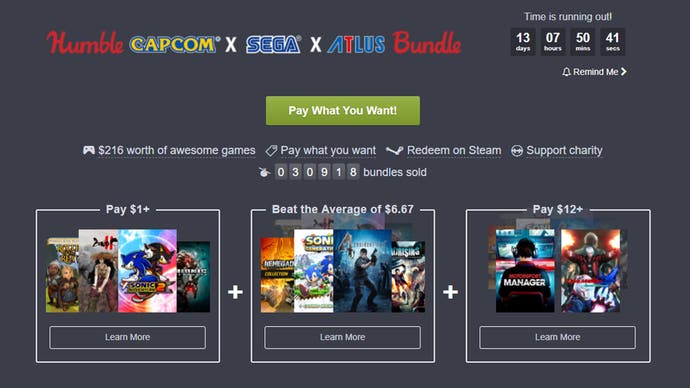 A note from the editor: Jelly Deals is a deals site launched by our parent company, Gamer Network, with a mission to find the best bargains out there. Look out for the Jelly Deals roundup of reduced-price games and kit every Saturday on Eurogamer.
---
Who, other than Humble, would give you chance to pay a maximum of $12 (around £9) and get games involving Sonic the Hedgehog, Frank West, Mike Patton's voice and a hideous beast known only as Father-Mother? I'd be willing to take bets that it's not a combination you're likely to find anywhere else.
Today, however, you can grab all of that from Humble itself, as a part of the site's latest offering - the Humble Capcom X Sega X Atlus Bundle.
Weird naming and seemingly arbitrary publisher pairing aside, there are some top-notch titles involved here, including the (in this writer's opinion) underrated and very ridiculous Bionic Commando remake from around ten years ago. That's the one starring Mike Patton from Faith No More as the man with the robot arm, which is somehow the least ludicrous thing about it.
Also up for grabs here is Renegade Ops, which is a wonderful game that harkens back to the old Strike series of games of the Mega Drive era, Sonic Generations which I've been told is 'pretty alright', and the HD remaster of the original Dead Rising.
Here's what your money will get you:
Pay what you want
Rollers of the Realm
Zeno Clash 2
Sonic Adventure 2
Bionic Commando
Citizens of Earth
Pay more than the average
Renegade Ops Collection
Sonic Generations Collection
Resident Evil 4
Dead Rising
Tesla Effect: A Tex Murphy Adventure
Pay $12 (£9.04) or more
Motorsport Manager
Devil May Cry 4: Special Edition
Oh, man, how did I miss Tesla Effect: A Tex Murphy Adventure being in this bundle in that earlier paragraph? If silly FMV games and noir films are your thing, that's worth the $6 / £5 to 'beat the average' alone.
Better still, purchasing the bundle and beating the average will also get you a voucher for 50% off one selected Sega, Capcom or Atlus game (as long as they were released prior to July 2017). Neat!

Pay what you want for the Humble Capcom X Sega X Atlus Bundle
Alternatively, you can be partially responsible for the end of the gaming industry with Humble's other bundle - the Hunie Sakura bundle.