Fortnite's about to host the world's biggest boy band
Life and Seoul of the party.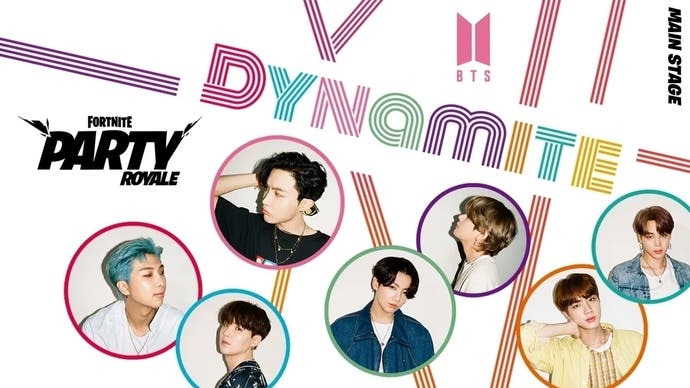 Fortnite's already invited a series of prominent musicians to perform through in-game events and its Party Royale mode, and we've so far seen Marshmello, Deadmau5 and Travis Scott take to the virtual stage. But the next one could be the biggest of them all, as K-pop group BTS is heading to Fortnite.
(Look, I know the demographics of Eurogamer's readership, so I know you likely haven't heard of BTS before. I promise you, these guys are a big deal.)
Playing inside Fortnite's non-violent Party Royale mode, BTS will debut a brand new choreography version music video of the single Dynamite - an English-language single which spent two weeks at the top of the Billboard Hot 100 earlier this summer. After the premiere, players will be able to enjoy a "Dynamite (Tropical Remix)" afterparty with karaoke graphics, so you can carry on singing along long after the performance is done.
And, because it's Fortnite, you can buy a "BTS Dynamite Bundle" complete with two emotes choreographed after BTS. That'll set you back 800 V-bucks if you want to dance like Suga.
For those who need a quick explainer, BTS is a seven-man South Korean group that's frequently been heralded the biggest boy band in the world, and with good reason. Last year the group brought in $130m in sales from merch alone, and accounted for $4.65bn of South Korea's GDP (via The Hollywood Reporter). Last year they became the first group in Billboard history to spend five weeks at number one on the Billboard Artist 100 chart, and have so far managed to surpass 20m cumulative album sales in South Korea. Oh, and BTS stands for Bangtan Sonyeondan or "Beyond the Scene", by the way.
As choreography plays such an important role in K-pop videos, and Fortnite is pretty well known for its dances, this seems like the perfect combination - and one that's likely to result in some hefty viewing figures. If you want to stay up late to catch the show (or find out what K-pop is all about), you can tune in at 1am UK time on 26th September.