Fortnite's eye-popping live concert hits 12.3m all-time player record
UPDATE: Nearly 28m across all performances.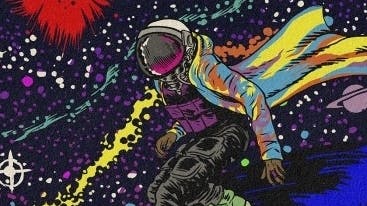 UPDATE 28/4/20: Some final figures for Fortnite's Travis Scott concerts are now in and, all told, 27.7 million people showed up over the course of three days to watch.
There were 45.8m viewings in total - suggesting many players attended multiple viewings.
Of course, it helps many of us are playing more video games inside than usual - and there are few other concerts right world to attend. But this is another hugely impressive figure for Fortnite, after another dazzling event. You can watch the concert in full via the original article, below.
Thank you to everyone who attended and created content around the Travis Scott event!

Over 27.7 million unique players in-game participated live 45.8 million times across the five events to create a truly Astronomical experience. 🤯🔥 pic.twitter.com/LSH0pLmGOS

— Fortnite (@FortniteGame) April 27, 2020
---
ORIGINAL STORY 24/4/20: 12.3 million people played Fortnite last night to join in the game's Travis Scott concert, as countless millions more watched streams of the event online.
It's an all-time player record for Fortnite, with around two million more in-game than for last year's Marshmello gig.
Where Marshmello's set was a fairly straightforward stage experience, last night's much-hyped show was a psychedelic trip that confounded expectations it would be based around a similar stage setting.
There are several encore performances over the next few days - indeed, Fortnite billed last night as only the first of several chances to watch, in a time slot primarily aimed at American players - to help keep server load manageable.
If you can catch another show, being in-game is absolutely the best way to experience this. The next is at 3pm UK time today, followed by further shows at 5am, 4pm and 11pm on Saturday.
Over 12.3 million concurrent players participated live in Travis Scott's Astronomical, an all-time record!

Catch an encore performance before the tour ends: https://t.co/D7cfd2Vxcc

— Fortnite (@FortniteGame) April 24, 2020
If you just want to watch the show on YouTube, or recap it again, here it is in full: