Fortnite launches £10 monthly subscription offer in December
UPDATE: Star Wars crossover character leaks.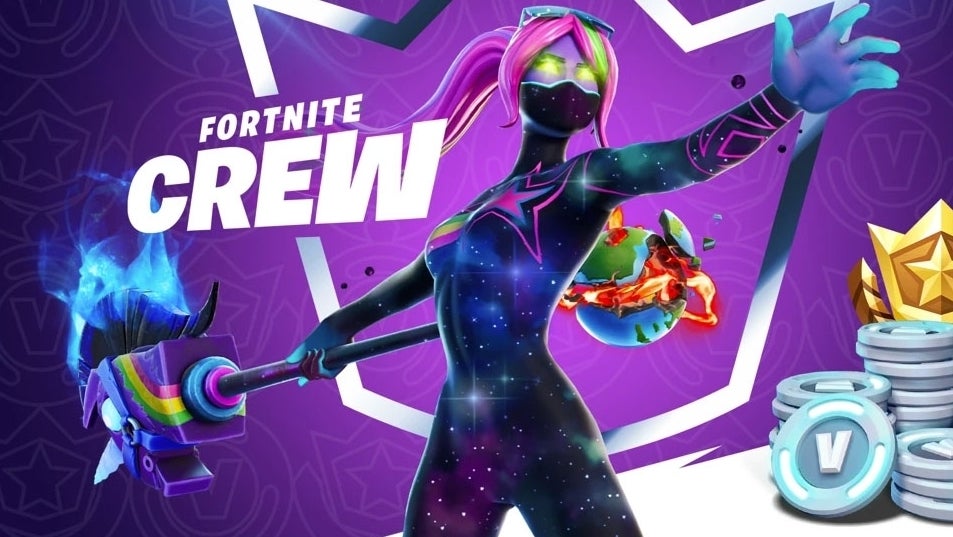 UPDATE 3.30pm UK: Amidst a flurry of activity unveiling Fortnite's new monthly subscription offer, Epic Games appears to have inadvertently revealed a major Star Wars crossover character set for the game next month.
Images showing off skins from next season's battle pass include a certain popular character front-and-centre, though reliable leak source Shiina has said this does not mean the game's next season is Star Wars focused, as the current Marvel season has been. Instead, this character is the equivalent of Aquaman a couple of season's back - a guest in a battle pass otherwise filled with original characters.
---
ORIGINAL STORY 3.10pm UK: Epic Games has confirmed it will introduce a paid subscription tier to Fortnite, beginning in December.
The optional offer, named Fortnite Crew, will cost £9.99 a month here in the UK and $11.99 in the US. It launches on 2nd December alongside the arrival of the game's Chapter 2 Season 5 season pass.
Last month, some Fortnite fans were polled on a potential subscription model, and the ultimate rollout is similar in terms of offerings to what was suggested then. It's not a new idea - Epic previously mulled an "Annual Pass" model around 12 months ago, though decided not to introduce it in the end.
Your monthly Fortnite Crew subscription will include access to the game's current Battle Pass (typically £7.99, every three months or so), as well as an exclusive cosmetics pack, and a 1000 V-Bucks (£6.49/$8) stipend.
The cosmetics available in the subscription will never be sold or made available elsewhere, Epic has said, similar to those made available in the game's battle pass already.
Roughly £10 a month is not cheap - it's more than a Netflix or Disney+ subscription - and 1000 V-Bucks does not go very far when it comes to Fortnite's bulging and often brilliant cosmetics wardrobe. Still, if the exclusive cosmetics pack on offer is tempting enough, it's easy to see how some might take the plunge - especially whenever a new season's battle pass comes around.
December's exclusive cosmetic items include Galaxia, who looks like a mash-up of Brite Bomber and the Samsung Galaxy tie-in skins, along with an associated pickaxe and back bling. Here it is: