Fortnite mulls monthly paid subscription
Marvel.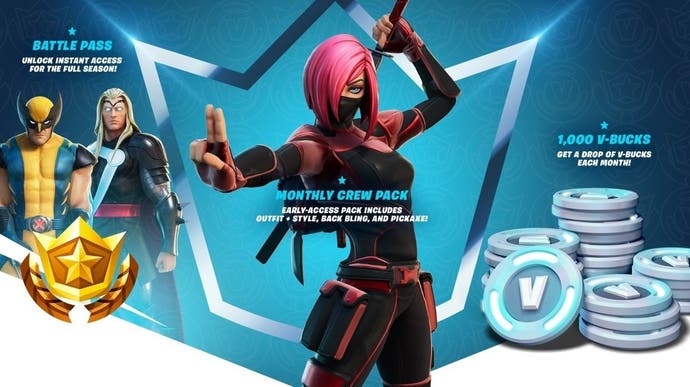 Fortnite is surveying some fans on the possible introduction of a monthly paid subscription.
What you'd pay for this subscription is one of the things developer Epic Games is keen to hear feedback on - with suggested options from between $5 and $16 per month.
Signing up would get you a monthly stipend of 1000 V-Bucks in-game currency (worth $8, or £6.50 here in the UK), a free skin set released early to subscribers, and the current season's battle pass.
Presumably whenever a new season's battle pass is released, you'd get that too. Fortnite's seasons are typically around three months long, although this can vary considerably.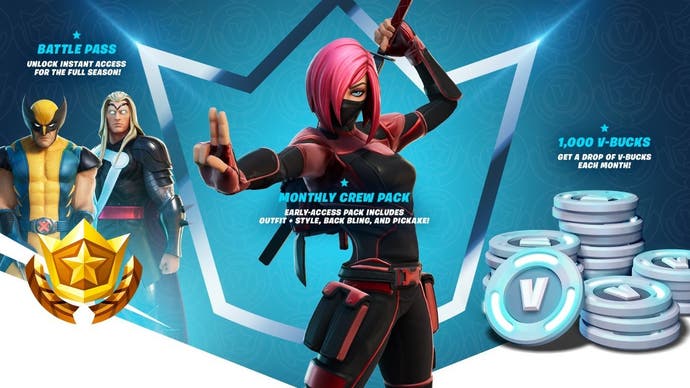 Numerous Fortnite players reported receiving the survey (thanks, Firemonkey) and there's a generally positive response for the option. Some have suggested the price of a battle pass (£7.99) but recurring every month would not be too much, although others have pointed out 1000 V-Bucks really does not get you very much in the game at all. (Uncommon shop items cost 800, Rare cost 1200, Epic cost 1500 and Legendary cost 2000.)
It remains to be seen if Epic goes forward with the idea, but it feels like something the company has been considering for some time. Around this time last year, images relating to a proposed "Annual Pass" were found within the game's files, suggesting a similar kind of offering albeit billed every 12 months. At the time, Epic acknowledged the leak and said it related to plans it was no longer pursuing.
When contacted for more information on the proposed monthly subscription, Epic Games declined to comment to Eurogamer today.
Elsewhere in Fortnite news, the game's shiny next-gen version is now live and playable on Xbox Series X - with some beautiful results. And as the game's current Marvel-themed season draws to a close, the stage is being set for another big live event at the end of the month.