Fall Guys reveals the disgusting internal anatomy of its bean-like characters
"This is official lore now."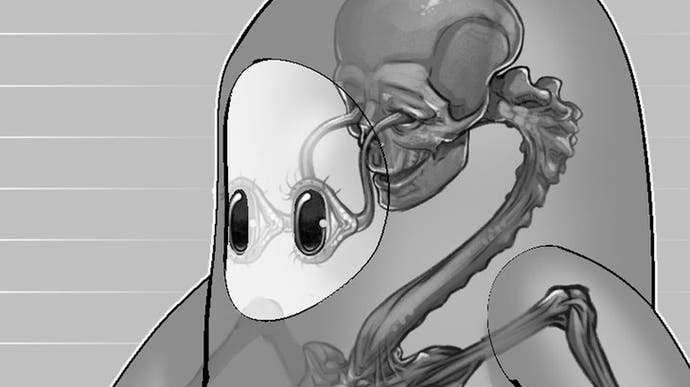 I love a good bit of video game lore, but I absolutely hate everything about this.
Fall Guys developer Mediatonic has revealed an awful piece of concept art designed to show exactly what is going on underneath your character's suit.
At first glance, you might think a Fall Guy is simply a human in a suit. You would be wrong.
While an adult human is shown in the image below for scale, it is clear the skeleton within the Fall Guys' costume is a different species entirely.
The bent legs and long neck remind us of a chicken. But then we get to the head. Oh, the head.
Well, you asked for it...

This is official lore now

Remember:

• Human shown for scale
• Fall Guys are 183cm (6ft)
• This Fall Guy is happy, look into his eyes
• We can't take it back

Official Fall Guys Artwork by Senior Concept Artist:https://t.co/OgiS6WXzno pic.twitter.com/eCLJu1DBpP

— Fall Guys - Creative Construction (@FallGuysGame) September 23, 2020
Why have Fall Guys evolved to feature eyes dangling on external stalks? Why could Mediatonic not come up with a less disturbing way to fit a skeleton in that suit?
Let us not discuss any of this ever again.