Sony reveals top downloaded PlayStation Store games of 2022
FIFA 23! Modern Warfare 2! More!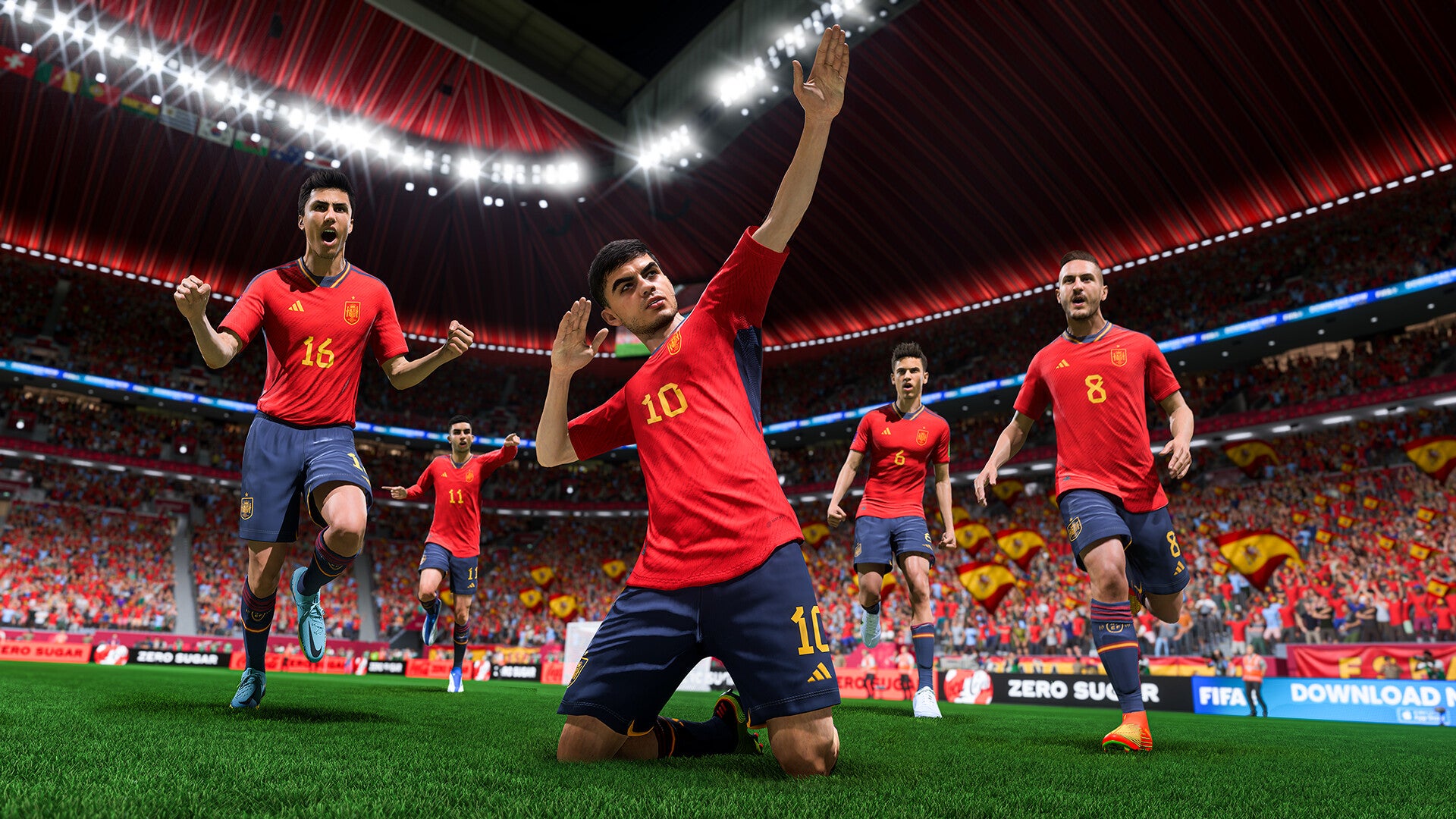 Comparative chart fans rejoice! Sony has published its annual list of top PlayStation Store downloads, revealing exactly what punters in the US, Canada, and Europe were plopping onto their PS4 and PlayStation 5 hard drives in 2022.
Of no real surprise, FIFA once again dominated in Europe, with FIFA 23 securing pole position on both consoles. Over in the US and Canada, however, big balls were swapped for big guns, as Call of Duty: Modern Warfare 2 took the lead across both platforms.
God of War Ragnarök was also, unsurprisingly, a big winner on PlayStation 5, coming in as the third biggest download of 2022 in Europe (after Modern Warfare 2) and the second biggest download in the US/Canada. It was way down the PS4 list, however, scoring 9th place in the US/Canada and 15th place in Europe.
As for Eurogamer's Game of the Year 2022, FromSoftware's majestic Elden Ring, that landed squarely at number 4 in all territories on PS5. US/Canada purchases also took it to the fourth spot on PS4, but it came in a little lower, at 9, in Europe.
Elsewhere, Sony's list of 2022's most downloaded PSVR titles shares a top three in all territories, with Beat Saber coming in at number 1, followed by Job Simulator, then Superhot VR.
On the free-to-play front, Fall Guys had a strong year, taking first place in the combined PS4/PS5 list of downloads. Fortnite and Call of Duty: Warzone/Warzone 2.0 jostled for second and third place across territories, while two big newcomers for 2022 - Multiversus and Overwatch 2 - landed at 4 and 5 respectively.
Curious sorts will find the top 10 PlayStation Store downloads of 2022 in each category below, with a full list available on the PlayStation Blog.
Top PS5 games:
| | US/Canada | EU |
| --- | --- | --- |
| 1 | Call of Duty: Modern Warfare II | FIFA 23 |
| 2 | God of War Ragnarök | Call of Duty: Modern Warfare II |
| 3 | NBA 2K23 | God of War Ragnarök |
| 4 | ELDEN RING | ELDEN RING |
| 5 | Madden NFL 23 | Grand Theft Auto V |
| 6 | Grand Theft Auto V | GRAN TURISMO 7 |
| 7 | FIFA 23 | Cyberpunk 2077 |
| 8 | Horizon Forbidden West | Horizon Forbidden West |
| 9 | GRAN TURISMO 7 | LEGO Star Wars: The Skywalker Saga |
| 10 | Dying Light 2 | Dying Light 2 |
Top PS4 games:
| | US/Canada | EU |
| --- | --- | --- |
| 1 | Call of Duty: Modern Warfare II | FIFA 23 |
| 2 | Grand Theft Auto V | Grand Theft Auto V |
| 3 | Minecraft | Call of Duty: Modern Warfare II |
| 4 | ELDEN RING | Minecraft |
| 5 | NBA 2K23 | FIFA 22 |
| 6 | Red Dead Redemption 2 | Red Dead Redemption 2 |
| 7 | NBA 2K22 | Among Us |
| 8 | Madden NFL 23 | The Last of Us Part II |
| 9 | God of War Ragnarök | ELDEN RING |
| 10 | FIFA 23 | The Forest |
Top PSVR games:
| | US/Canada | EU |
| --- | --- | --- |
| 1 | Beat Saber | Beat Saber |
| 2 | Job Simulator | Job Simulator |
| 3 | SUPERHOT VR | SUPERHOT VR |
| 4 | Creed: Rise to Glory | Creed: Rise to Glory |
| 5 | Swordsman VR | Sniper Elite VR |
| 6 | Astro Bot Rescue Mission | Swordsman VR |
| 7 | Rick and Morty: Virtual Rick-ality | Rick and Morty: Virtual Rick-ality |
| 8 | GORN | Batman: Arkham VR |
| 9 | Batman: Arkham VR | Arizona Sunshine |
| 10 | The Walking Dead: Saints & Sinners | Astro Bot Rescue Mission |
Top free-to-play games (PS4/PS5):
| | US/Canada | EU |
| --- | --- | --- |
| 1 | Fall Guys | Fall Guys |
| 2 | Fortnite | Call of Duty: Warzone/Warzone 2.0 |
| 3 | Call of Duty: Warzone/Warzone 2.0 | Fortnite |
| 4 | MultiVersus | MultiVersus |
| 5 | Overwatch 2 | Overwatch 2 |
| 6 | Apex Legends | Rocket League |
| 7 | Rocket League | eFootball 2023 |
| 8 | PUBG: BATTLEGROUNDS | Apex Legends |
| 9 | Rec Room | Rumbleverse |
| 10 | Rumbleverse | Rec Room |