Destiny 2 Mysterious Box quest steps and lock locations to get Izanagi's Burden
How to get the Izanagi's Burden from completing the Mysterious Box quest in Destiny 2.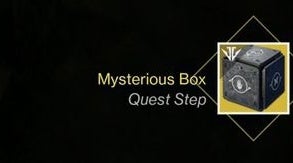 Destiny 2's Mysterious Box quest is an Exotic quest found as part of the Black Armory DLC, the first expansion in Destiny 2's second year.
It requires you to perform specific steps within each of the Black Armory DLC Forges to unlock four Mysterious Box locks, and ultimately giving you the Izanagi's Burden.
On this page:
Every step of Destiny 2's Mysterious Box quest
In brief, here's every step of the Mysterious Box quest to unlock Izanagi's Burden:
Find the Mysterious Box location from the Volundr Forge
Open the locks for the hand, a butterfly, a fishhook by completing the Volundr, Izanami and Gofannon Forges with Maximum Temper (by shooting drones mid-battle)
Get the Black Armory Key Mold quest from Ada-1
Kill Watchers in the Leviathan Underbelly, then get Glimmering Amethyst from opening Public Event or Strike chests
Clear the Bergusia Forge with Maximum Temper (by shooting drones mid-battle)
Complete a rare Black Armory Bounty
Complete the Shattered Throne dungeon
Complete a special version of The Pyramidion Strike
Complete a special version of the Bergusia Forge
Return to Ada-1 to recieve the Izanagi's Burden
It's quite involved! Thanks to xHOUNDISHx on YouTube for filling in the gaps with some of the above steps: