Battlefield Hardline single-player debuts, new multiplayer modes revealed
Far Cry influence in the solo campaign, while there's an eSports focussed online.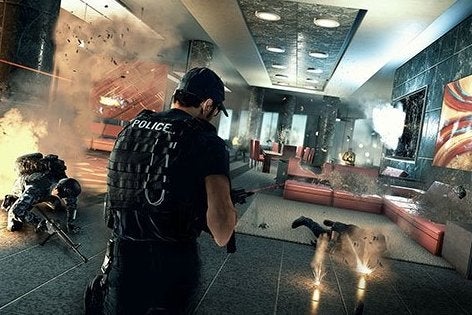 Visceral's Battlefield Hardline debuted its single-player campaign at EA's Gamescom briefing this morning, revealing a Far Cry influence in its solo gameplay, with open-ended combat and the option of stealth in encounters.
A live demo showed the lead character Nick Mendoza escaping from a makeshift prison in the Californian wilds, clearing out the camp utilising stealth and more full-throated combat. You can see it in action below, with a little commentary from Visceral Games' Ian Milham.
Two new multiplayer modes were also detailed. Hotwire is built around car chases, with cops and criminals arranged in squads that set out in pursuit of each other.
Rescue is a new mode aimed towards the eSports crowd, with quickfire rounds taking place over three minutes as SWAT teams try to extract hostages from criminals.
Battlefield Hardline was initially due out this year, but after feedback from the summer's beta was pushed back to early 2015.