Assassin's Creed Valhalla includes tattooed logo of AC Sisterhood fan movement
Brand management.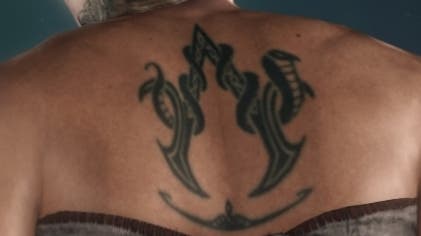 Assassin's Creed Valhalla will include the logo of the AC Sisterhood fan movement, which players will be able to wear as a tattoo.
Ubisoft team members working on Valhalla reached out to the AC Sisterhood group to request the use of the logo.
The AC Sisterhood is a fan initiative created over the summer in the wake of the wave of sexual assault and misconduct allegations involving Assassin's Creed developer Ubisoft, and after reports of how the series had suffered from repeated high-level interference to minimise the role of multiple female main characters.
The group's logo shows the Assassin's crest entwined with an asp, a reference to Origins character Aya, the Creed's founder. Despite her pivotal story role, Aya was one of several female characters throughout the series whose roles were reportedly diminished during production.
Today, we're happy to reveal that the #ACSisterhood crest will be available as a tattoo in #AssassinsCreed Valhalla!

This collaboration between our community and development team brings a momentous community effort into our game. So grateful to all those who made this possible! pic.twitter.com/UibnFUwev5

— Assassin's Creed (@assassinscreed) September 28, 2020
Writing on Twitter, AC Sisterhood Discord founder Kulpreet Virdi said the logo's inclusion was an idea from development staff at Montreal, and not a marketing effort to help bury recent bad headlines.
"PR didn't come to us for this," Virdri wrote. "This came directly from the devs. The same devs who fight for the same values that we do. This is a small act, but a BIG step in the right direction. Please don't spread false information that this is a PR stunt because it isn't."
"The reaching out dates back to when AC Sisterhood was created," added AC Sisterhood logo designer Sebastian Dell'Aria. "These are the very same devs who pushed for female leads in the first place and actively supported the movement by taking a clear position or participating in the recent fundraising. All this to say I simply will not let anyone go ahead and twist this into anything different than what it is. A step in the right direction, from the right people.
"A few are criticising the announcement but they would have criticised Ubisoft for doing the bare minimum by including the logo hush-hush. This brings us to the point. The situation for them is so delicate and complicated, the mistakes so many and hard to forget, that whatever they do, it will never come off as genuine. Yet, I was involved in this. It's OUR logo but also MY art. I saw it with my own eyes. There are people who are trying."
"It's important to understand that one action is not the end and for real sustainable changes into a culture it needs to be fed constantly from everyone until in [sic] becomes the norm," Valhalla director Benoit Richer wrote. "A culture is something that is nourished and I find very important to support women in game dev and the online communities."
Virdri has described the AC Sisterhood as a community-led initiative designed "to highlight, appreciate and support the women (including those who identify as women) in the Assassin's Creed Universe, the community and development teams", to create a "safe space for women, and to help push for meaningful change by way of better representation for women in Assassin's Creed games and for better treatment of women within the company".
Assassin's Creed Valhalla's own creative director Ashraf Ismail was one of several high profile Ubisoft employees to be fired from the company this summer, following allegations surrounding his personal life and contact with fans.
The first episode of a new AC Sisterhood podcast with Virdri and other members of the movement is available now, and features the performers behind Aya and Cleopatra, Alix Wilton Regan and Zora Bishop.
"From my experience of turning up to work, one month, and then another month, and then another month later, seeing the role get smaller was obviously a very painful and depressing experience," Regan said of her work for Assassin's Creed Origins.
"I felt somewhat insulted, on behalf of my character. Knowing what this woman had been through, as a mother grieving the death of her son, knowing she would end the game as the founder of the Creed, I found it perplexing and deeply, deeply disheartening to see my character effectively cut to ribbons throughout the process of filming and recording the game.
"But unfortunately that decision did not lie with me, and didn't even lie with the people I was directly reporting to. It did not lie with the director or vocal coach I was working with, it was much, much higher up the chain, people I never got to meet. I will never fully understand why it happened, but I will always be very sad it happened. The company as a whole missed a great oppurtunity with Aya and fans therefore missed a great experience with Aya."
Ubisoft most recently commented on the ongoing controversies ahead of the company's digital Ubisoft Forward presentation, broadcast two weeks ago. In a statement separate to the main broadcast, Ubisoft boss Yves Guillemot apologised to "everyone that was hurt". The company has since taken "significant steps to sanction or remove those that violated its values and code of conduct" and was "working hard to improve [its] systems and processes", Guillemot said.