Assassin's Creed Valhalla - comb location: How to complete the Comb of Champions quest and find Bil's Comb location explained
How to win Bil's affection by finding her comb.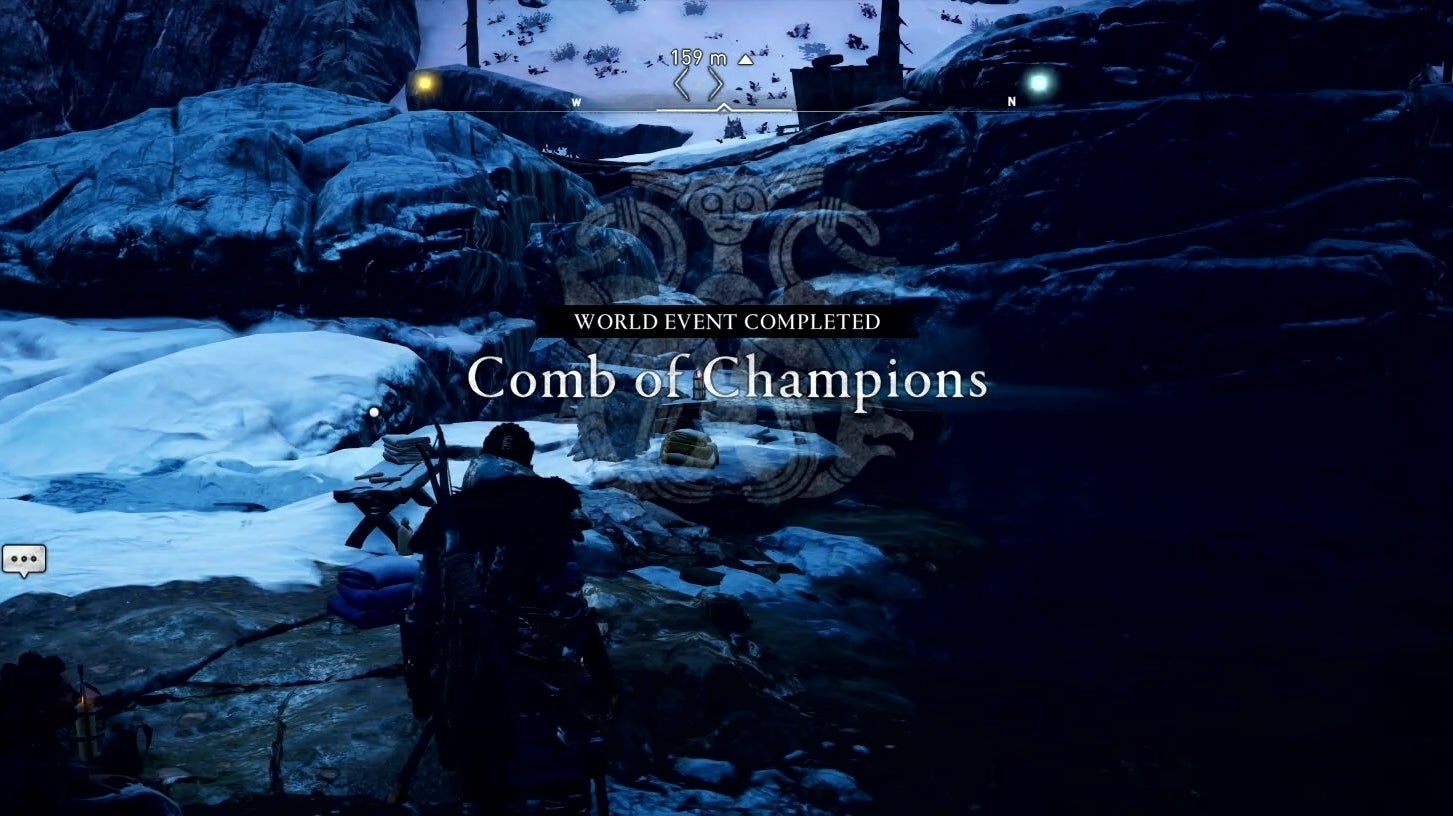 Where to find Bil's Comb is one of the first world event problems that Assassin's Creed Valhalla throws up, with her potential suitors lining up to help just north of your home in Norway's Rygjafylke.
It's simple enough once you know where to look, but finding where to look is the slightly tricky bit. Below then, we'll detail Bil's comb location and how to complete the Comb of Champions world event in full.
On this page:
This is also one of many Assassin's Creed: Valhalla romance options, which we explain in detail there.
If you're looking for more things to collect, then see our lists of Treasure Hoard maps and Book of Knowledge and ability locations.
How to start the Comb of Champions world event and rewards for completing it
The Comb of Champions world event pops up as a Mystery in the Rygjaflke starting area of Norway. To find it, head north-east from the town of Fornburg, past the first nearby lake to another pair of lakes with waterfalls. The northern one is labelled Hildesvini's Crag.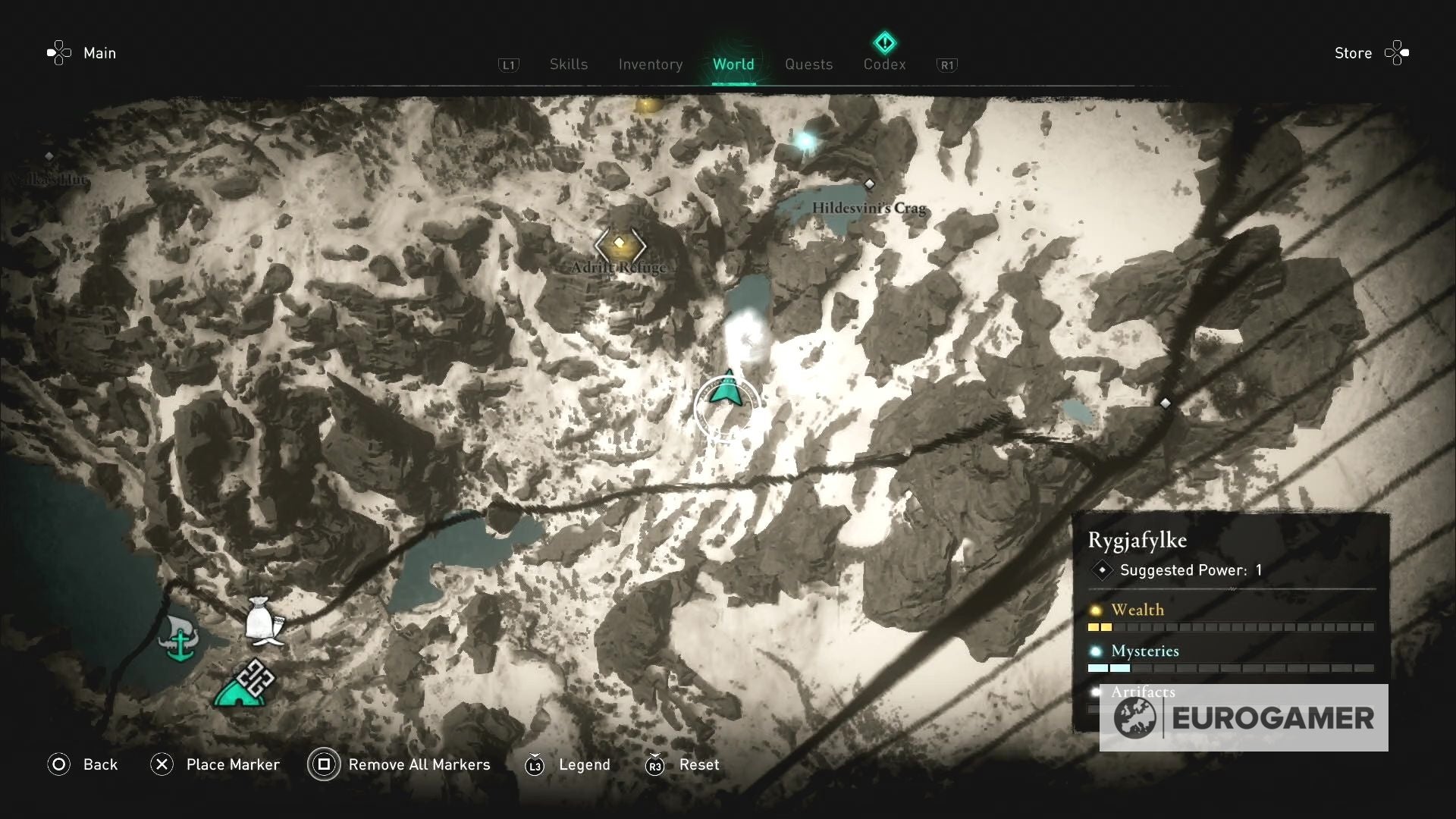 It's at the south end of the southern of those two lakes - not Hildesvini's one - that you'll find Bil, sitting smugly by the lake while a potential suiter of hers is trying to find her missing comb. Whoever finds the come, she promises, wins a night of her company.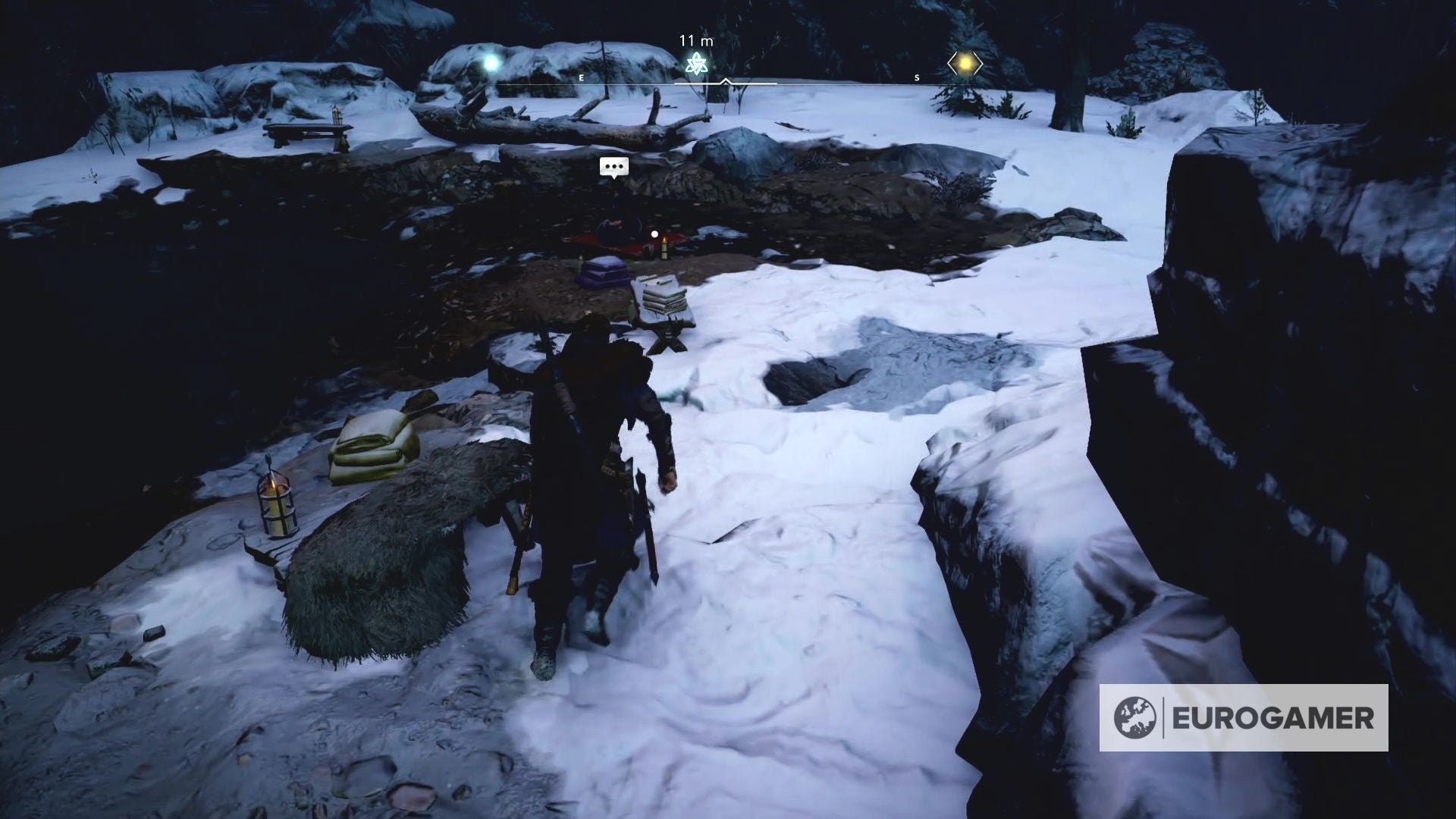 Once you complete it, you'll have the chance to romance Bil, by going along with her dialogue prompts, as well as getting a bump of 1200XP. There's also a bit of wealth very close by, however, so it's worth finding that too, to nab two rewards for the price of one.
---
The new DLC is here - and we explain how to start The Siege of Paris, as well as new romance options and Treasure Hoard locations. If you're after end game activities in the full game, we can explain how to get Nodens' Arc, Excalibur, Thor gear and other Valhalla armour sets, Power Level and how to get XP fast, Order of the Ancients locations and all Assassin's Creed Valhalla story choices. If you're looking for things to collect and upgrade, we have lists on best skills and Book of Knowledge locations.
---
Assassin's Creed: Valhalla: Bil's Comb location and A Maiden's Missive solution - where to find her missing comb in the lake
On a table next to Bil, you'll see a scrap of paper called "A Maiden's Missive", which has the following clue on it:
Hail, brave champions, Come find my comb. It is lost and lying low, Where only the courageous go. Be you bold of breath and blood, Do not wallow in the mud, Find me by the rushing waters, And be my fish in shining armor.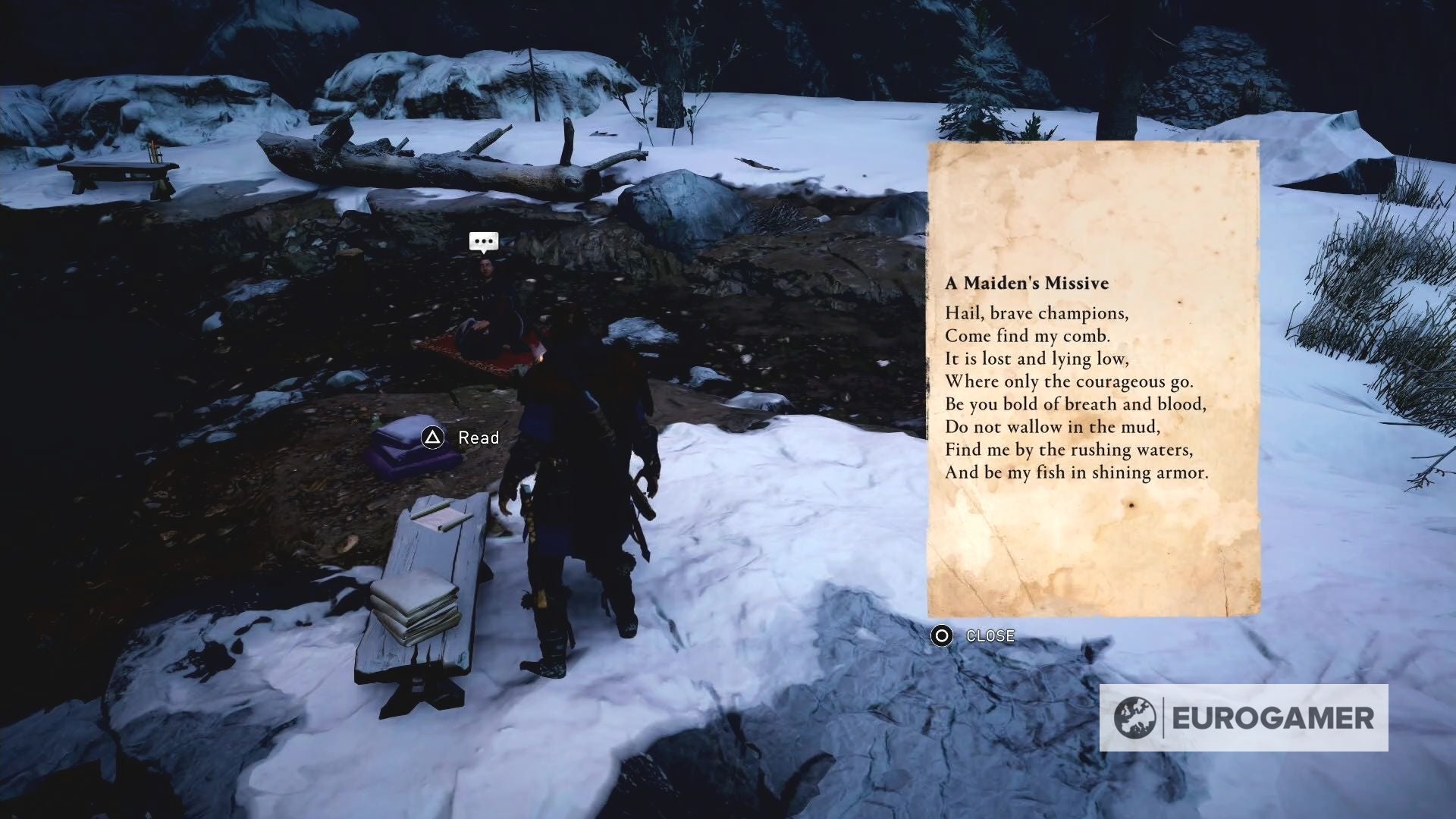 Talk to Bil to start the quest, and then get looking.
Bil's Comb location
The comb is located in the nearby lake, at the bottom of a deep vertical tunnel by the central rock.
To find it, swim out an then climb up onto the rock in the middle, to stop yourself from freezing and top up your health.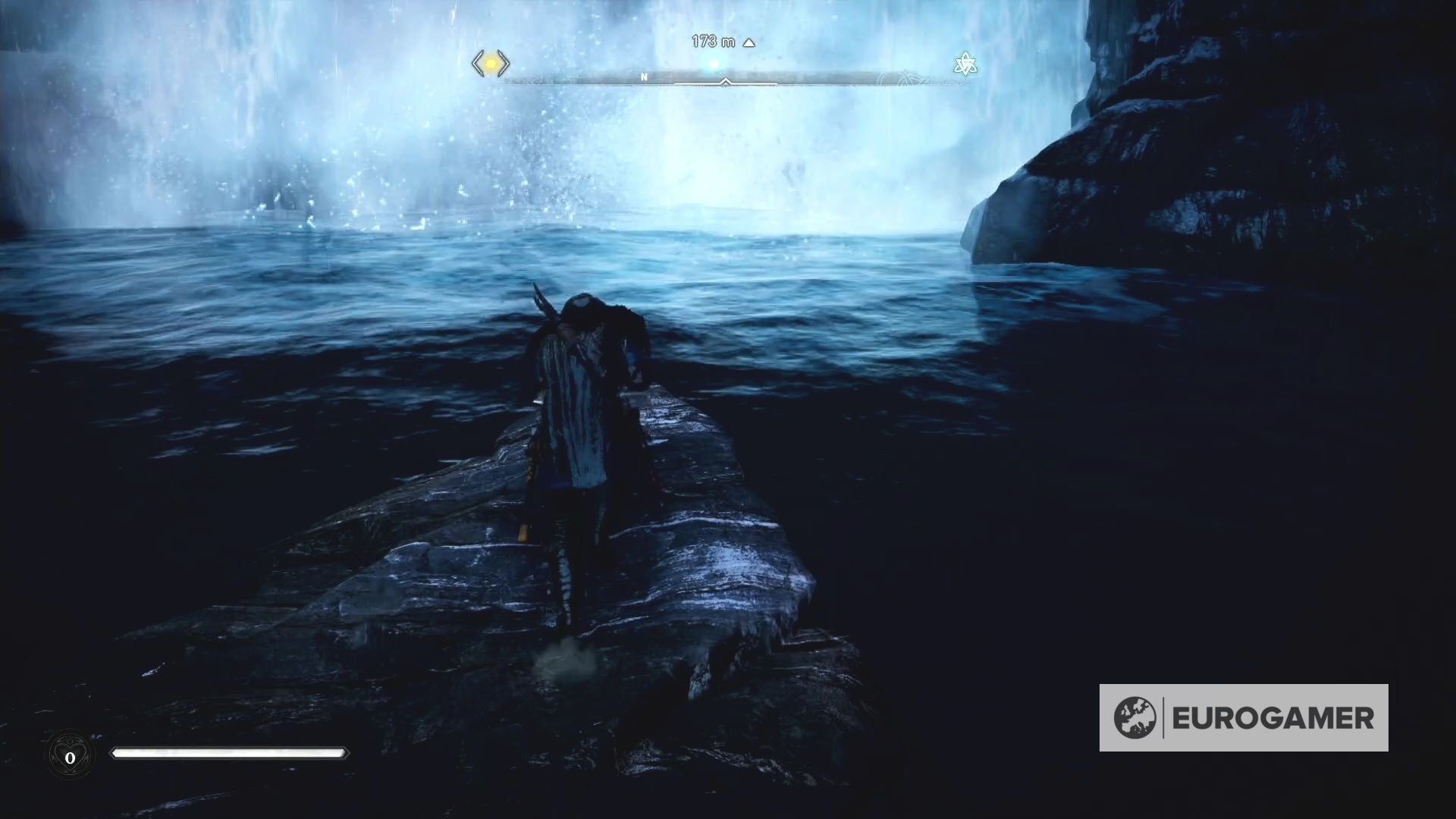 Then, if you're looking at the waterfall, it's to your left in the water. Go straight down, vertically, and keep going as far as you can. On the bed of the lake is a tunnel you can swim into that keeps going down a fair way, with the comb lying at the bottom. Grab it and head back up to the rock to warm up.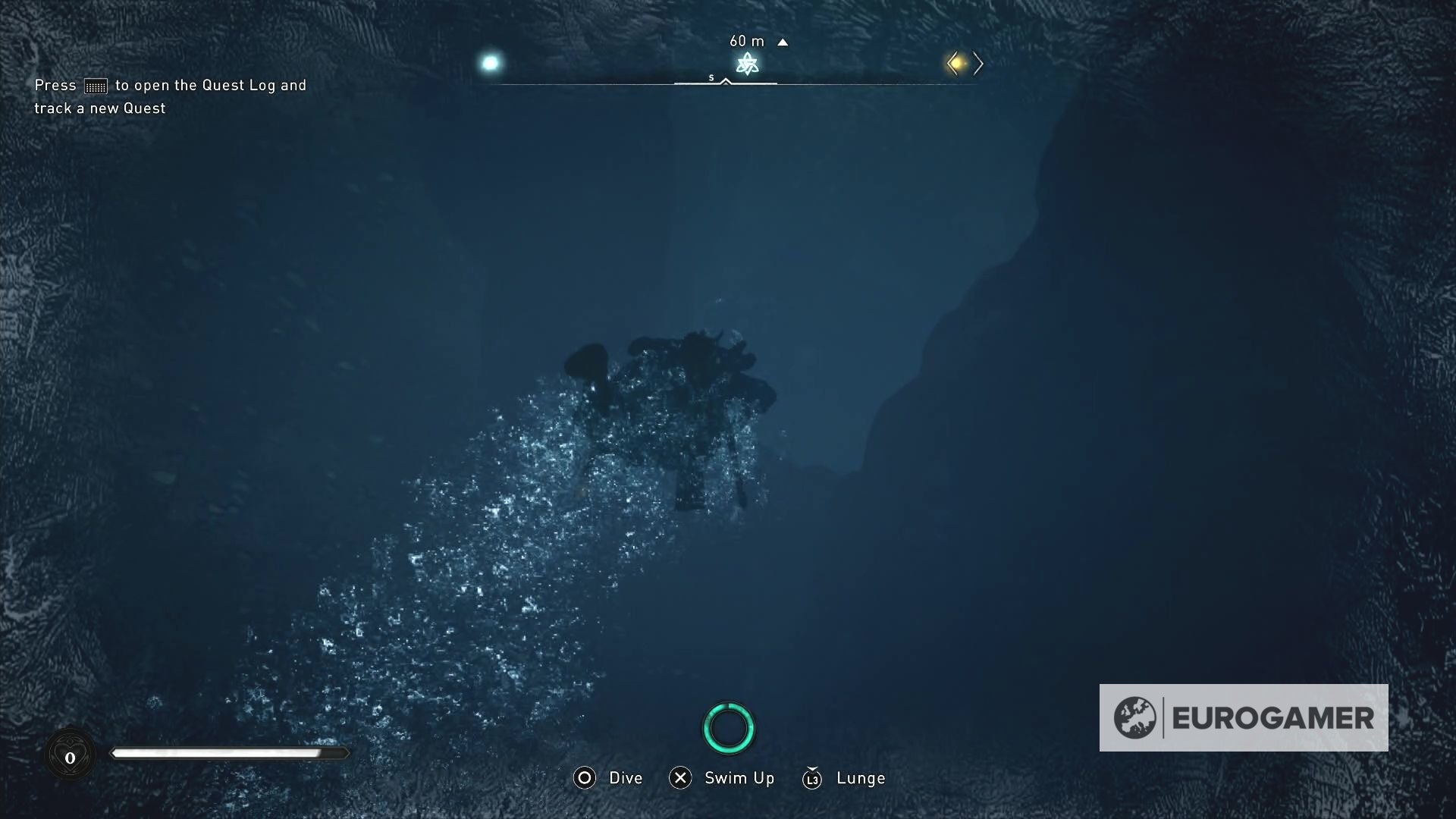 While you're out there, swim up to the waterfall, climb up a short way to a ledge and go through it. That good old tradition of treasure behind waterfalls continues, as there's a bit of wealth here in a chest, in the form of some leather and iron ore.
Swim back to shore, talk to Bil, and that's the world event finished.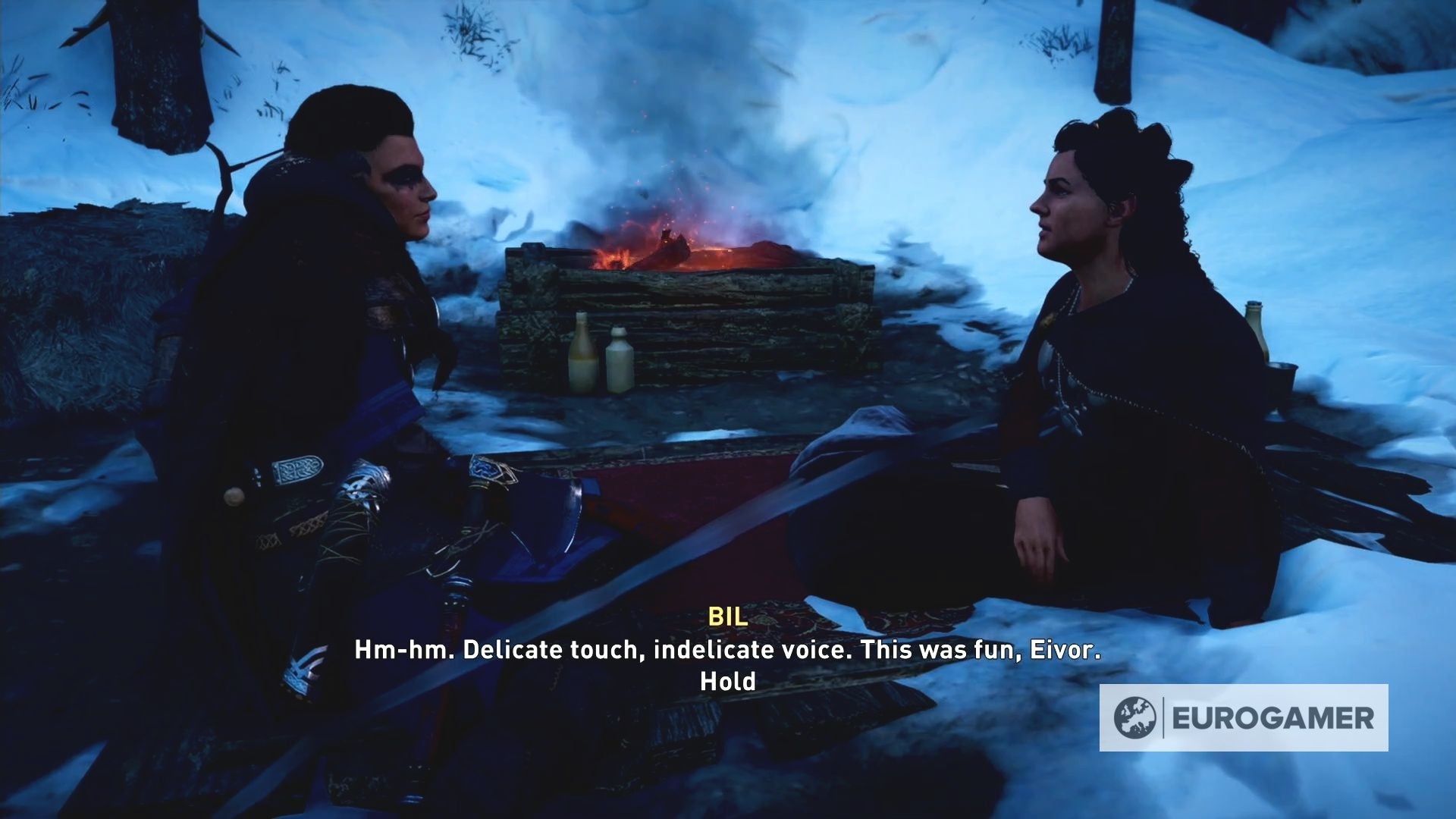 If you talk to Bil some more and follow her for a brief walk, there's also a romance option - more on Assassin's Creed: Valhalla romances here - and a chance for a nice chat.
After that, you're all done!