Veteran BioWare writer David Gaider seems to have a new job
"He seems pretty cool so far."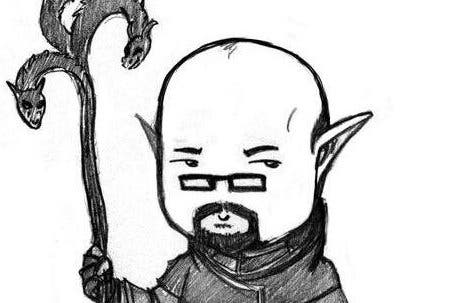 UPDATE 09/02/2015 7.50pm: Beamdog CEO Trent Oster offered the following statement about Gaider's recent employment at the studio:
"Originally we advertised for a senior writer. When Dave contacted us, we recognised the level of contribution he could bring to our games and our studio. We upgraded the position to creative director and brought him on board. We want to be the best RPG developer on the planet and, with Dave on our team, those plans for that future took a massive leap forward."
"I recall my days working on Baldur's Gate 2 and the Throne of Bhaal expansion very fondly," Gaider himself added. "Thus when the opportunity arose to become creative director for a company which lives and breathes that style of gaming, how could I refuse? Not that it was an easy decision to leave BioWare behind, as it truly was not, but Beamdog has exciting plans and I'm thrilled to now be a part of them."
ORIGINAL STORY 09/02/2015 5.14pm: It looks like David Gaider, who left his writing throne at BioWare recently after 17 years upon it, already has a new job.
He appears to have joined the small, BioWare alumni-filled studio Beamdog nearby. Beamdog has been plying a trade enhancing old BioWare games Baldur's Gate 1 & 2, and Icewind Dale, and is now making an entirely new 25-hour expansion called Siege of Dragonspear for BG. Will Gaider work on that?
His appointment isn't ironclad but is heavily teased, presumably because Gaider is a big name - perhaps there's a big announcement in the pipeline?
Beamdog, in a blog post outlining a number of other key hires, said: "We also hired a writer named Dave. He seems pretty cool so far."
Beamdog's lead designer Phillip Daigle said something similarly teasing on Twitter: "And last, but not least, we hired a gentleman named David to join Beamdog. I'm tired of typing so I'll just leave it at that for now!"
David Gaider, meanwhile, tweeted - at roughly the same time - about a new job. "Starting a new job," he said. "25% paperwork, 25% documentation, 150% confusion. I definitely need more stuff on my desk."
I've asked Beamdog for confirmation and will let you know if I hear back.
Beamdog is led by Trent Oster who was a founding member of BioWare, although a fallout meant he left the company and lost his stake in it, though he returned to work there right up to 2009 - things he told me in an interview a few years ago. He talked about pranks and about a disorganised but passionate BioWare - one quite different to the company we know today.
Anyway, it follows that he would know David Gaider, and it follows that David Gaider would know of and naturally be interested in the type of work Oster and Beamdog were doing nearby.
Beamdog/Overhaul Games has been a small operation for a number of years but judging by the recent blog post, about new hires, seems to be on the up. Some of the hires happened in 2014 but are worth noting all the same. Particularly, Jason Knipe, lead programmer of Knights of the Old Republic and Neverwinter Nights; and Shawn Potter, lead gameplay programmer of Mass Effect 3 and senior programmer on Mass Effect 1 and 2.
Beamdog used to talk optimistically about making a Baldur's Gate 3 but appears to have settled for making something in-between. Siege of Dragonspear takes place literally between Baldur's Gate 1 and 2, and adds new characters, a new player class, new items and new story. No release date has been announced.