Superb VR rhythm game Beat Saber gets its first paid music pack DLC today
On PS4, Steam, and Oculus.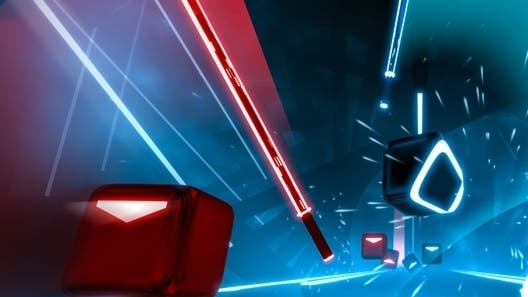 Developer Beat Games' superb block-smacking VR rhythm extravaganza Beat Saber has launched its first paid DLC music pack on PC and PlayStation 4.
Known as the Monstercat Music Pack Vol. 1 (you may, of course, remember dance label Monstercat from its regular collaborations with Rocket League), the DLC offers 10 brand-new tracks for committed Beat Saber fans to twizzle their sticks to with wild abandon. No judgement; I say this as someone who inadvertently punched a bonsai tree off my coffee table during a particularly enthusiastic session recently.
The full track-list can be found immediately below, but if you'd rather experience the songs through the medium of your ears rather than your eyes, website UploadVR has very kindly popped the whole lot into a single Spotify playlist for your delectation.
"Boundless" - Aero Chord
"Emoji VIP" - Pegboard Nerds
"Epic" - Tokyo Machine
"Feeling Stronger (feat. Charlotte Colley) [High Maintenance Remix]" - Muzzy
"Overkill" - RIOT
"Rattlesnake" - Rogue
"Stronger (feat. Emel)" - Stonebank
"This Time" - Kayzo
"Till It's Over" - Tristam
"We Won't Be Alone (feat. Laura Brehm)" - Feint
Monstercat Music Pack Vol. 1 is the first of three music packs planned for Beat Saber, with the remaining lot set to appear over the next few months. The first pack is priced at £9 on the PlayStation Store and £11 on Steam, or you can purchase each track individually (for £1.69) if you have more discerning tastes. Music Pack Vol. 1 will also be coming to the Oculus Store, with Beat Games confirming that it's ready to go and will be made available "as soon as possible".
It's worth noting that some fans are unhappy that Beat Saber is releasing paid DLC while it's still in early access on PC (which isn't the case on PS4). Addressing the issue previously, the developer explained that music packs would be paid "so we can support artist who are creating the music". It also promised that it would be adding more tracks to the base game for free.
Elsewhere, today also sees the release of a major free new update for Beat Saber on PC. This introduces the campaign mode seen on PS4, alongside significant UI enhancements. It also adds five new songs to the PC version which were previously exclusive to PSVR.