Splatoon 2 is getting a special winter-themed Splatfest early next year
Hats! Glitter! A fancy Inkopolis Square!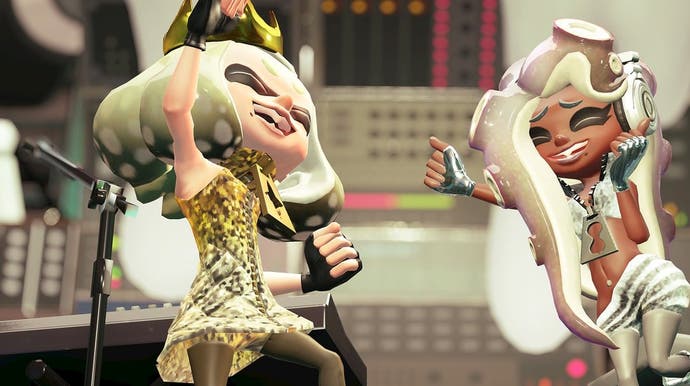 Splatoon 2 might have just received its very last content update after nearly 18 months of post-launch support, but Nintendo's still not done with its multiplayer shooter. The company has announced that Splatoon 2 will be getting a special winter-themed Splatfest on January 4th.
Nintendo is calling its next big seasonal blow-out FrostyFest, and it's scheduled to run for 48 hours from January 4th to January 6th. This, in case you were wondering, will be a global Splatfest, so you'll need to keep an eye out for your region's specific start times.
As was the case with Splatoon 2's Halloween offering, Inkopolis Square will undergo a thorough transformation to celebrate the new event, and its buildings will be adorned with snowmen, snowflakes, and other appropriately wintery paraphernalia. Based on the new screenshots, it looks like we could even be in for some snow!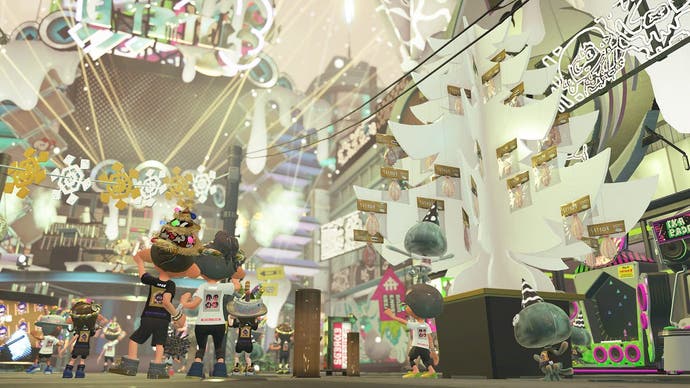 While it doesn't look like Splatoon 2's actual stages will be getting a makeover (aside from some seasonal graffiti), turf wars will unfold using special glitter-filled ink. Additionally, players can dress for the occasion with four event-exclusive clothing items - the New Year's Glasses DX, Twisty Headband, Festive Party Cone, and Eel-Cake Hat - which you can see below.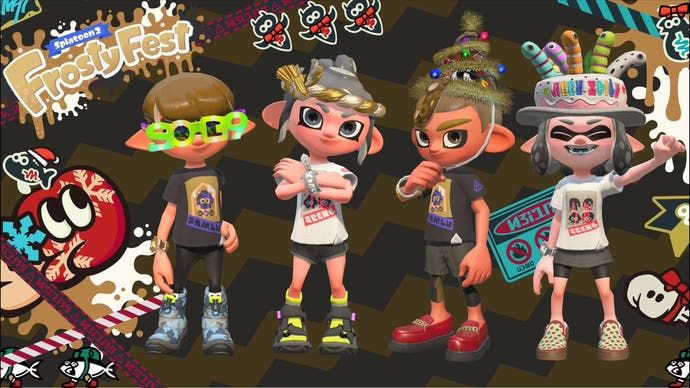 To get these snazzy bits of headwear, you'll need to look out for the relevant post on your Switch's news channel (due late-December), and follow its link back into the game.
Incidentally, the theme for Nintendo's FrostyFest asks "Who would you rather spend the holidays with?", and there's a choice between Family or Friends. Voting is yet to open, however, so you've still got some time left to ponder that one.