Nintendo trends on Twitter as Etika Joy-Con ban fuels fan frustration
UPDATE: New Etikons design created, meets fundraising goal.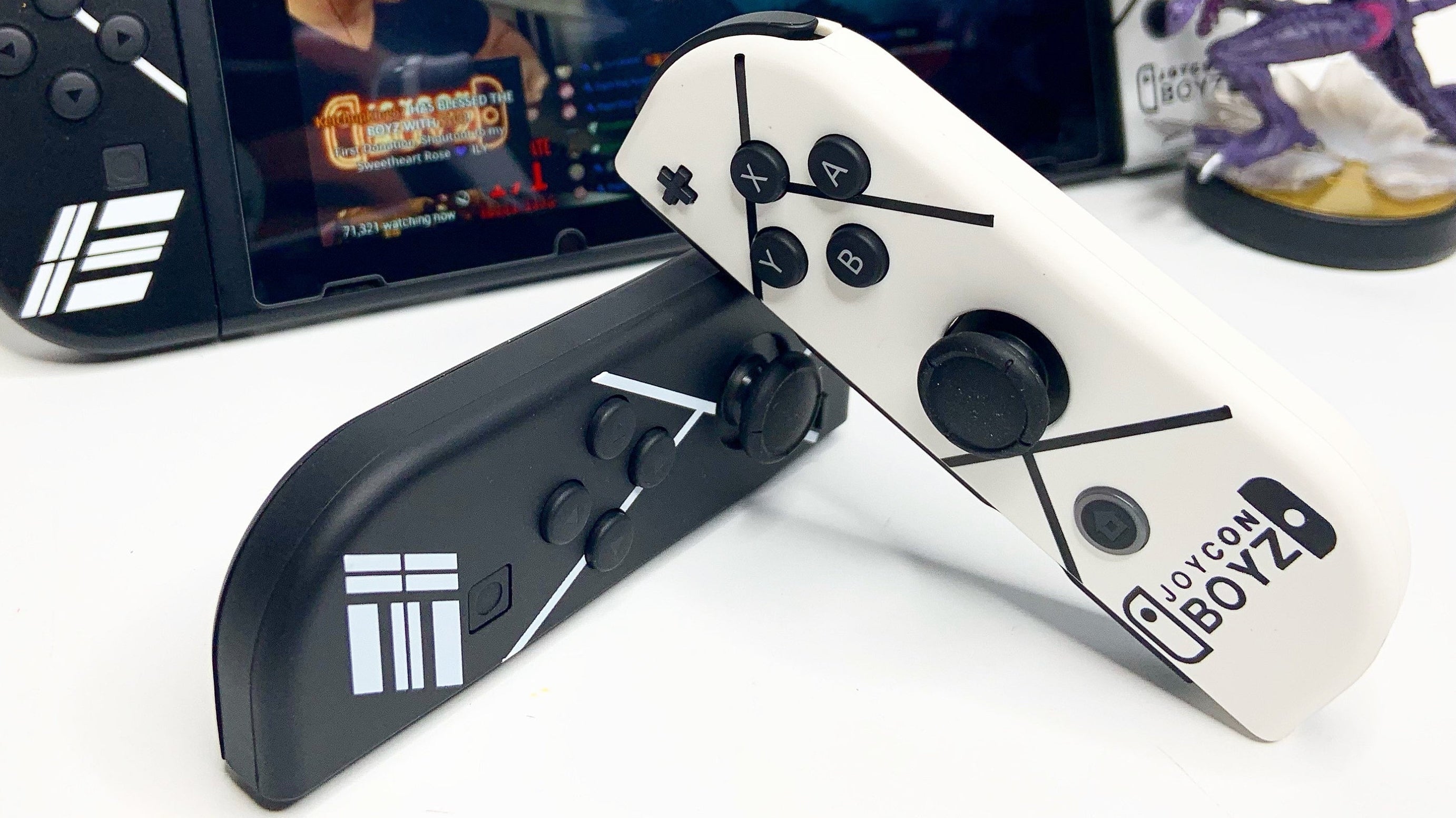 UPDATE 09/12/20: After Nintendo sent a cease and desist to the creator of Etika-themed Joy-Con shells that were being sold for charity, the design of those shells has now been modified - and the product has already met its first fundraising goal.
Earlier this week creator CptnAlex indicated he wanted to release a new design for the shells, minus the Joycon Boyz and Switch logo references, which were seemingly the trademarks causing the trouble. CptnAlex set up a new fundraising round to pay for the production of the altered design, and it's currently sitting at £4.2k, meaning it's already made the initial fundraising goal of $5k (£3.7k) required to fund the initial production run.
The shells cost $35 (£26) per set, with 30 per cent going to the JED Foundation (an American charity for mental health and suicide prevention), and the remaining amount covering production costs. If the fundraiser reaches its $10k (£7.4k) goal then a backplate design will be funded. The fundraising pool closes in 18 hours, so if you want to contribute you'll need to donate today.
In the aftermath of the cease and desist news, other community members encouraged Nintendo fans to donate to the JED Foundation in Etika's memory, while others have indicated they plan to host charity livestreams for the foundation. Hopefully some good can come from this situation after all.
---
ORIGINAL STORY 07/12/20: The last few weeks have been a rather tumultuous period for Nintendo and its fan communities, to say the least. After a Super Smash Bros. tournament was shut down by Nintendo for its plans to use third-party software to run the event online, several teams in the Splatoon 2 North American Open used "Free Melee" hashtags in their names to protest the decision. The livestream for the Splatoon 2 finals was then cancelled, further upsetting fans who felt Nintendo had intervened.
Now, Nintendo appears to have angered fans once again, after sending a cease and desist letter to a custom Joy-Con creator who was selling Etika-themed shells for charity.
Content creator CptnAlex, who runs an Etsy store selling custom controllers, said he was sent a cease and desist from Nintendo covering all his products - and the Etikons were caught up in the mix. "While [Nintendo] didn't specifically tell me why each design was taken down, they did include a list of copyrights my designs broke, and the word Joy-Con was on that list," CptnAlex said. "This is my only design specifically with the word Joy-Con on it, so that's obviously what they were referencing when they attached that."
The Etikons were named after Desmond "Etika" Amofah, a popular YouTuber known for his Nintendo content, who took his own life in June 2019. As part of a successful fundraising campaign, the controller shells were sold to raise money for the JED Foundation, a mental health charity for teens and young adults in the US. By December last year, the initiative had raised over $10k (£7.5k) for charity.
The reason why the Etikons bore the trademarked word Joy-Con was to reference Joycon Boyz, the name for Etika's fan community. According to CptnAlex, about 30 to 40 sets of shells remain, which he will likely give away at a future convention but cannot sell for charity. CptnAlex has since said he will consider a re-release of the shells with a modified design to remove the words Joycon Boyz and the Switch split logo.
Eurogamer has contacted Nintendo for comment on the cease and desist, but has not yet heard back.
It seems the cease and desist was sent to CptnAlex by Nintendo back in September, but news of the ban has broken over the past day. While Nintendo is technically within its rights to pursue copyright infringement cases, many fans have been angered by Nintendo's decision to block a charity initiative. Combined with pre-existing anger about the Super Smash Bros. and Splatoon 2 tournaments, it's been enough to get Nintendo trending on Twitter, with 167k tweets at time of writing (although not all will be related to the fan disputes).
The community backlash started when Super Smash Bros. tournament The Big House announced it had been forced to cancel its online December event, as Nintendo had objected to plans to use the Slippi mod as part of the event. The software makes Super Smash Bros. Melee playable online, and was being used by The Big House as an alternative to hosting an in-person event during the coronavirus pandemic. Nintendo said it had contacted the tournament organisers to request them to stop. "They refused, leaving Nintendo no choice but to step in to protect its intellectual property and brands" (via Polygon).
Splatoon 2 players then decided to support the Smash tournament by getting involved with the #FreeMelee movement on social media. According to commentator Slimy, about 30 per cent of teams in the North American Open last weekend ended up naming themselves in support of Melee and Smash. When the livestream for the finals was cancelled due to "unexpected executional challenges", fingers were immediately pointed at Nintendo - although the company's involvement in the cancellation has not yet been confirmed.
Still, it's all been enough to provoke fans into vocally complaining about Nintendo's business decisions, and the cease and desist over charity Joy-Con shells seems to have pushed the backlash to new heights. Yet given Nintendo's record of strict copyright enforcement, I doubt it's going to reverse these decisions anytime soon.