Serious Sam: BFE's "Warfighter-fighter" program gives out XBLA codes to those who criticise military shooters
"That s*** is weak."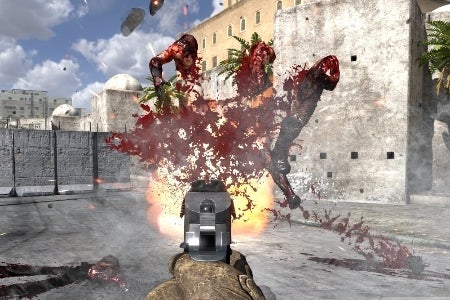 In one of the ballsiest marketing stunts in recent memory Devolver Digital is giving away 100 XBLA codes for Serious Sam: BFE on XBLA to those who voice their concerns about the current climate of military shooters as part of its "Warfighter-fighter" program.
"Not every game will live up to expectations," said Devolver Digital. "One such game has been Medal of Honor: Warfighter - yet another military shooter where cover is king and most folks spend their time peeking out form behind a wall or a strategically placed concrete barrier."
"That s*** is weak."
To combat this lackluster combat, Devolver has asked players to tweet their "concerns about the stagnant modern military shooter" with the hashtag #SeriousSam3XBLA. Leaving the hashtag on the game's Facebook page is also deemed an acceptable way to enter the contest.
What do you, dear readers, make of this campaign? Is it unnecessarily negative? Taking a swing at too easy a target? Saying what we're all thinking anyway? Or perhaps just snarkily highlighting the difference between Serious Sam's decidedly oldschool mentality with current trends?