Portal and My Friend Pedro crossover skins rumoured for Fall Guys: Ultimate Knockout
You monster.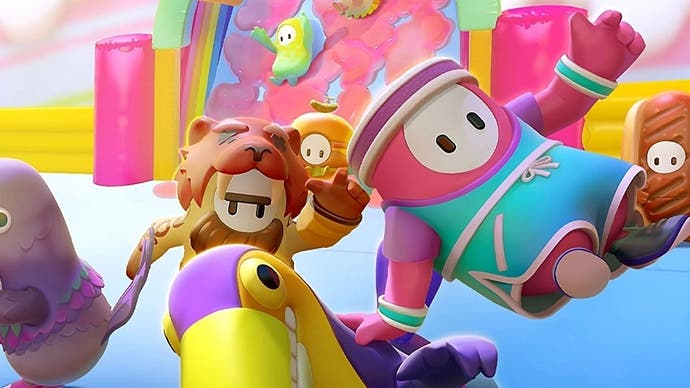 Dataminers have been digging into the files for Fall Guys: Ultimate Knockout - the new gun-free battle royale taking the world by storm - and discovered two themed crossover skins: one Portal-related, and the other inspired by My Friend Pedro.
As discovered by Fall Guys leaker HyperxFG, the Aperture-themed skins are thought to go live on 3rd September 2020, while the My Friend Pedro one reportedly releases just a few days later on 6th September. The Portal one, however, is only reported for listed for PC players right now.
Naturally, planned events and collaborations can, and do, change, but that's what's rumoured for now.
Last weekend, Fall Guys had more than 100k people playing on Steam at the same time - more than GTA5 - and was doing particularly well on Twitch. Publisher Devolver Digital recently revealed 23 million minutes of Fall Guys had now been watched on the streaming platform, and that the game was now the company's biggest ever launch.
Fall Guys: Ultimate Knockout has shifted two million copies on Steam since its launch on 4th August. So many people turned up to play on day one it had to be taken offline for maintenance. There were further issues at the weekend, as yet more players flooded in, but developer Mediatonic said it is working on a longer-term fix.
Don't forget that the game is also currently available on PlayStation 4, where it is part of this month's PlayStation Plus offering.