Fall Guys is more popular than Grand Theft Auto 5 on Steam right now
Rock the boat.
Fall Guys' remarkable breakout success continues, with remarkable popularity on Steam as well as Twitch.
Mediatonic's bumbling battle royale launched this week and overnight became the feel-good hit of the summer, with over 1.5 million players in the first 24 hours of release.
On Steam, Fall Guys is currently more popular than big-budget blockbusters such as Grand Theft Auto 5 (which you need to play the eternally popular GTA Online) and, Rainbow Six Siege and Destiny 2, with over 121,000 concurrent players at the time of this article's publication. No doubt that number will swell as the United States wakes up throughout the weekend.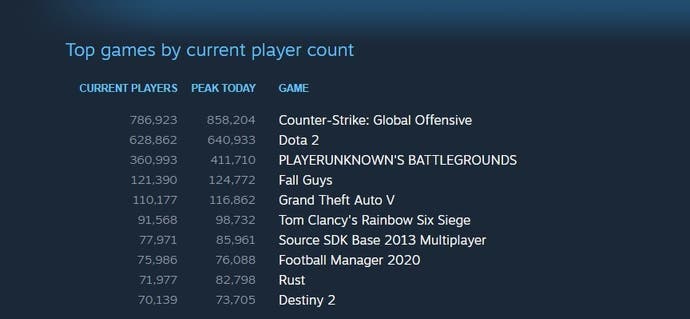 Fall Guys is the second most popular game on Twitch, too, with more viewers than Fortnite, Call of Duty: Warzone and CS:GO. At the time of publication, it was second only to League of Legends in terms of viewer count.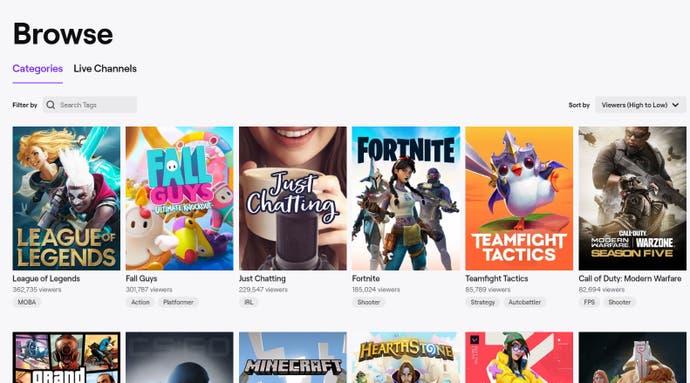 Fall Guys has struggled to cope with its popularity, and last night tweeted to apologise for server issues.
We're super grateful for your patience, and we can't thank you enough for supporting us through these launch issues.

Once everything is back online, we'll be working on extra rewards for you all to show our appreciation. 🙌

We will post news here as soon as its available!

— Fall Guys (@FallGuysGame) August 8, 2020
"We underestimated the number of jellybeans in the jar," reads a notice on the Fall Guys Steam page. "We're working hard to increase server capacity but please be aware that matchmaking may be up and down during the launch window."
Fall Guys' surprise success has resulted in plenty of funny gameplay clips going viral on social media. Videos of unlucky players are also proving popular, too.
Fall Guys publisher Devolver managed to secure a launch on PlayStation 4 as a free PlayStation Plus title, ensuring a huge number of players by default. On Steam, Fall Guys costs £15.99 - but it seems just as popular on Valve's platform as Sony's. The game's super accessible, easy to play but hard to master gameplay, as well as its virality, has fuelled its popularity. "This is a simple idea but one that's quite smartly done," Chris Donlan wrote in his appraisal of Fall Guys. "It's gloriously tacky. It might be a keeper."
What next for Fall Guys? I imagine there's a mad rush to make some merch. How about some Fall Guys toys in Asda?