Pokémon-like MMO Temtem's new early access roadmap adds player housing, more
Ranked matchmaking! New islands! Chat!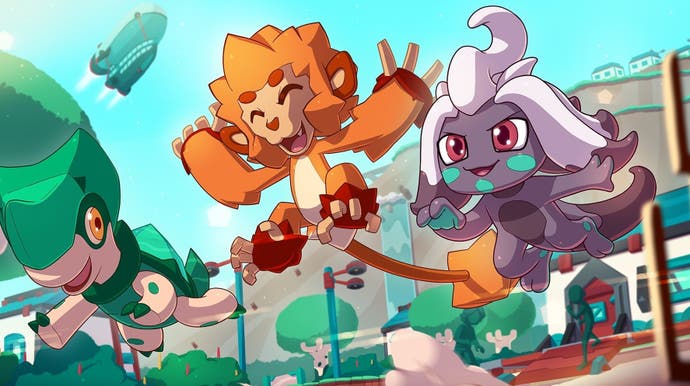 Temtem, developer Crema's massively-multiplayer riff on Pokémon, is off to a flying start. It's sold over 500,000 copies in its first month of Steam early access, and now Crema is ready to share its future plans for the game by way of a new content roadmap.
Crema has split its roadmap, which details the major features planned ahead of Temtem's 1.0 release, into two parts, with part one covering additions due between now and autumn this year. Crema does warn, however, that "ideas change constantly and stuff we like today we might not like as much tomorrow", so features and dates aren't set in stone.
At present though, Crema anticipates that spring will bring club management, essentially a clan feature for friends, alongside in-game chat - which will include both private messaging and predefined group chat, including Global, Local, Trade, and Club channels. Additionally, players can expect a first pass at ranked matchmaking and spectator modes.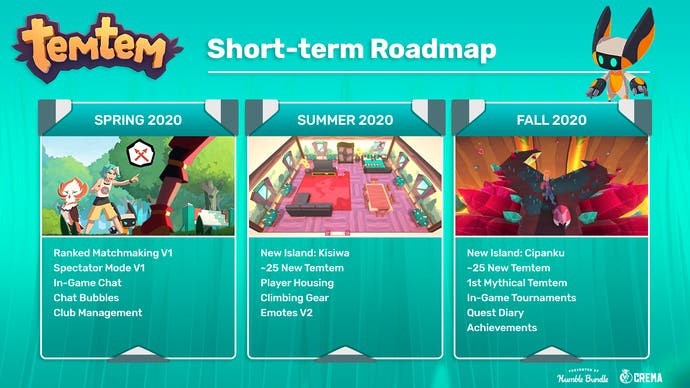 All being well, summer should herald the arrival of a new island known as Kisiwa, 25 new Temtem, climbing gear, the second iteration of the game's emote system, and housing.
Every players will get their own house as a base of operations, which friends can then visit. Houses can be decorated using furniture bought and earned in-game, and Crema says it's considering more functional furniture - think incubators and jukeboxes - for the future.
The final part of Temtem's current roadmap covers autumn, and brings another new island, Cipanku, with 25 more Temtem, including the first Legendary Temtem. In-game tournaments are also expected, as is a quest diary, plus achievements and accompanying rewards.
Crema has gone a little more in-depth with some of these features in its latest blog post. Part two of Temtem's content roadmap - which includes the Trading House, Dojo Wars, and a new end-game island - will be detailed tomorrow.