Planet Zoo adding penguins, otters, seals and more in new Aquatic DLC
Launching next week on PC.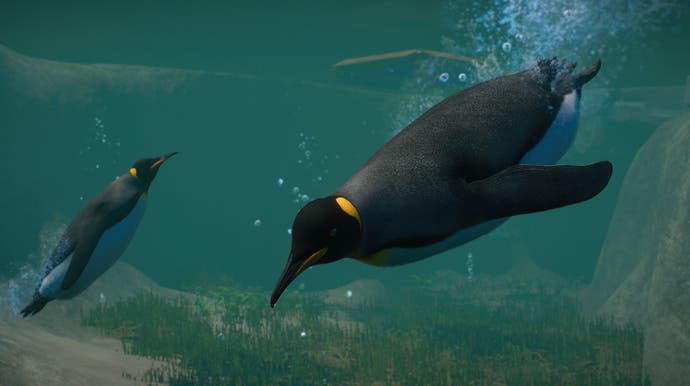 Planet Zoo is set to get a little bit splashier next Tuesday, 8th December, courtesy of its new Aquatic DLC, which adds, among other things, penguins and otters.
The Aquatic DLC is Planet Zoo's fourth paid expansion - following on from its Australia, Arctic, and South America Packs - and is, unsurprisingly, all about water-dwelling creatures. In total, it adds five new animals - the King Penguin, Giant Otter, Diamondback Terrapin, Cuvier's Dwarf Caiman, and Grey Seal - and at least some of these make an appearance in the trailer below.
Additionally, Planet Zoo's Aquatic DLC introduces 170 new water-themed foliage, scenery and zoo construction pieces - including animal sculptures and cascading waterfalls - and there's a new timed scenario set in Oregon too. This one challenges players to flex their management muscles and make the most of a space-limited zoo built on a drained riverbed.
The Aquatic DLC will cost £7.99/$9.99 USD when it comes to Steam on 8th December, and a free update will release for all Planet Zoo players on the same day.
Update 1.4, as it's known, introduces a timed scenario set in the Philippines, plus the ability to add Animal Talks spots to exhibits, providing a place where hired speakers can educate guests about nearby creatures. Notably, it also makes Planet Zoo's new water tools - namely, the underwater feeder and water temperature regulator - available to all, although only the Saltwater Crocodile can utilise them in the base game. More details can be found on Steam.