Original X-COM creator faces backlash after signing Epic Games store exclusive deal for Phoenix Point
"It was not our intention to scam anyone."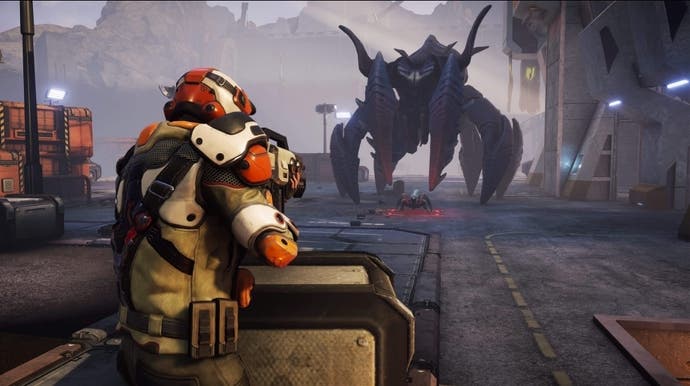 The creator of the original X-COM, Julian Gollop has endured a backlash after signing a Epic Games store exclusivity deal for his next title.
Hotly-anticipated turn-based strategy game Phoenix Point, billed as a spiritual successor to the original X-COM, was crowdfunded to the tune of $765,948 by over 10,000 backers on FIG back in June 2017. At the time, a Steam key for Phoenix Point was promised to those who'd helped make the game a reality.
Fast forward to March 2019, and Phoenix Point is now exclusive to the Epic Games store for one year. While backers will get a Steam or GOG key after the first year in addition to their Epic key, they'll also get three DLC packs for free. Gollop is also offering a full refund to any backer who wants it.
Despite this, a cursory glance at the game's subreddit, Discord and social media shows backers are upset. Explaining the decision in a reddit AMA, Gollop said he had approached Epic about the possibility of signing a deal, and the money received would significantly benefit the game.
"It allows to commit more to the launch without risk, and more to supporting the game immediately post launch," Gollop said.
This AMA however, has fallen on deaf ears, and there's a real sense of discontent brewing within Phoenix Point's community. There are posts that accuse Gollop and Phoenix Point of being a scam, and there's even a drive to request refunds.
"I think what makes this particularly galling is how they basically used us backers for an interest-free loan," wrote redditor Spinecone.
"They took our money, developed to the point where it was mature enough to attract external investors, then totally changed the game plan and fully expect us to withdraw our cash, since they're now out of the high-risk phase of the project that nobody but us actual fans would back and have a mature product that's been guaranteed external funding.
"They conned us into lending them the money, and manoeuvred it so we'd be sitting on the bill if the development project failed. For a game that sold itself based on community involvement, with backer builds and all, this is just awful."
In a follow-up with Eurogamer, Gollop apologised to upset backers.
"For those backers who are upset by our switch of delivery platform, we are truly sorry," he said.
"It was not our intention to scam anyone. The best we can do is offer compensation in the form of free extra content, which we will deliver throughout the launch year. This will include at least three major DLC packs. They will also receive a Steam key or GOG key, in addition to their Epic key, at the end of the exclusivity period. If they are not happy with this, we will give a full refund."
Epic's bid to disrupt the PC game sales market and challenge Steam has proved a controversial one, with a raft of games suffering a backlash after ditching Valve's platform for Epic's. In the case of 4A Games' Metro Exodus, the fallout from ditching Steam for the Epic Games store got pretty messy.
The negative reaction to Phoenix Point is exacerbated, however, by the fact the project was crowdfunded and, with that, carries a set of expectations by those who've already forked out money to see it through to the end.
The Epic Games store is still in its infancy, of course, and it's not yet clear whether developers who sign exclusive deals with the platform for games that have previously had a presence on Steam see an impact on sales at launch.
Gollop told Eurogamer he expects the Epic Games store to have improved by the time Phoenix Point comes out, and doesn't expect the current trouble will negatively impact release.
"I don't think the Epic deal will affect Phoenix Point on launch," Gollop said.
"By that time the Epic store will be more established, with more features. I know Epic are genuinely committed to building a store which is both developer friendly and consumer friendly, and they have some good ideas to make it more distinctive than alternatives."
And while Phoenix Point's community is shouting loudly on the likes of reddit, Gollop said he hasn't seen significant numbers of backers request refunds.
"We sent an email to all our 47,000 backers on Tuesday informing them about the Epic deal," he said. "The following day we had 1300 requests for refunds. The day after it increased to 1600. We don't anticipate that more than five to six per cent of our backers will actually request refunds in the long run."
Phoenix Point is due out September 2019.