Fallout from Metro Exodus Epic Games store exclusivity gets messy
Publisher responds to impassioned comment from dev.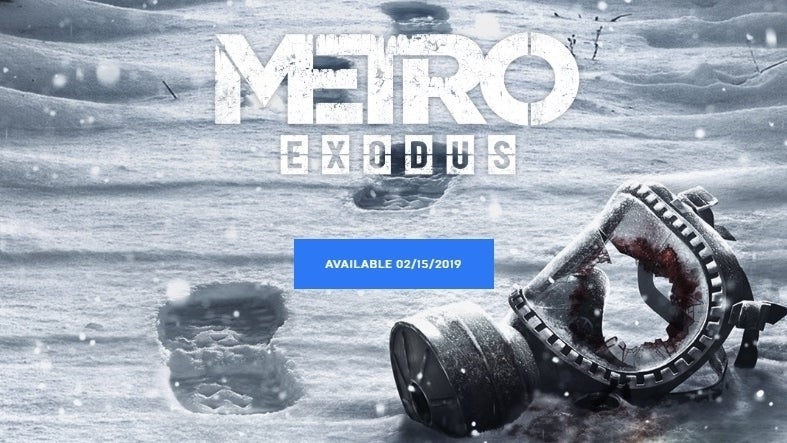 The fallout from the Metro Exodus Epic Games store exclusivity deal continues - and it's getting very messy indeed.
The latest development saw the publisher of Metro Exodus ask angry fans not to focus their upset at the developer of the game.
Deep Silver issued a statement over the weekend in response to an impassioned comment from one of the developers of the game about the anger from some that Metro Exodus will not be sold on Steam despite being available to pre-order on Valve's platform for some time.
The 4A Games staff member, who goes by the username scynet on website Gameru.net, wrote "if all PC players announce a boycott of Metro, then the next Metro, if it does happen, is definitely not on the PC".
The unnamed 4A Games staff member called the reaction to the Epic Games store deal from some as "hardly adequate". "It seems that people did not want to play, just waited for a reason to pour out their bile," they said.
"That is, it turns out that we (the developers) for years have been hard and painful, with losses, trying to do something special, but a certain category of players believes that our work is not worth even a couple of minutes to install the launcher. Naturally, it is their life and their right, but then what do they care about the Metro? Obviously, it is not interesting to them. I can only say that they were not our players either, they are not interested in our work, which means that, for example, the opinion of such people is not interesting for me either. What is the point for me personally (and not only) to listen to their opinion?"
Some Metro fans have taken to review-bombing previous Metro games on Steam in a bid to show their discontent at Exodus leaving the platform. Metro 2033 Redux, for example, has a "very positive" user review label for all reviews, but "mostly negative" for recent reviews.
The "most helpful" reviews in the past 30 days are, on the whole, negative comments about Metro Exodus ditching Steam for the Epic Games store.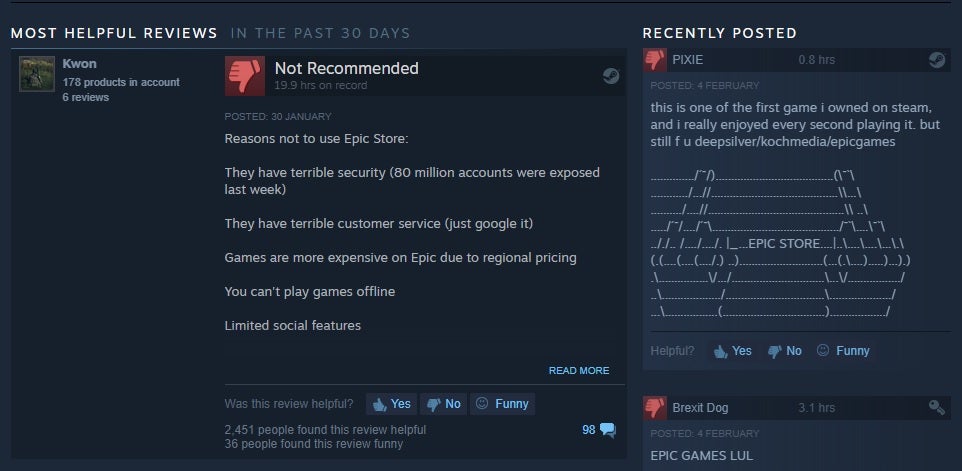 The post from the 4A Games staff member prompted a comment from publisher Deep Silver, which moved to reassure Metro fans who thought Exodus may turn out to be the last game in the series to release on PC.
"The recent decision to move Metro Exodus from Steam to the Epic Game Store was made by Koch Media / Deep Silver alone," Deep Silver said.
"The recent comments made by a member of the 4A Games development team do not reflect Deep Silver's or 4A Games' view on the future of the franchise. They do reflect the hurt and disappointment of a passionate individual who has seen what was previously nothing but positive goodwill towards his work turn to controversy due to a business decision he had no control over. We respectfully ask that any and all valid feedback over this decision is directed at Koch Media / Deep Silver, and not the developers at 4A Games.
"The future release strategy of the Metro series lies with Koch Media / Deep Silver. Our decision to partner with Epic Games was based on the goal of investing in the future of the series and our development partner at 4A Games. We have every intention of continuing this franchise, and a PC version will always be at the heart of our plans."
This is the latest development in what has been a messy fallout to Metro Exodus' PC launch plan.
Valve called Epic's move to snatch up Metro Exodus "unfair to Steam customers" the day after the game shifted platforms. The company cited the post-apocalyptic survival shooter having long been available to pre-order via its own shopfront (even if all existing Steam pre-orders will still be honoured), and apologised to customers.
The people at the top of THQ Nordic, which owns Metro Exodus publisher Deep Silver, felt they needed to share their own statement amid growing anger.
THQ Nordic, which acquired Deep Silver and distributor Koch Media last year, sought to distance itself from the controversial news, telling fans the exclusivity deal was "made entirely on Koch Media's side as Metro is their intellectual property. They are a sister company of THQ Nordic (Vienna), which is the reason why we can and will not comment on this matter".
Then, a comment from THQ Nordic that seemed to suggest the Epic Games store exclusivity deal wasn't what it had in mind.
"... speaking in the here and now, we definitely want to have the players choose the platform of their liking and make our portfolio available to as many outlets as possible," THQ Nordic said.
THQ Nordic then appeared to distance itself from itself with another statement that came out in support of the deal.
Lars Wingefors, co-founder and group CEO of THQ Nordic AB - aka the parent company - said this:
"I fully support our sub-groups' autonomy to run their respective businesses. I believe it's in the group's, and ultimately the consumers', best interest that business decisions are made close to the market and this is the group's consistent business model.
"I firmly believe that Deep Silver and Koch Media have carefully considered the advantages and disadvantages, opportunities and risks in their decision to go solely with Epic Games Store. The decision has my full support."
Still with us? So, we have a parent company that at first seemed to question the Metro Epic deal, then came out in support of it, a disgruntled developer and a publisher which is doing its best at playing damage control. Yikes.
All the while, Epic continues its war with Steam. The cash-rich company behind battle royale behemoth Fortnite recently launched the Epic Games store offering a bigger cut of sales to developers than Valve currently offers through Steam. It's also made a game free to download every fortnight since.
In December, Epic signed a deal with Skybound to bring Telltale's The Walking Dead: The Final Season on PC to the Epic Games store, but the subsequent deal with Ubisoft for The Division 2 was a significant step-up, and this latest deal for the promising Metro Exodus bolsters Epic's effort.
Will the PC version of the hotly-anticipated Metro Exodus be a casualty of this platform war?
Become a Eurogamer subscriber and get your first month for £1
Get your first month for £1 (normally £3.99) when you buy a Standard Eurogamer subscription. Enjoy ad-free browsing, merch discounts, our monthly letter from the editor, and show your support with a supporter-exclusive comment flair!