Mutant Mudds 3DS eShop release date
Renegade Kid's platformer finally crosses the pond.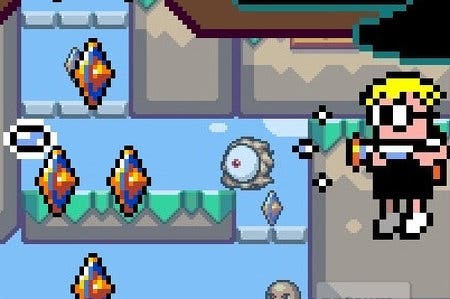 Long-awaited 3DS platformer Mutant Mudds arrives on the eShop this Thursday, Nintendo has announced.
Mutant Mudds is a clever side-scrolling adventure from Renegade Kid, developer of Moon and Dementium. It arrives in Europe with an £8.10 (€9) price tag.
The title first launched in North America back in January, when Eurogamer picked up a copy to review:
"Mutant Mudds doesn't quite have the brash, devil-may-care attitude of Super Meat Boy or the charming personality of VVVVVV, but its refined obstacle courses are a distillation of what made us fall in love with 2D platformers in the first place," Jeffrey Matulef wrote in Eurogamer's 7/10 Mutant Mudds review.
Also this week: DSiWare table-top football title Goooooal Europa 2012 (£4.50) and iPad port Save the Furries for WiiWare (1000 Wii Points, about £7).