Mutant Mudds' extra PC levels coming to 3DS for free
Renegade Kid now an authorised WiU developer too.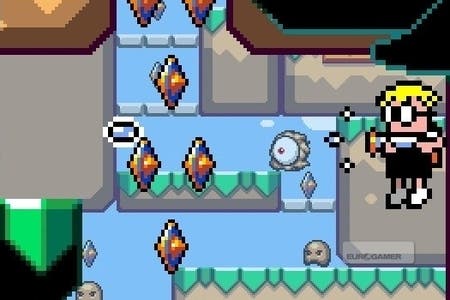 Mutant Mudds developer Renegade Kid announced that it's bringing the bonus stages in the PC version of Mutant Mudds to the original 3DS eShop game as a free update.
This information came out of co-founder and creative director Jools Watsham's blog. There are 20 CGA-themed bonus levels with one hidden in each of the core game's stages. These extra challenges will only be accessible by Grannie, an unlockable character that comes equipped with multiple power-ups.
Elsewhere in the post, Watsham urges players to upvote the PC game on Steam Greenlight so Renegade Kid can bring some "much needed funds" towards the development of more eShop games on 3DS and WiiU - where the studio has become an authorised developer.
Watsham expects the game to sell like hotcakes if it gets released on Steam. "They outsell all of their competitors to the magnitude of something like 1000 to one. They're very impressive. Some games that were previously released on XBLA typically outsell the XBLA lifetime sales in just a few days on Steam."
"Voting for Mutant Mudds on Steam = more future eShop titles from Renegade Kid," he explained. "I get the impression that we're in need of about 100,000 total 'thumbs up' votes to reach the goal on Greenlight - so we only have about 98,000 positive votes to go."