If you don't want to sleep tonight, here's what happened to P.T.'s Lisa
There was a BODY here. It's gone now.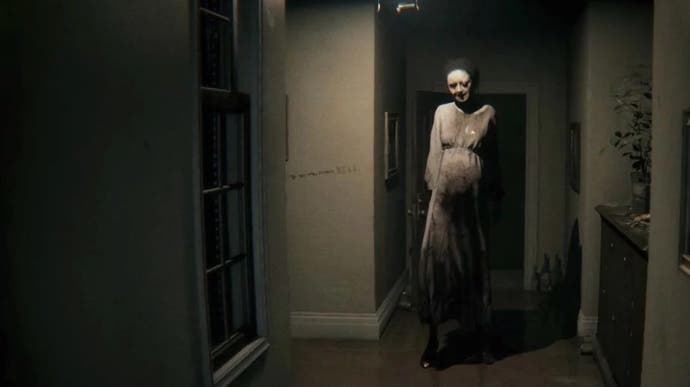 Just a few weeks back, Imogen reported Lance McDonald - the modder behind a number of cool hacks in Bloodborne and Dark Souls - had uncovered the horrifying realisation P.T.'s terrifying antagonist, Lisa, is, quite literally, attached to you as you roam that looping hallway.
Well, McDonald's back and this time, he reckons his camera hackery can put an end to speculation about Lisa's gruesome death once and for all:
In his latest video (thanks, Digital Trends), McDonald explains that several features of the playable teaser - such as the torn photo frame on the wall that falls to the floor, or the time when you first encounter Lisa, turning the corner - are controlled by fairly "rudimentary" on/off statuses. Manipulating the demo, he's able to toggle these assets on and off, permitting us to see a range of things that had hitherto been invisible or quickly concealed.
There's one asset, however, that never made it to the final demo.
Though we see the bathroom in two states - one with the bath half-filled with stagnant water, and another with an empty bathtub - McDonald states he's found one other state that's "loaded into memory but is never displayed"... and it's, er, pretty grim, to be honest.
It's Lisa, but she's headless and lying in a bloody bathtub.
Quite why this scene has been created but never shown is purely a matter of speculation, of course; it could be that the scene was deemed too gruesome, or perhaps didn't fit the atmosphere of the demo. Either way, this teaser's half a decade old and here I am, still writing about it, still obsessing about it, still wishing Silent Hills was fully realised.
"Obviously this video doesn't mean I won't have Dark Souls / Bloodborne / Sekiro videos going forward," McDonald assured his subscribers. "I'm not a monster. But last time I posted a Nier video people were stressed about the channel's future so I figure I need to actually say this.
"But we'll definitely be seeing more PT on here as well so please enjoy whatever you like!"