H1Z1 dev battles login issues as PS4 open beta hits 1.5m players
Royale with needs.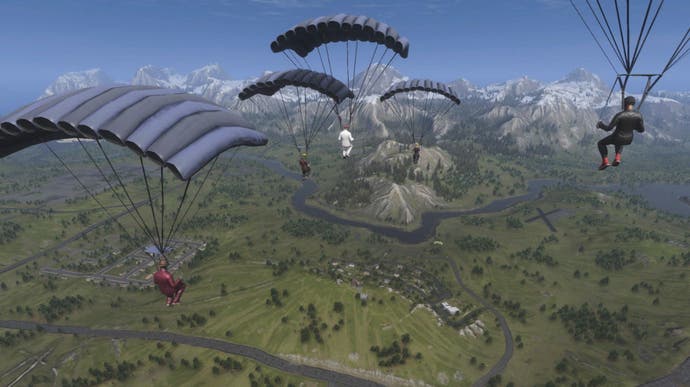 Battle royale game H1Z1 is out now on PlayStation 4 - and it's been an early hit.
The game's open beta has seen over 1.5 million players, developer Daybreak announced, since it launched just two days ago.
That's an impressive figure (although it's worth pointing out that H1Z1 is, like rival battle royale game Fortnite, free to download), but it is one that has caused problems for the game. Players have complained about not being able to login or make purchases.
Our Ian Higton, who is big into the game at the moment, told me he's also running up against these issues. Here's what he said:
"During the day you can quickly and comfortably jump into a match on H1Z1: Battle Royale and have a lovely time. At 4pm when the kids get back from school though, H1Z1: Battle Royale becomes a very different game. As it struggles to keep up with the new influx of players its servers collapse in on themselves rendering it unplayable to the majority. Sometimes you'll be lucky enough to sneak into a solo match after half an hour's wait but you can never guarantee that you'll get straight into another one after you bite the bullet.
"Squad matches are another thing entirely, the lobby and matchmaking systems both seem faulty and at peak times this mode is almost impossible to play. Even if you do get into a game you're almost certainly going to be missing a teammate or two. Thankfully things calm down again at around 10pm when all the kids have finally shuffled off to bed but by that time most of my mates want to pack it in as well. The sooner Daybreak can sort some more servers out for H1Z1 the better."
In a tweet, Daybreak said it was working on these issues.
[PS4 Open Beta] A huge THANK YOU to the 1,500,000+ of you who have joined us in The Arena since the #H1Z1 Open Beta launch on #PS4 yesterday! We're continuing to work to resolve login and purchase issues, and are committed to bringing you a pure battle royale experience. pic.twitter.com/kj9tP5BaLt

— H1Z1 (@H1Z1) May 24, 2018
It's been a rollercoaster ride for H1Z1. Daybreak insists the game is the original standalone battle royale title, a claim that stems from the February 2016 split of the original H1Z1 into the release of two separate projects: H1Z1: Just Survive and H1Z1: King of the Kill. In October 2017, Just Survive dropped the H1Z1 name, and King of the Kill became simply H1Z1. After three years of being in early access, H1Z1 officially released on 28th February 2018. Shortly after, the game went free-to-play.
H1Z1 is actually pretty good on PS4, according to Ian. If you fancy giving it a shot, be sure to check out his video, below.