Gwent: The Witcher Card Game is getting a draft-based Arena mode
UPDATE: The Arena mode is out now.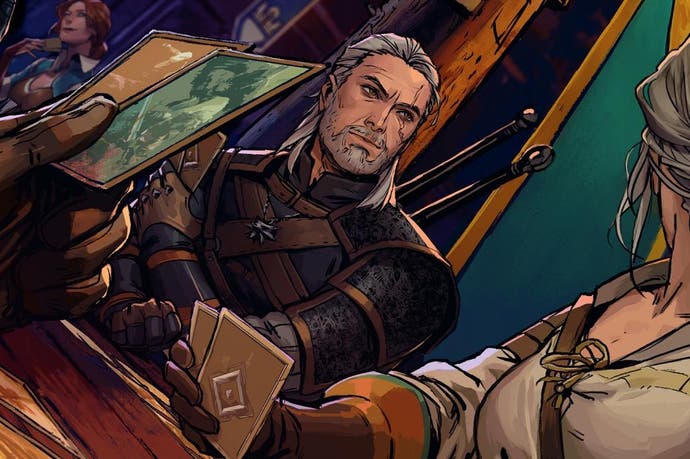 UPDATE 1ST MARCH: The Arena mode for Gwent has arrived for PC, PS4 and Xbox One. It was patched in yesterday along with 10 new cards, the details of which you can find on the Gwent website.
ORIGINAL STORY 14TH FEBRUARY: CD Projekt Red has announced that Gwent, the studio's Witcher-themed digital collectible card game, will be getting a new draft-based Arena mode soon.
Arena mode is themed around the infamous Gaunter O'Dimm - also known as the Man of Glass - the main antagonist in the Witcher 3's Hearts of Stone expansion. O'Dimm is known for creating pacts with people in exchange for their souls, and in Arena mode, you're nominally fighting to complete the terms of your own contract with O'Dimm.
In Arena mode, you always begin by building a deck drawn from Gwent's complete pool of cards - including premium card - with no restrictions on faction, card rarity, or duplicates. You'll build your deck one card at a time, picking from a selection of four randomly drawn cards of the same rarity until you're done. Once you've selected your leader at the end of the process, you can begin battling other players
In order to play in an Arena game, you'll need to purchase a run. This will either cost 150 ore (Gwent's in-game currency), or $1.99 in real money. A single run will end after nine "contracts" have been completed successfully, or when you've died three times.
Whatever the outcome, you're guaranteed to win one Keg, but prizes will increase the better you do. As you progress, you'll earn a mixture of random and assigned rewards, currency rewards and, if you manage to win all nine battles, a random premium Gold card.
Gwent's new Arena mode is still a work-in-progress, and a release date hasn't yet been set. However, CD Projekt Red showed off an early version of the mode, and shared a few more specifics, on Twitch yesterday. You can see the livestream in its entirety above.