Fortnite's new map leaked online weeks ago but no one believed it was real
Leaky lake.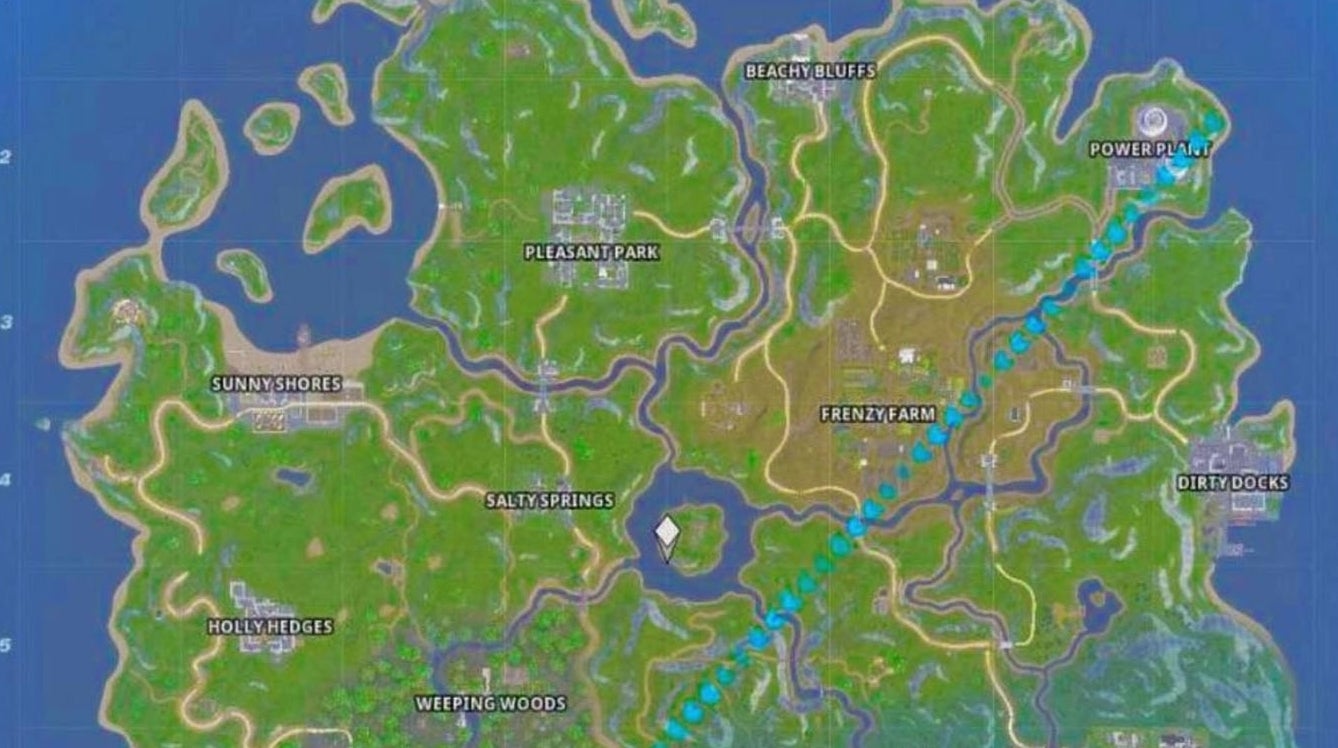 Fortnite's new map is the star of its revamped, reinvigorated Chapter 2 update, which launched yesterday after nearly 48 hours of black hole-ridden downtime.
But yesterday was not the first time fans had been able to peer at the new map. It had, in fact, been floating around various corners of the internet for several weeks.
The problem was, no one believed it.
Back in September, an image showing most of the map was posted to the r/fortnitecompetitive reddit. The post - which has since been deleted - claimed it was a leak from a "friend" who was an Epic employee.
It included the same leaked place names as those found within Fortnite's own update files, apparently for a set of new areas due to debut in season 11. It also included a Battle Bus route and location marker, as if snipped from an in-game screenshot illicitly taken on a top-secret test server.
Was it real? The internet quickly decided no. Fan-made map concepts are posted on reddit all the time, and the idea Fortnite was suddenly going to switch to an all-new island was still far from certain. Despite being reposted a couple more times (including to the main r/FortniteBR by user FaZeNiccorazi, who provided a good summary of its repost history here), the image failed to gain much traction. Each time it was posted, it was downvoted into oblivion.
Everything changed on 4th October, when well-known Fortnite leaker Hypex posted the map to Twitter. The end of season X was now rapidly approaching and more hints had been dropped that Fortnite would indeed blow up its old map for good. Hypex claimed an anonymous source on 4chan had "maybe" told him the leak was real.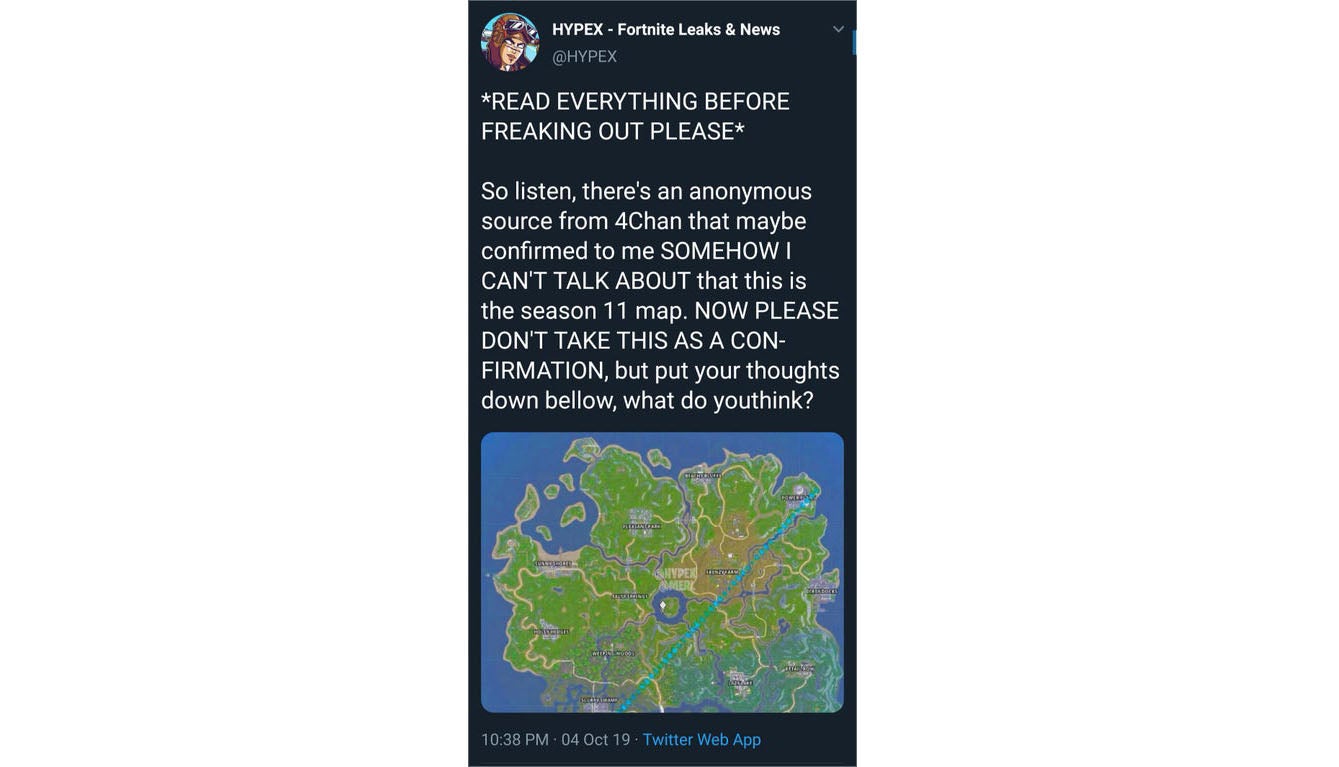 Verifiable or not, Hypex's post quickly blew up - spread to his half a million Twitter followers and more than a million YouTube subscribers.
But as soon as the post began to gain traction, someone on Twitter came forward to say that the map was a fake after all. In now-deleted tweets, they said they were behind the original post on reddit - and had made the map themselves in Photoshop.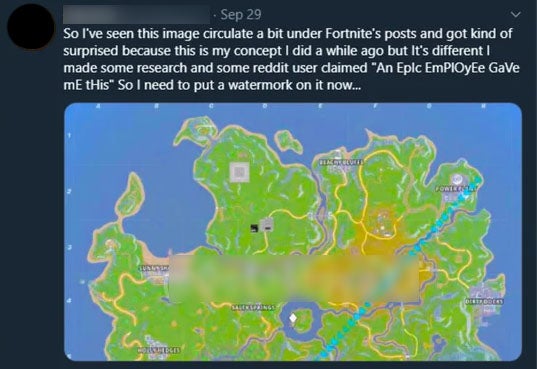 Now, of course, it's obvious the leak was real. Comparing the two side-by-side shows them as nearly identical. So why had someone come forward to say they made it all up?
Eurogamer spoke with the person behind it all earlier this week, who we won't name due to their age. They did not wish to elaborate further on how they obtained the leaked map. Their claim the map was fan-made came after Epic had got in touch to say it had noticed the leak, they said.
Writing on Twitter last night, the person publicly apologised for all the confusion. We've separately asked Epic for comment.
With the new map released, the leaked version is still an interesting artefact - a look at Epic's work-in-progress build. We can see the in-development names for map locations which have since been replaced. And we can see areas which have clearly changed versus the release version (for example, the snow-capped mountains seen in the bottom right corner).
And it's fun to know that, more than a month before all the black hole speculation, the truth was already out there.