Fortnite's big addition of vehicles is stuck on the production line
"Expect a few weeks until we're road ready."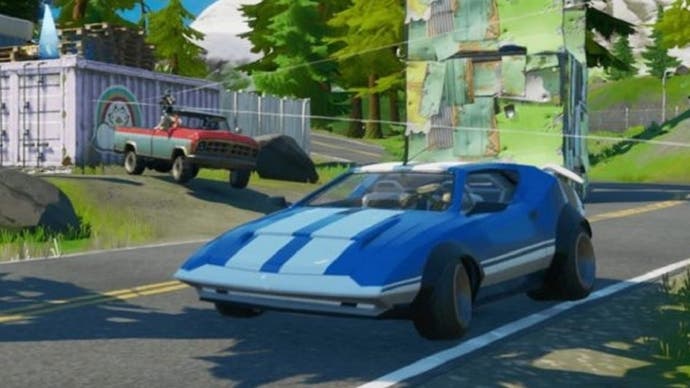 Fortnite's planned addition of cars has hit a road block, and will now take a little longer to roll out.
Vehicles were due to become available as this season's waterlogged map slowly dried out. So far we've seen the game's water level drop four or five times - but no vehicles have appeared.
In a tweet last night penned by Fortnite's in-universe No Sweat insurance company, Epic Games told fans to "expect a few weeks until we're road ready".
Meanwhile, behind the scenes, a planned weekly challenge relating to cars was swapped out for an alternative.
Epic has been busy getting things ready: Fortnite's island now features a set of gas stations where you'll need to refuel your automobile (including one built on top of poor Crackshot's cabin).
Fender bender? #NoSweat.
Run out of gas? That's not covered.

Our lawyers are currently sweating the policy details and fixing typos like 'otter coverage' instead of auto coverage. Due to this, many vehicles got taken for inspection.

Expect a few weeks until we're road ready. pic.twitter.com/6YdPara80q

— Fortnite (@FortniteGame) July 23, 2020
Leaks have pointed to the arrival of cars bringing several vehicle-related game modes, including something named Race Royale, and another that sounds a lot like Crazy Taxi.
Various other have pointed to several other island changes before this season wraps up - including a new underwater ruins area for Aquaman, and a crashed spaceship for fellow battle pass character Siona.
Epic is yet to announce any change to this season's current end date, but the late arrival of cars suggests we could see another extension.