Fortnite gets The Joker, Poison Ivy and Midas Rex skins this November
Lol.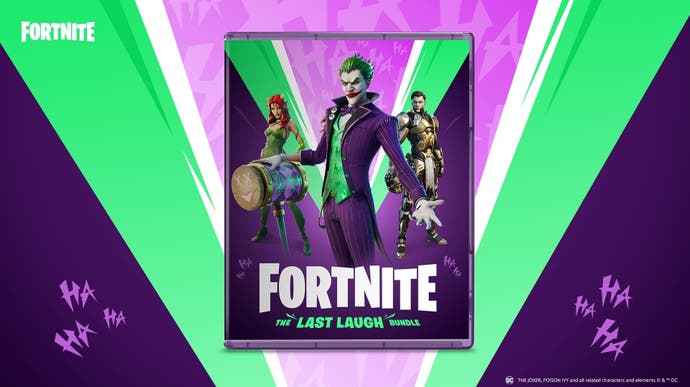 Fortnite is getting new DC-themed skins this November.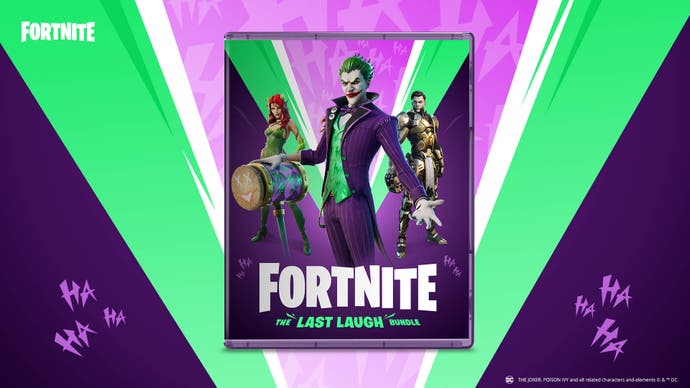 The Last Laugh Bundle, out 17th November 2020, includes new The Joker, Poison Ivy, and Midas Rex outfits.
Here's what you get with the bundle:
Three outfits: The Joker, Poison Ivy, Midas Rex
Three Back Blings: Laugh Riot (reactive), Back Bloom, Midas Crest
Four Pickaxes: Bad Joke, The Joker's Revenge, Ivy Axe, Kingmaker
Pick a Card Contrail
Our resident Fortnite expert Tom Phillips tells me Midas is the top character from last season's battle pass and a big fan-favourite. He was the boss of that season's spy agency, and was killed off at the start of this season by getting eaten by a shark in its intro trailer, though there were subsequent in-game clues he survived. Fans suspected he would be back, and here he is.
The Last Laugh Bundle is available for digital or physical purchase and includes 1000 V-Bucks.
There's a £24.99 retail version for PlayStation 4, Nintendo Switch, and Xbox One, courtesy of Warner Bros. "It will also arrive in time for the release of the PlayStation 5 and Xbox Series X next-generation consoles," Epic said.
There's a question-mark over the sale of the bundle on mobile platforms after Epic launched lawsuits against both Apple and Google over their digital store policies. Fortnite is currently unavailable on the App Store and the Google Play Store.
"For players on mobile and PC platforms, we've got you covered," Epic said. "We'll share how you'll be able to purchase the Fortnite: The Last Laugh Bundle soon."