Fortnite is getting a mysterious new High Stakes event next week
Includes a Getaway mode, snazzy new suit.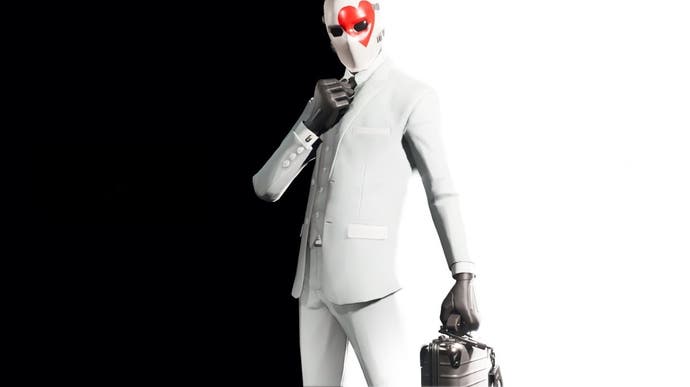 Because Fortnite wouldn't be Fortnite if it didn't find a way to to be enticingly enigmatic at least once every couple of days, Epic has teased a mysterious new High Stakes event, due to begin some time next week.
All we know about High Stakes so far comes from a tweet that Epic posted earlier today. "Suit up", it said, before revealing that the event would consist of several different components: a new limited-time mode titled Getaway, special High Stakes challenges, and the new Wild Card outfit - which, let's be honest, looks pretty damn swish.
Suit up… the High Stakes event begins next week and with it comes the new Getaway LTM, Wild Card outfit, and High Stakes Challenges! ♥️♣️♦️♠️ pic.twitter.com/FYImwgxeMU

— Fortnite (@FortniteGame) August 31, 2018
So what can we glean from all that, the Scarface allusions, and the proliferation of playing card iconography? Well the obvious assumption would be some kind of casino/gambling theme - although that does seem a rather odd, given Fortnite's legion of young fans. The name Getaway, meanwhile, suggests that we could be nudging closer toward heist caper territory - although goodness knows how that might fit into Fortnite's usual Battle Royale shenanigans.
Basically, what I'm saying is, I haven't the faintest idea what it all means.
Luckily for everyone whose curiosity has been piqued, Epic is set to offer a first look at High Stakes during its PAX West livestream, which starts at 6pm PT tonight (that's 2am tomorrow, Saturday September 1st, in the UK) and runs throughout the weekend.
In other Fortnite-related mystery-news, the massive cube that zapped through a crack into Battle Royale mode last Friday has spend the past week trundling lazily around the map, occasionally depositing runes on the ground, and filling the air with possibly inter-dimensional anti-gravity magic. You can chalk that up as another Fortnite puzzle I currently cannot explain.