Fall Guys is getting a mobile version in China
Cool beans.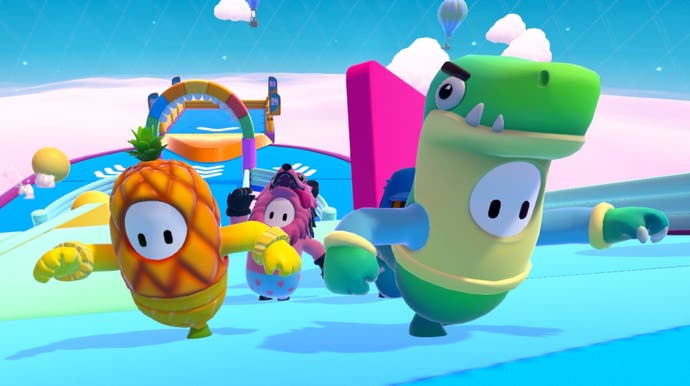 It's been out less than a month on PlayStation 4 and PC, but it looks like Fall Guys is already preparing to make the leap across to phones - although we may have to wait a while for a western version.
As reported by games market analyst Daniel Ahmad, Chinese games company Bilibili has secured the rights to a mobile version of Fall Guys: Ultimate Knockout. At the moment it's only set to release in China, but after going to all the effort of creating a mobile version, it would certainly make sense for the game to eventually be released in the west. It seems no other mobile versions are in the works right at this moment, however, with Mediatonic co-founder Paul Croft telling Gamesindustry.biz that the studio is currently "focusing [its] efforts on PC and PS4", but would like to see Fall Guys released on more platforms in future.
Somewhat ironically, last week Fall Guys had to release a warning about fake adverts for a mobile version of Fall Guys, reminding players that "Fall Guys is only available on PC & PS4" and that the mobile versions were "scams". The release of a Chinese mobile version is sure to make spotting those a little more complicated.
Fall Guys is only available on PC & PS4

If you see any ads for a mobile version they are scams

a) They're literally playing a video and pretending to play it
b) There's literally a mouse cursor on the screen
c) I don't want to live on this planet anymore
d) Yeet me into the sun pic.twitter.com/ZKfw5gVaqW

— Fall Guys - Creative Construction (@FallGuysGame) August 17, 2020
There's more Fall Guys news set to be revealed later this week, as the "world premiere sneak peek" of season two will be revealed as part of the (now fully online) Gamescom Opening Night Live proceedings. If you want to catch that, you can tune in at 7pm BST this Thursday to pick which outfit will be your favourite next season.