Epic allows recreations of Fortnite's original map in new Creative mode
Peely good news.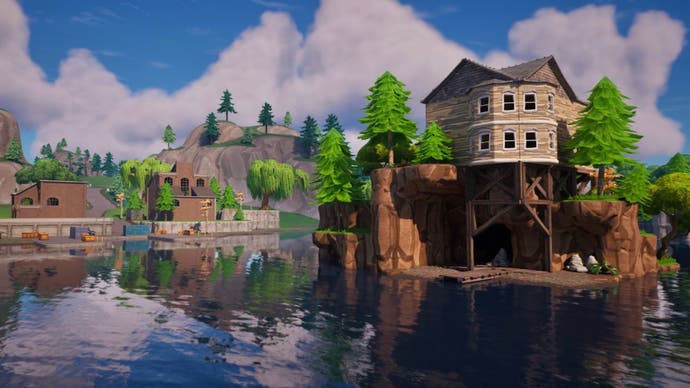 Epic has updated its terms and conditions to allow players to recreate Fortnite's original map in the newly launched Fortnite Creative 2.0.
The new mode launched this week alongside an unveiling of the advancements in Unreal Engine 5 that power it. Of course, the first thing fans did with all that power and creativity was recreate old Fortnite maps.
That, however, is technically against Epic's terms and conditions, as recreating copyrighted intellectual property is forbidden.
Epic has now updated those terms and conditions to make an exception for the original Fortnite Battle Royale map.
"We are as excited as you to relive the experiences we shared in the original Fortnite Battle Royale Chapter 1 map, and so we are granting a special and specific exception to allow creators to publish their own remakes of the Chapter 1 maps (and only the Chapter 1 maps). Like maps built using the 'Battle Royale Island' starter island, islands recreating Chapter 1 maps will remain ineligible for monetization," reads a statement from Epic.
There are currently 2 Fortnite Creative teams racing to remake the OG Fortnite in Fortnite

Looks like both teams have hit the 100k memory cap currently in Creative 2.0 UEFN. So they'll have to remove some features of the map to publish :/

— Jake Lucky (@JakeSucky) March 23, 2023
As Epic updates its maps with each chapter, there's no way to play the original map - until now.