Warzone best FFAR 1 loadout: Our FFAR class setup recommendation and how to unlock the FFAR explained
You're gonna go FFAR, kid.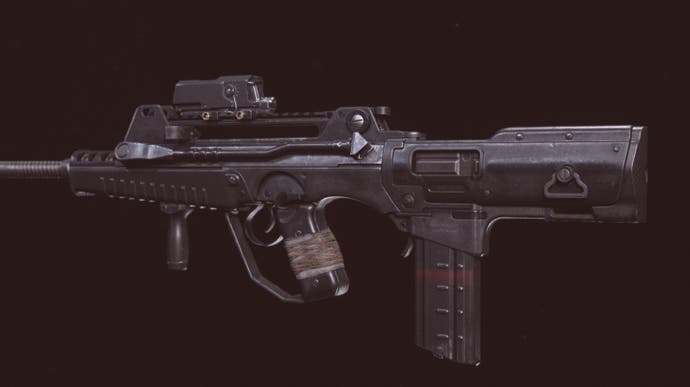 Build the perfect Warzone FFAR 1 loadout with our class set up recommendation.
The FFAR 1 in Warzone is an excellent full-auto assault rifle, providing a fast rate of fire with rapid reloading speeds.
The FFAR is just one of a slate of weapons to have made the jump from Black Ops Cold War to Warzone. Since player levels between the two games are now synced, you'll unlock the FFAR at the same time in both games.
There's no doubt the FFAR is one of the fastest firing assault rifles in both Call of Duty: Warzone and Black Ops Cold War.
What it somewhat lacks in pure stopping it more than makes up for in handling speed, fire rate, and reload speed, as it's one of the slicker assault rifles in either game. This page will cover how to unlock the FFAR 1, and the best FFAR 1 loadout and FFAR 1 class recommendations to capitalize in its strength.
On this page:
If you're looking for other loadout recommendations, we have pages on the XM4, Krig 6, MP5, AUG, MAC 10, M16, and for owners of the latest Call of Duty game, our picks for the best guns in Black Ops: Cold War.
How to unlock the FFAR 1 in Warzone
To unlock the FFAR, you need to attain player level 40 in Call of Duty: Warzone.
However, as we mentioned earlier, player levels have now been synced across both Warzone and Black Ops Cold War, meaning if you hit level 40 and unlock the FFAR in one game, you'll find it immediately unlocked as soon as you boot up the other game.
If you're trying to level up as fast as possible, we recommend playing to your strengths: find out which game you level up the quickest in, and use that to grind through the ranks.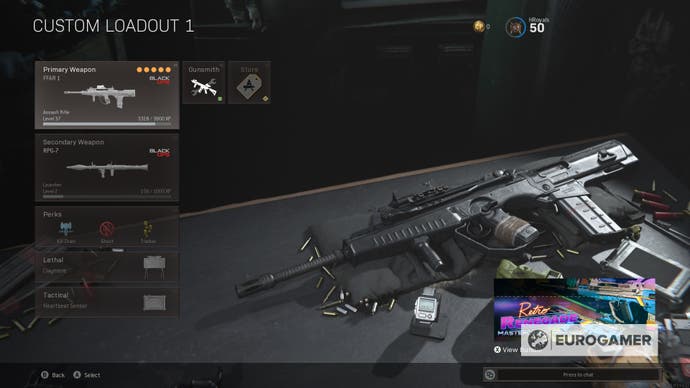 For example, we've found we accumulate XP far quicker in games of 24/7 playlists and Team Deathmatch matches in Black Ops Cold War than we would playing a slew of lengthier Warzone matches, so it makes sense to prioritize this route. If you're only playing Warzone, shorter modes such as Plunder are great for this, especially since you can revive multiple times during the match.
Best Warzone FFAR 1 loadout and attachments
Just below, you can find our selection of the best attachments to use with the FFAR in Warzone.
Muzzle: Suppressor (Unlocks at level 20)
Barrel: 19.5" Task Force (Unlocks at level 48)
Stock: Raider Stock (Unlocks at level 54)
Ammunition: STANAG 50 Rnd (Unlocks at level 34)
Rear Grip: Serpent Wrap (Unlocks at level 44)
Despite the GRU Suppressor's popularity, we're opting for the regular Suppressor instead. This attachment increases sprint to fire and aim down sight speed, as well as boosting bullet velocity and adding sound suppression. In return, the effective damage range is hit slightly.
We've opted for the 19.5" Task Force attachment for our barrel option with the FFAR. This capitalizes on the increase to bullet velocity of the muzzle, while it also improves effective damage range and both horizontal and vertical recoil control. Your overall speed and hip fire accuracy are all hit as a result, but that's what the next attachment is there for.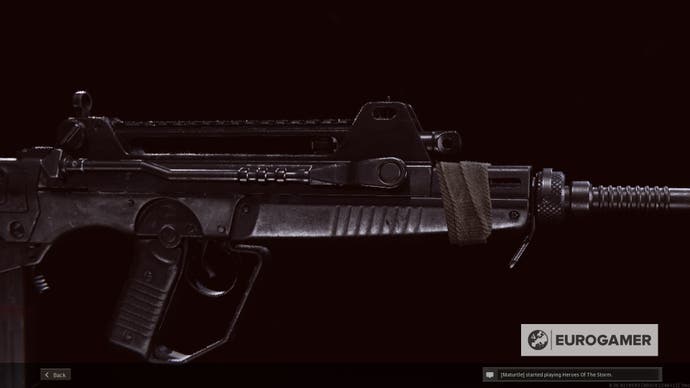 While we previously opted for an optic, we recommend switching it over to the Raider Stock for this particular build. This will improve ADS firing move speed, aim walking movement speed and sprint to fire time. Hip fire accuracy is hit in return, but it's a worthy trade-off all around.
As for ammunition, the STANAG 50 Rnd is a must-have for the FFAR. Reload quickness and ADS time are reduced as a result, but 50 rounds is the minimum to have. Plus, the next attachment will balance this out.
Lastly, when it comes to the Rear Grip attachment slot for the FFAR, we recommend the Serpent Wrap. With a slight hit to sprint to fire speed, you will obtain an increase on ADS speed, countering the ammunition attachment and serving as the perfect companion to the muzzle as well.
---
Warzone Season 5 is almost here! If you want to learn more about firepower from previously, we explain the best Welgun loadout, best Cooper Carbine loadout, best Gorenko Anti-Tank Rifle loadout, best STG44 loadout, best MP40 loadout, best Automaton loadout, best BAR loadout, best Combat Shotgun loadout, best Type 100 loadout, and best Kar98k loadouts.
---
Best Warzone FFAR 1 class setup, perks and equipment
Below, you can find our list of all the essential Perk and equipment items to pair with the FFAR.
Perk 1: Kill Chain (Unlocks at level 34)
Perk 2: Overkill (Unlocks at level 38)
Perk 3: Spotter (Unlocks at level 38)
Secondary: Swiss K31 (Unlocks at level 31 of the Season 3 Battle Pass)
Tactical: Heartbeat Sensor (Unlocks at level 30)
Lethal: Claymore (Unlocks at level 1)
Kill Chain is always an excellent Perk option for any custom class in Call of Duty: Warzone. Going rifling through Supply Boxes is a critical part of the battle royale game after all, so it makes sense that you'd want a Perk that significantly increases your chances of finding a Killstreak hidden within.
Next up, you'll want to use Overkill to carry a second primary weapon. In this case, since our FFAR build excels at close to mid range, the Swiss K31 is great to close that long distance gap. Plus, it's a super fast sniper rifle, and will pair well with the assault rifle's capabilities.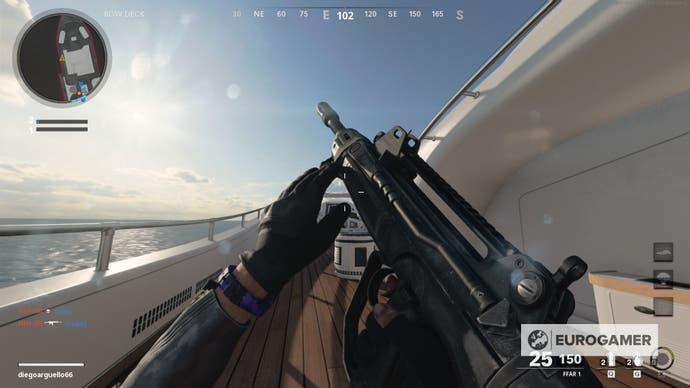 For Perk slot three, we've opted for the Tracker Perk. This might be the final unlock for Perk slot three, but it's worth the grind, as it will allow you to see the footprints that enemy players have recently left on the ground, effectively giving you a path straight to them.
As we mentioned earlier, the Heartbeat Sensor lets you ping for nearby enemy players, so it's a great choice for your Tactical equipment slot. Bringing the Heartbeat Sensor up on the shoulder button, the Heartbeat Sensor will scan in the direction you're facing for 50 meters, giving you an indication of how many players you're facing.
Rounding out the picks for equipment is Claymore, a simple but effective choice. If you ever encounter any aggressive players that are pushing on your position, or if you need to defend a location, the Claymore is a great option to have in your back pocket to give any aggressive enemies a particularly nasty explosion.