Warzone best Swiss K31 loadout: Our Swiss K31 class setup recommendation and how to unlock the Swiss K31 explained
How to get the most out of the Swiss K31 in Call of Duty: Warzone.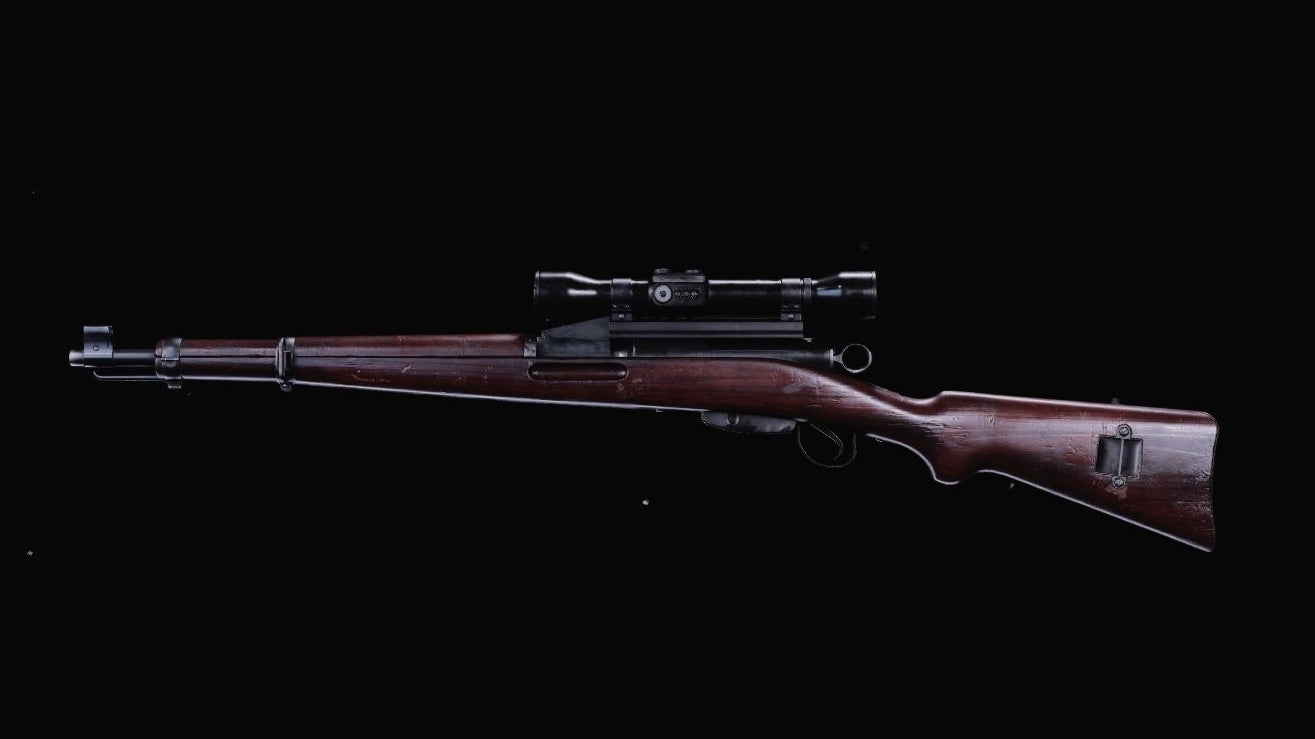 Build the perfect Black Ops: Cold War and Warzone Swiss K31 loadout with our class set up recommendation.
The Swiss K31 in Warzone joins the PPSh-41 in kicking off Season 3 with several new weapons.
If you were looking for a new sniper rifle, the Swiss K31 is an intriguing and old school choice. This is a bolt-action sniper rifle, so people already familiar with marksman rifles and similar snipers will feel right at home.
The rate of fire is quicker than other heavy hitters like the ZRG 20mm, for example, which is compensated by a less impressive damage when aiming below the head.
Warzone's latest season has taken players all the way back to 1984 - and this is a sniper rifle you will be seeing often. This page covers how to unlock the Swiss K31 and the best Swiss K31 loadout to prepare yourself for the battlefield.
On this page:
For more explainers, read our selection of best Warzone weapon recommendations, as well as deep dives into popular picks such as the CARV.2, FARA 83, Stoner 63, AK-47, Bullfrog and PPSh 41.
How to unlock the Swiss K31 in Warzone
Arriving to the roster on April 22nd, 2021, the Swiss K31 first debuted in Warzone at the start of Season 3. It used to be that you'd need to reach level 31 of the Battle Pass in order to unlock the weapon. But this changed with the arrival of Season 4.
Now, in order to unlock the Swiss K31 in Warzone, you must get 2 Headshot kills in 15 different completed matches using any sniper rifle.
This is a super easy challenge. Headshots are your bread and butter when using snipers, so you probably won't even have to stress about it too much within matches. You can hop in, get the required kills, and then switch to another loadout if you so desire.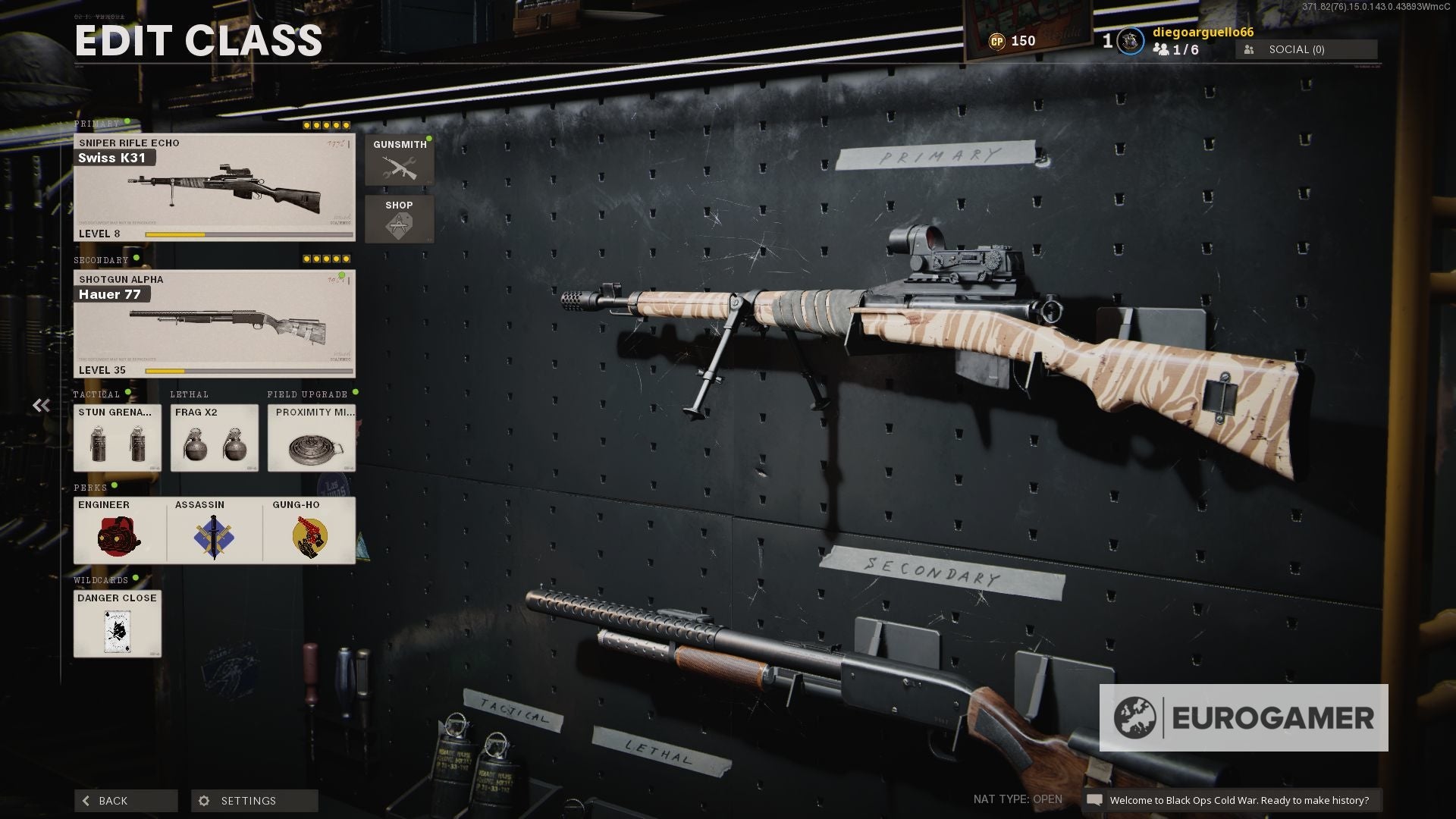 Doing this across 15 matches, however, is a bit time consuming. Unless you've set aside a weekend to marathon multiple matches already, we recommend taking on Team Deathmatch playlists and shorter modes like Nuketown 24/7 to complete the challenge as fast as possible.
As per usual, if you're opting for Warzone, we can't recommend Plunder mode enough - that way you can revive throughout the match in case an enemy player takes you down all of the sudden.
Once you've completed the challenge, the game will let you know of your new weapon in the rewards page after the match. From there, just head to the loadout tab and equip the weapon in the primary slot.
Best Warzone Swiss K31 loadout and attachments
The Swiss K31 is a refreshing addition to the weapons' roster, but it's important to keep in mind both its advantages and limitations. It carries low recoil and great accuracy, but some aspects like aim down sight speed and idle sway control are a top priority in terms of loadout planning.
Below are our recommendations for an optimal Swiss K31 loadout, as well as the corresponding levels for each:
Muzzle: GRU Suppressor (Unlocks at level 46)
Barrel: 24.9″ Combat Recon (Unlocks at level 30)
Laser: SWAT 5mw Laser Sight (Unlocks at level 31)
Underbarrel: Bruiser Grip (Unlocks at level 33)
Rear Grip: Serpent Grip (Unlocks at level 44)
While we previously opted for the Sound Moderator, we're back on track with the GRU Suppressor. It comes with an increase in vertical recoil control, both bullet velocity and damage range, and the addition of sound suppression. Your aim down sight speed and stability will be hit slightly as a result, but just slightly, so nothing to worry about.
The 24.9" Combat Recon barrel is a vital inclusion in this build. Your idle sway control will be decreased, but the addition of bullet velocity is a must to strengthen the muzzle even further. Plus, Season 4's early balance updates buffed this attachment, increasing the bullet velocity gain from 43% to 50%.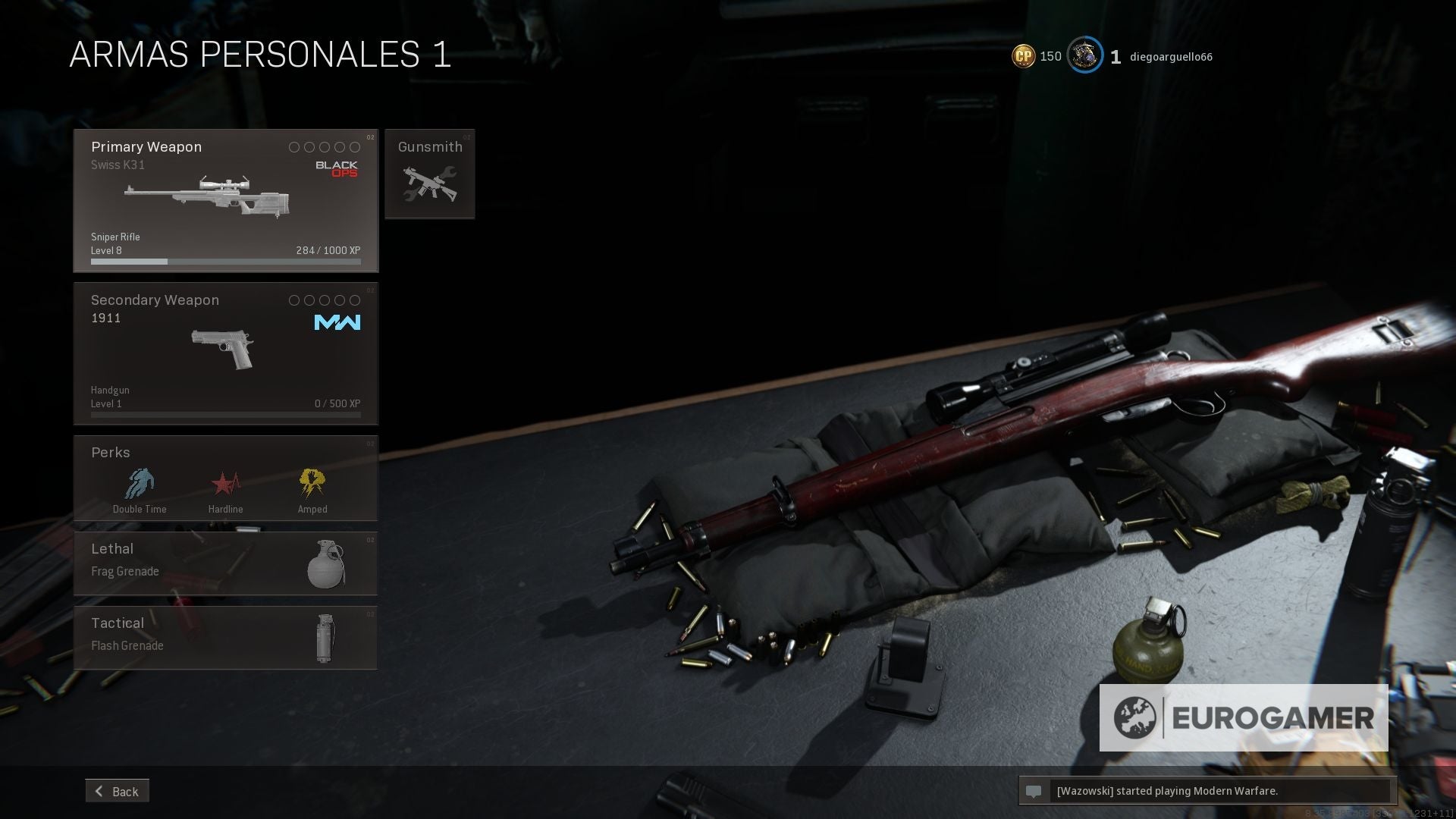 Yes, we know that adding a laser to a sniper rifle sounds a tad ridiculous, but it's actually beneficial here. Opting for the SWAT 5mw Laser Sight will improve the aim down sight time exponentially, with only a slight decrease to aim walking movement speed.
We used to recommend an optic instead of an underbarrel, but ever since the Swiss K31's default scope got fixed, you can now use this slot for the Bruiser Grip. This will improve both movement speed and aiming stability.
Lastly, the Serpent Grip is perfect to increase the aim down sight time even more. You will lose a bit of sprint to fire time, but it's nothing compared to the balance it provides to the loadout as a whole. As a result, the Swiss K31 will now be faster than ever before.
---
Warzone Season 5 is almost here! If you want to learn more about firepower from previously, we explain the best Welgun loadout, best Cooper Carbine loadout, best Gorenko Anti-Tank Rifle loadout, best STG44 loadout, best MP40 loadout, best Automaton loadout, best BAR loadout, best Combat Shotgun loadout, best Type 100 loadout, and best Kar98k loadouts.
---
Best Warzone Swiss K31 class setup, perks and equipment
Here's our choices for the best items - such as equipment and Perks - to make the best Swiss K31 class setup in Warzone:
Perk 1: Cold-Blooded (Unlocks at level 29)
Perk 2: Overkill (Unlocks at level 38)
Perk 3: Tracker (Unlocks at level 51)
Secondary: FARA 83 (Unlocks by completing a challenge where you'll need to get two headshot kills in 15 different matches using assault rifles)
Tactical: Heartbeat Sensor (Unlocks at level 1)
Lethal: Claymore (Unlocks at level 1)
As you will be mainly using the sniper rifle in Warzone, either to cover a teammate or just as you defend your spot before the circle closes yet again, Cold-Blooded is a must. This will allow you to go undetected by the AI targeting system, as well as thermal optics from enemies.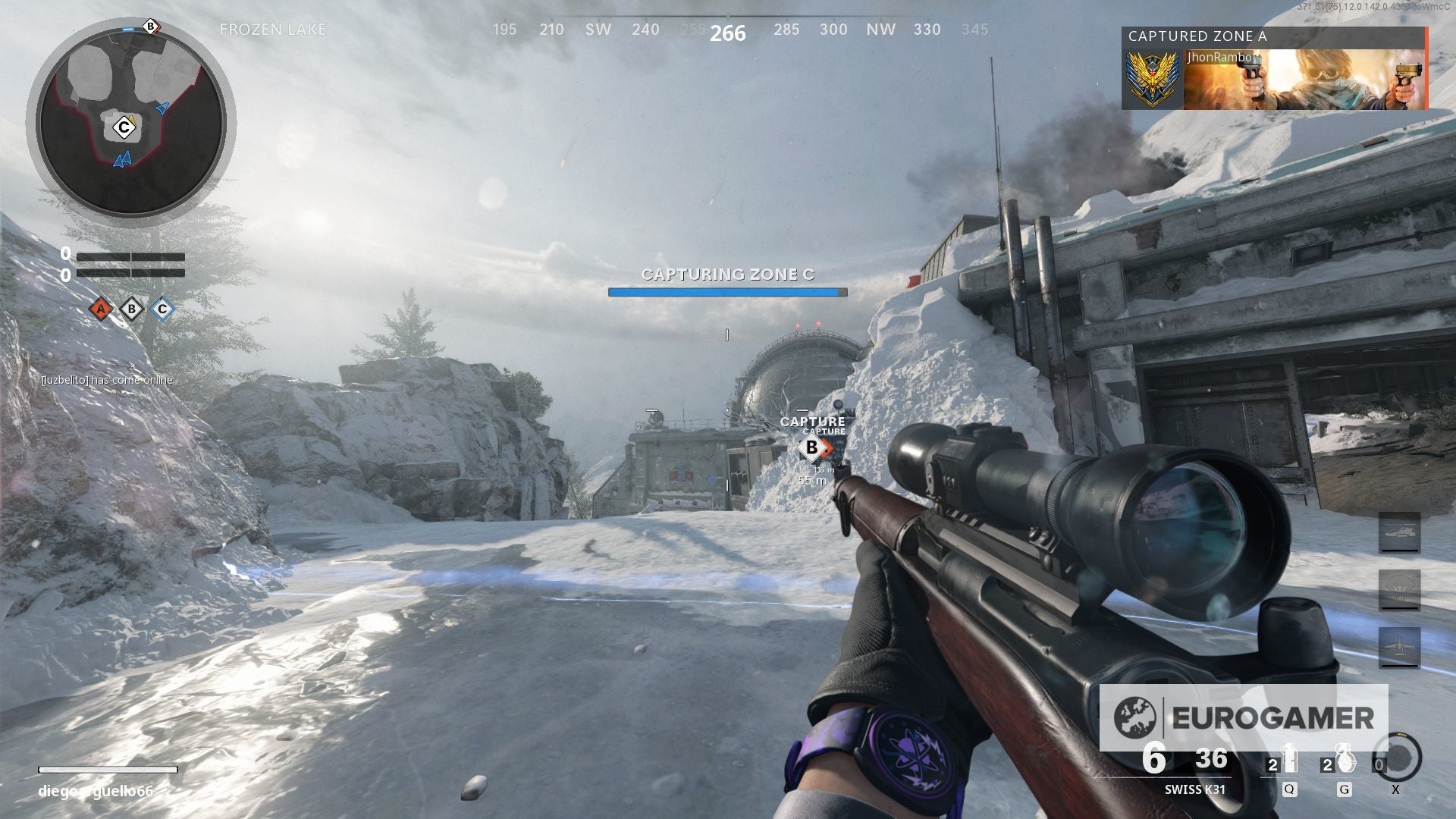 As per usual we recommend opting for Overkill as the second perk. On this occasion we went for the FARA 83. It's a versatile assault rifle that should cover everything from short to long range, and pairs greatly with the speedy build for this sniper.
For the third perk, we went for Tracker over the others thanks to the ability to see imprints of enemy footsteps.
Lastly, the Heartbeat Sensor is a great companion for the third perk, allowing you to keep an eye on enemies that you haven't crossed paths with yet. But in case anyone manages to sneak past your vicinity, having a Claymore placed near you should provide for a helping hand.