Warzone best CARV.2 loadout: Our CARV.2 class setup recommendation and how to unlock the CARV.2 explained
High carv.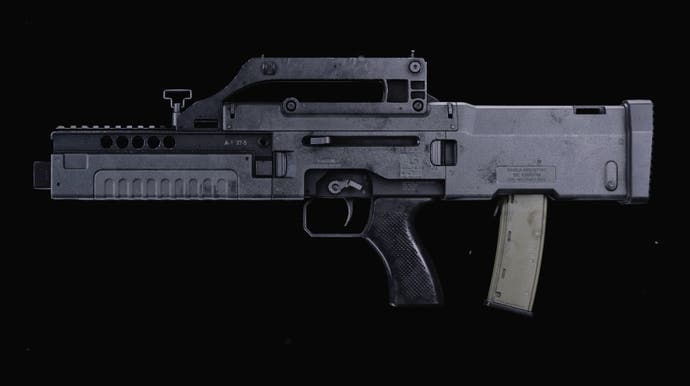 Build the perfect Black Ops: Cold War and Warzone CARV.2 loadout with our class set up recommendation.
The CARV.2 in Warzone introduces itself as a rather fast tactical rifle, with little to no delay in between bursts.
With a fire rate that feels more akin to assault rifles than their tactical counterparts, the CARV.2 first debuted in Warzone and Black Ops: Cold War a few weeks into Season 3 - and requires to complete a specific challenge to unlock.
This weapon is a powerhouse with its low time to kill, which will likely change your mind on tactical rifles in case they weren't your cup of tea before.
This page will cover how to unlock the CARV.2 in the quickest way possible, and our the best CARV.2 loadout and CARV.2 class recommendations to capitalize in its already daunting potential.
On this page:
For more explainers, read our selection of best Warzone weapon recommendations, as well as deep dives into popular picks such as the FARA 83, Stoner 63, AK-47, Swiss K31 and Bullfrog.
How to unlock the CARV.2 in Warzone
Debuting during the first half of Season 3, the CARV.2 can be acquired through the use of a shop Blueprint or in-game challenge.
To unlock the CARV.2 in Warzone and Black Ops: Cold War, you must rapidly kill two or more players in 10 different complete matches using Tactical Rifles.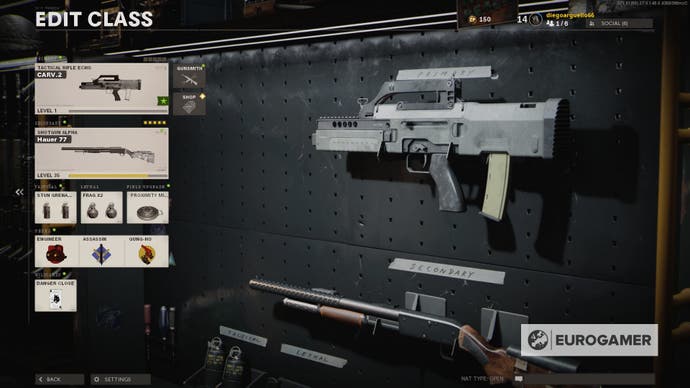 There are a few exceptions with this. If you happen to hurt an enemy before you die and one of your teammates gets the kill, giving you the partial kill, it won't count. The same applies if, for example, you get a kill and then get a second one with a proximity mine or any other explosives.
Of course, you're not able to see whether or not you've achieved the requirement during the match. But an easy way to know this is to look at your badges. If you get at least a Double Kill streak, you can rest assured it has counted towards the challenge.
To speed things up we recommend playing Diesel/Yamantau 24/7 in Black Ops: Cold War, as well as any other Team Deathmatch playlists of your liking. Hardcore 3v3 modes might be good for this as well, but you end up with less chances to strike a Double Skill or more.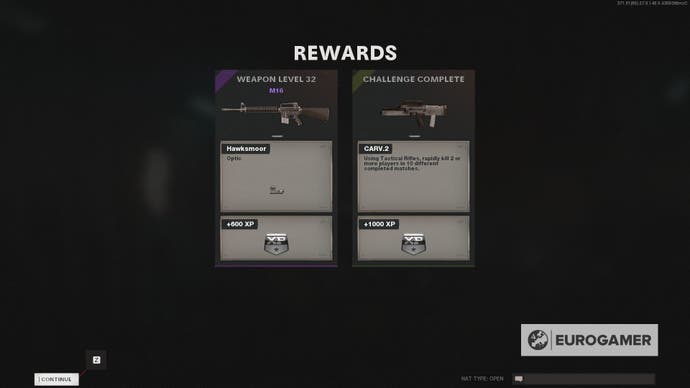 If you're opting for Warzone, you should focus on Plunder mode first and foremost. It will save you tonnes of time compared to battle royale as you can revive throughout the match.
Once you've completed the challenge, the game will let you know of your new weapon in the rewards page after the match. From there, just head to the loadout tab and equip the weapon in the primary slot.
Best Warzone CARV.2 loadout and attachments
Below are our recommendations for an optimal CARV.2 loadout, as well as the corresponding levels for each:
Muzzle: Agency Silencer (unlocks at level 46)
Barrel: 22.5" Task Force (unlocks at level 48)
Optic: Axial Arms 3x (unlocks at level 12)
Underbarrel: Field Agent Foregrip (unlocks at level 41)
Ammunition: 45 Rnd Speed Mag (unlocks at level 25)
We know level 46 might sound steep, but the Agency Silencer is by far the best muzzle available. Along with the usual sound suppression you'll obtain vertical recoil control, as well as an increase to bullet velocity and damage range. Your aim down sight speed and aim stability will be slightly hit because of this, but it's nothing major compared to the perks you'll obtain in return. This tactical rifle is devastating at mid to long distances, so we want to further strength this as much as possible.
As for the barrel, we picked the 22.5" Task Force. This is another attachment with a steep level requirement, but it will compliment the increase of bullet velocity and damage range of the muzzle even more, with the cost of adding recoil on both sides. Remember that vertical recoil is already countered with the muzzle, too, which lessens the negative impact.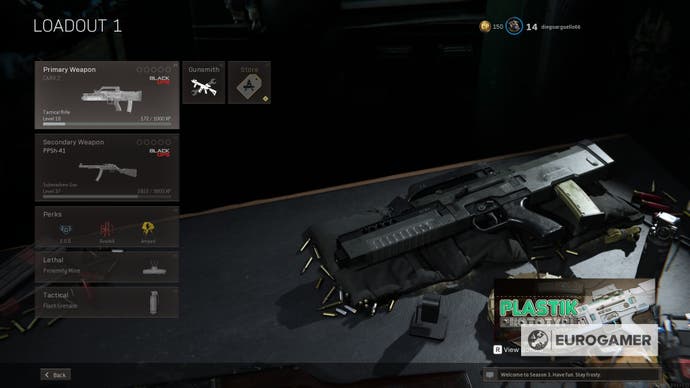 Whilst the addition of an optic is often optional, the CARV.2 benefits greatly from one. We picked the Axial Arms 3x for the job, which you can obtain early on, packs up to 3.0x magnification, and just suits the weapon perfectly. No need to go for anything fancy regarding this category, but an optic is a must.
Onto the underbarrel - in our experience, the Field Agent Foregrip is a no-brainer amidst the rest of the options. You firing move speed will be reduced slightly, but using this will counter the added recoil from the barrel, giving you more control over the rifle all around.
Finally, you're gonna want to increase the ammunition of the CARV.2, and the 45 Rnd Speed Mag is perfect for this. With a slight decrease in ADS time, you will gain an increased magazine and a boost in reload quickness, which is a must considering the slow nature of the weapon in this regard.
---
Warzone Season 5 is almost here! If you want to learn more about firepower from previously, we explain the best Welgun loadout, best Cooper Carbine loadout, best Gorenko Anti-Tank Rifle loadout, best STG44 loadout, best MP40 loadout, best Automaton loadout, best BAR loadout, best Combat Shotgun loadout, best Type 100 loadout, and best Kar98k loadouts.
---
Best Warzone CARV.2 class setup, perks and equipment
Here's our choices for the best items - such as equipment and Perks - to make the best CARV.2 class setup in Warzone:
Perk 1: Quick Fix (Unlocks at level 42)
Perk 2: Overkill (Unlocks at level 38)
Perk 3: Amped (Unlocks at level 1)
Secondary: Swiss K31 (Unlocks at level 31 of the Season 3 Battle Pass)
Tactical: Stun Grenade (Unlocks at level 1)
Lethal: Proximity Mine (Unlocks at level 43)
It won't take you long to take down enemies in Warzone with the CARV.2, so starting health regeneration immediately after with Quick Fix makes for a great combo. If you're unsure about what to use until you reach level 42, E.O.D. will help to mitigate damage from non-killstreak explosives and fire until then.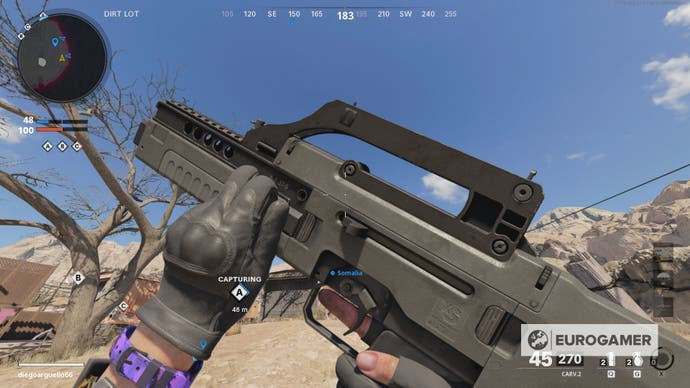 As per usual we recommend opting for Overkill as the second perk. On this occasion we chose the Swiss K31 sniper rifle - having the firepower of an SMG such as the PPSh 41 didn't sound bad either, but since the CARV.2 has such a strong fire rate, counting with a sniper to cover long distances is a good combination. If anyone happens to sneak up on you or escape from your attacks, the tactical rifle will take them down in no time.
Of course, shots can be missed and plans can change in the fray of battle, so being able to switch to the CARV.2 quickly is key. For this, we highly recommend going for Amped as your third perk.
Moving onto equipment, we went for a rather traditional choice in the Tactical category with a Stun Grenade, which is always handy to have if you want to create a escape window or just distract your enemies before going full throttle.
As for Lethal, we've been very fond of the Proximity Mine; it's quick to deploy and will always cover your back, especially if you place it at the side of entrances or stairs. Oh, and it also serves as an alarm of sorts when triggered. You can thank us later!