Behold the first 13 seconds of footage from Call of Duty Black Ops 4's Battle Royale mode
Boats! Helicopters! Explosions!
Call of Duty: Black Ops 4's Battle Royale mode, Blackout, was introduced to the world back in May. Now, two month's later, Activision has offered the first proper footage (albeit a fleeting, 13 second sample) of Blackout in action.
A Battle Royale mode for this year's iteration of Call of Duty was repeatedly rumoured prior to Black Ops 4's full unveiling, so nobody was particularly surprised when Treyarch made it official during Activision's reveal event in May. Announced as Blackout, the mode was teased in only the broadest of strokes, alongside a lengthy but rather abstract cinematic trailer.
"For us to even consider this kind of [Battle Royale] experience," Treyarch said, "it had to be unique and done in a way that only Black Ops could do". The final product, it continued, would be a "crazy collision of fun", mixing favourite weapons and characters with land, water, and air vehicles, all on a map comprising of numerous iconic locations from previous games.
Now, two months later, Activision has offered the first proper look at Blackout mode, via a brisk 13 seconds of seemingly in-engine footage tucked away at the end of its latest Black Ops 4's multiplayer beta trailer. Skip to the 1:25 mark below if you're the impatient sort.
So yes, it's a very brief appearance for Blackout, but one that offers a surprising amount of flavour in those fleeting moments, including some fairly tense team-based play using the aforementioned land, air, and water vehicles - although the latter are barely on screen for more than a second, so you might need to deploy the pause button to spot them.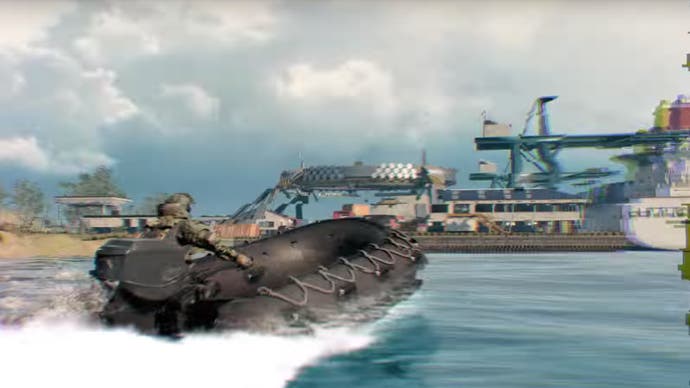 Activision previously announced that it would be holding two separate multiplayer beta events for Black Ops 4, the first being a PS4-exclusive and running from August 3rd to August 6th. The second event runs from August 10th to August 13th, and is available on Xbox One, PC, and PS4.
Black Ops 4's multiplayer beta introduces six maps which will be accessible across six modes, including Team Deathmatch, Domination, Hardpoint, Search & Destroy, and Control. It also features ten playable specialists (including Nomad and Prophet), alongside new weapons and equipment - some of which can be see in the above multiplayer trailer.
As for Blackout mode, Activision says that a separate beta will be held for it in September, with more details arriving closer to the time.