Finally, Call of Duty: Modern Warfare is crossing over with Black Ops Easter eggs - in Warzone
Armistice.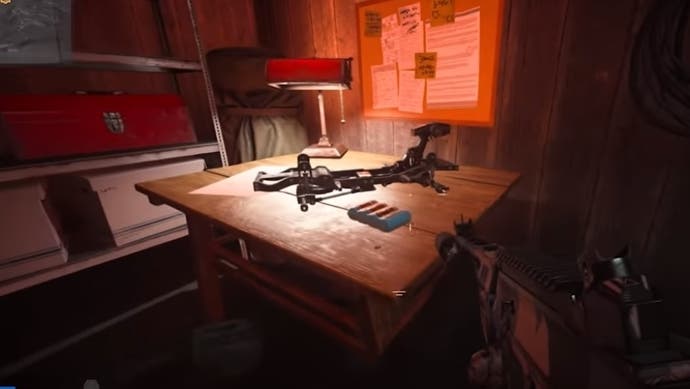 Call of Duty: Warzone players have found Black Ops Easter eggs, a significant ramping up of Activision's ongoing tease of the next mainline Call of Duty game, which Eurogamer this week reported is titled Call of Duty Black Ops Cold War.
Now Warzone's mysterious bunkers are open, Warzone players have discovered Black Ops' iconic RC-XD frame sitting on a table in a shack just to the west of the prison. Also inside the shack are a bunch of old computers - all very Black Ops / Cold War. A U-2 spy plane was discovered by dataminers - expect that to fly over the map seemingly at random. The spy plane was a killstreak in the original Black Ops.
These discoveries are part of Activision's plan to reveal Call of Duty 2020 in Warzone, but the move is significant for another reason: it marks the first meaningful crossover of the Modern Warfare and Black Ops brands.
Up to this point, the Modern Warfare and Black Ops series' were kept separate, each with its own lore, characters, Easter eggs and technology. The developers behind both series, Infinity Ward and Treyarch, are known for developing their titles independent of each other. They do not cross the streams, so to speak. You do not get the hugely popular Black Ops PvE mode Zombies, for example, in Infinity Ward's Modern Warfare games.
At least, that's how it has worked for years. But the immense success of Warzone, which is a standalone free-to-download game, has sparked a change of approach. It is now the base of Call of Duty's battle royale operations, and Activision plans to use Warzone to help launch its next big game.
So, Modern Warfare and Black Ops are now crossing the streams. As famous faces from Modern Warfare, such as Ghost and, based on a recent tease, Captain Price, are running around Warzone using Modern Warfare weapons and killstreaks in environments based on Modern Warfare maps, inside its bunkers are Black Ops' teasers, and inside a shack is Black Ops' famous RC-XD. Modern Warfare and Black Ops, then, have agreed a truce, and are now working together for the greater good - in this case, Warzone's ongoing success, and the success of the Call of Duty series as a whole.
So, when will all this Black Ops teasing within Warzone come to a head? Season four of Modern Warfare is set to launch right after the end of season three, which is set for 2nd June. Infinity Ward released a teaser, below, that pretty much confirms Captain Price as a new operator. Weapons have leaked. And, players suspect, the Warzone dam will burst, flooding the surrounding area. Meanwhile, there's talk of a nuclear strike, and the possibility of an entirely new map coming to the game.