Call of Duty Black Ops 4 Battle Royale mode called Blackout, has vehicles
No campaign, but ways to play solo.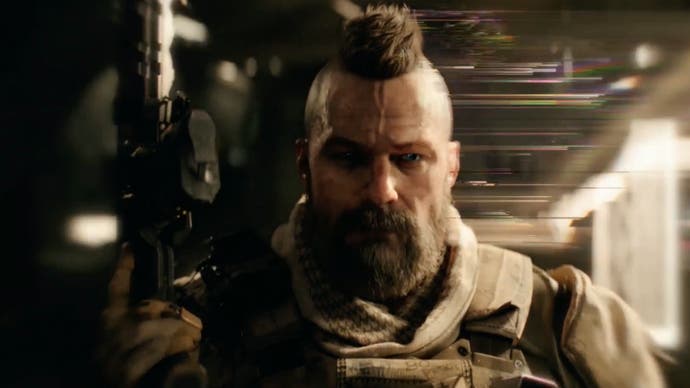 As expected, Call of Duty Black Ops 4 does indeed have a Battle Royale mode.
In a show today to reveal the game, developer Treyarch confirmed the Battle Royale mode is called Blackout. It includes famous characters from across the Black Ops series and its zombies mode, and air, sea and land vehicles.
Elsewhere, Treyarch confirmed Black Ops 4 does not have a traditional campaign. Instead, there are solo trials missions and you can play Zombies mode with bots.
Treyarch did not announce how many players will be dropped into Blackout's enormous map. Here's the official blurb:
"In addition to unveiling Multiplayer and Zombies in today's world premiere, the team also introduced Blackout - the new battle royale-style experience that combines Black Ops' signature fast, fluid, guns-up combat, with fierce new levels of survival competition across iconic Black Ops settings re-imagined at a colossal scale. Blackout is an experience unlike any other game or mode in Call of Duty history, where players will have to scavenge, strategise, compete and survive to win. Featuring the largest map ever built in Call of Duty - 1500 times bigger than Nuketown - Blackout thrusts players into a collision course as they play as classic characters spanning the history of the Black Ops series including the original Call of Duty Zombies Origins cast. Battling solo or in teams, players will engage in diverse combat complete with ground, air and sea vehicles across a gamespace unlike anything ever in Call of Duty. Players will encounter fan-favourite Black Ops map locations and call upon a massive arsenal of Black Ops weaponry and equipment as the winner-takes-all action creates a new way to play Call of Duty."
The PC version of the game, developed by Activision studio Beenox, is exclusive to Blizzard's Battle.net. Here's the official blurb on the PC version:
"For the PC, Treyarch is co-developing with Beenox, who together are working closely with Blizzard to optimise Black Ops 4 for Battle.net. Black Ops 4 represents the largest development team assembled for a PC title in the series. Black Ops 4 on PC will have uncapped framerate, 4K resolution and HDR, support for ultra-wide monitors and the ability for players to extensively customise the performance and visual quality for their specific hardware. In addition, players will be able to select from pre-set control options, including options for left-handed players, or fully customise the keyboard and mouse controls to their preference. In addition, Treyarch and Beenox worked closely with the team at Blizzard to incorporate Battle.net's social systems, security, and server stability into Black Ops 4 to prepare for the release on Battle.net on October 12th."
As for traditional multiplayer, Black Ops 4 is a boots on the ground experience, like Call of Duty WW2 was. So, there's no wallrun nor thrust jump. It's a "guns up" experience, though, which means you can keep firing your weapon while using other abilities. There's no automatic health regeneration, rather a dedicated heal button, which Treyarch said is as important to the combat loop as reloading.
Here's Activision on the multiplayer:
"Call of Duty: Black Ops 4 features gritty, grounded combat, along with new levels of customisation and tactical gameplay, and a variety of new weaponry, maps and modes for the ultimate Black Ops multiplayer experience. The game features the return of the iconic Pick 10 system, along with a series of innovations in weapon controls, combat flow, health regeneration, and player movement. Black Ops 4 goes deeper than ever before into the fiction of multiplayer, where players will explore the world of Specialists - who they are, why they exist, and what battles they fight together - while mastering their gameplay through solo and multiplayer combat experiences. Black Ops 4 features a combination of new and returning Specialists, each with their own unique weapons, equipment and playstyles. Players will be powerful alone, but devastating as a team working together."
And finally, Zombies has expanded, with three experiences available at launch. There are over 100 mutations, a brand new storyline, new characters and an effort to make the mode replayable on a daily basis. Here's the blurb:
"Celebrating the 10-year anniversary of the original Call of Duty Zombies, Black Ops 4 also debuts an entirely new and unprecedented Zombies experience that's the biggest Day One offering in franchise history - with three fully-featured Zombies experiences at launch - IX, Voyage of Despair and Blood of the Dead. With immersive new adventures, a brand new cast of characters and a nefarious new enemy, Black Ops 4 Zombies will feature the deep gameplay and Easter eggs that the rabid community of fans devours. It also includes the most customisable action to date, new systems for creating and completing community challenges, and social systems designed to connect players. Black Ops 4 also reintroduces difficulty levels and an in-game tutorial to onboard new players to the Zombies universe, while giving hardcore players the option of ratcheting up the challenge. Additionally, Zombie Rush is a brand new mode that streamlines the gameplay experience, introducing enticing new challenges to grizzled veterans, while creating a whole new tempo of gameplay for newcomers."