ArmA dev confirms: staff arrested, accused of spying by Greek authorities
UPDATE: Bohemia claims staff were on holiday, not on a research mission for ArmA 3.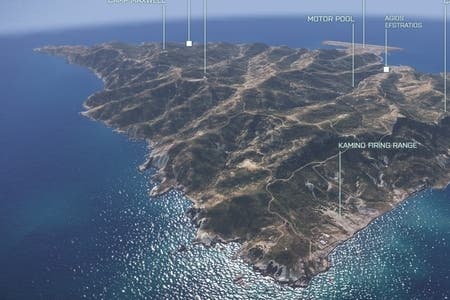 UPDATE 2: ArmA developer Bohemia Interactive has claimed two of its staff were on holiday on the Greek island of Lemnos before they were arrested - not on a research mission for ArmA 3.
Company CEO Marek Spanel this evening issued Eurogamer the following statement on the issue:
"We can confirm that two Bohemia Interactive employees, our colleagues and friends, were arrested during their holiday trip to Lemnos. They visited the island with the sole purpose of experiencing the island's beautiful surroundings.
"Since its establishment in 1999, Bohemia Interactive has created games based only upon publicly available information. We always respect the law and we've never instructed anybody to violate the laws of any country. The same is true for Arma 3.
"Currently, all our effort goes towards supporting the guys over there, as well as their friends and families affected by this difficult situation. We sincerely hope that this is an unfortunate misunderstanding of their passion as artists and creators of virtual worlds."
The Czech Embassy has confirmed that the pair were transferred to Lesbos Island where a prosecutor will determine whether they will be accused of espionage at a hearing set for Wednesday or Thursday.
UPDATE 1: It looks like an ArmA fan tried to warn Bohemia against taking snaps of the Greek military base at the centre of the arrest of two developers over a month ago.
Greek gamer Cyplon took to the Bohemia Interactive forum on 1st August 2012 to protest against the Limnos military air base being modelled because he felt it would be difficult to appreciate a game that "exposes our defences to the rest of the world" (thanks to Eurogamer reader dose for the link to the cached version of the forum thread).
"On the island of Limnos is a military air base," Cyplon wrote. "It is illegal to take photographs of this base, yet the ArmA development team are creating a 3D model of the base, most likely based on photos which they took illegally (as well as the satellite photos which aren't illegal).
"Had this been an American base, or any other country with a large population of whom may purchase ArmA 3, it is likely that such an act would not have been performed due to the risk of the country banning the game from being sold there. Hence, I find it disrespectful to do so. At the very least, the ArmA team should modify the base so that it is not an accurate representation of the existing base.
"All this time the ArmA series has been based on fictional locations, but now have chosen to create a game on a real location. Of all locations in the World, Limnos - one of the only islands in the Aegean with a military air base, is being replicated, regardless of the tensions between Greece and Turkey which are ongoing (you don't hear it on the news unless you are from Greece or Turkey). Great choice for a first location!
"This is equivalent to creating an ArmA game replicating the Gaza strip, which would very likely anger Israel. I'm sure some of you may argue that if it were this easy for the developers to obtain such details of the base then it would be of no difficulty for Turkey. True, I doubt that the base has anything top secret anyway. However, you aren't just providing a 3D model, but also a matured military simulator from which Turkey may practice infiltrations of the base. It is like the development team modelling the inside of your house. I'm sure you would feel threatened if this were to happen to you. Indeed, on the bright side the Greek military can practice defensive tactics, but that can be done in real life anyway."
Cyplon went on to protest at the use of American troops carrying US flags on the virtual recreation of the Greek island and not Greek troops as "disrespectful".
"It suggests that they would not be able to defend their own country, which if history has taught us anything, they are very well capable of doing regardless of economic troubles," he said.
ORIGINAL STORY: Two staff members from ArmA developer Bohemia Interactive have been arrested on charges of espionage by Greek authorities, the studio has confirmed.
The two Czech developers, aged 28 and 33, were detained as they photographed a military installation on the island of Lemnos.
A third installment of ArmA, the tactical military shooter series which spawned hit zombie spin-off DayZ, has already been confirmed as featuring the Greek island.
The pair were found to have videotaped and photographed military camps, Greek newspaper News237 reported.
Their explanation was that the material would be used to aid the development of Arma 3.
Bohemia Interactive boss Marek Spanel confirmed the news on the company's official forum.
"This is true," Spanel said. "We prefer this topic not to be discussed on our forums at the moment, at least until we know more specific details about the case."
The case sparks memories of the plight of 14 plane-spotters, who were arrested by Greek police in November 2001. The group had been photographing aircraft following a display by the Greek Air Force.
Charged with spying, they were threatened with the 20-year maximum prison sentence. The group were held for six weeks before their release on £9000 bail, although legal rumblings of prison sentences persisted until a final appeal a year later.
Eurogamer has contacted Bohemia Interactive for more information, we'll update if we hear back.