Apparently the Dying Light mod DMCA takedowns were a mistake, too
ESA issues retractions, apologises.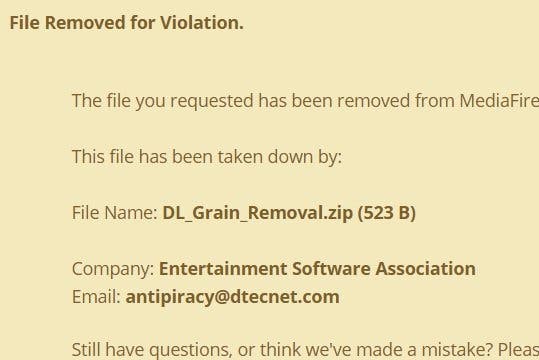 Yesterday we reported that Dying Light mods had been taken down by Digital Millennium Copyright Act (DMCA) notices. The US-based Entertainment Software Association (ESA), which was blamed for the move, has now said it was a mistake.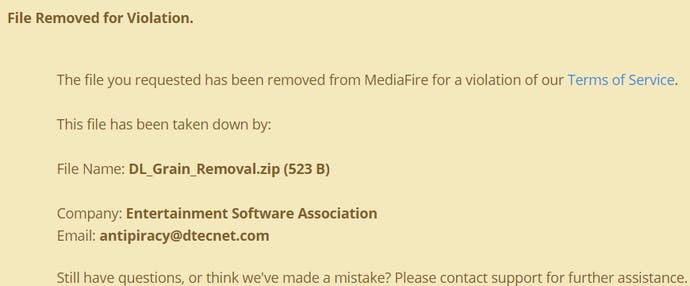 Dying Light owners had managed to disable the game's always-active film grain via a small 523-byte file, which was then shared via sites such as MediaFire and TinyUpload. But it was removed after an anti-piracy claim issued by the ESA using the DMCA.
It was unclear at the time whether the claim originated from developer Techland or publisher Warner Bros - or both. A representative for Techland told Eurogamer neither party was responsible and that it was investigating the issue.
Now, the ESA has held its hands up, saying the requests were issued by a third-party on its behalf.
"ESA was notified this morning that potentially erroneous DMCA notices had been transmitted by one of its vendors," the ESA told Ars Technica.
"Upon further review, it was determined that the notices should not have been sent and retractions were issued immediately. We regret any inconvenience and have taken steps to avoid similar situations in the future."
The news follows Dying Light developer Techland's apology for blocking the creation of mods with a patch issued over the weekend.
Techland had told Eurogamer that the game's latest PC patch was not intended to block mods, and that this change would soon be reverted.
"With the recent patch (1.2.1) on Steam we blocked cheating to make sure the game's PvP system (Be The Zombie) would not be abused. This, however, had the side-effect of hindering mod-makers from making changes to the game," Techland said in a statement.
"Creating obstacles for modders has never been our intention. We are now working on a quick patch that will re-enable common tweaks while stopping cheating in the game's multiplayer mode.
"At Techland, we have always supported the mod community, and loved seeing how our own game can be changed by the players. A big part of the original Dead Island's success was the passion and creativity of mod-makers from our community. We want the same for Dying Light."
Previous Techland title Dead Island supported an extensive array of mods - the studio's upcoming demon hack-and-slash game Hellraid was originally born out of a Dead Island gun mod.