New Dying Light patch accidentally blocks mods
UPDATE: Modding restored, but you'll need the new patch.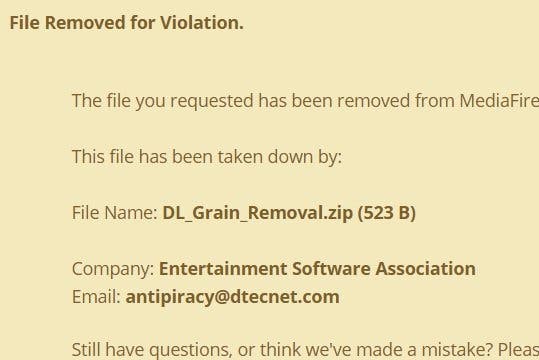 UPDATE 6/2/15 2.50pm: Dying Light developer Techland has restored the ability for fans to mod its new zombie shooter.
Patch 1.4.0 unlocks the game for modding, although you will need the new update to play modded games online.
Anyone with the original version of the game (which allowed for modding, before it was accidentally patched out) will need to upgrade to play modded versions of the game with others.
The patch also includes a number of performance and stability bugs, as well as an option to disable the game's film grain effect - something which fans had previously relied on mods for.
The full list of 1.4.0 patch notes can be found over on the game's Steam Community page.
UPDATE 6/2/15 2.50pm: Techland has launched a new push to reassure Dying Light fans of its stance towards modding.
The Polish studio today issued an open call for fans to share Dying Light mod ideas, ahead of the release of a free and "extensive" modding toolset.
"Modders were a massive part of our gaming community since Call of Juarez 2 and Dead Island," the studio wrote, "and we wish to continue that with Dying Light. This invitation is only the first stage of our cooperation with the gaming community. After the modding tools are released, we plan to actively support the coolest mods created by players.
"We want to give creative freedom to the players to help keep Dying Light fresh and interesting even many years after their release. We want to thank players for the support they have shown us and are looking forward to their ideas where Dying Light can go from here."
Techland has even opened up a new section of its official forum for the discussion of Dying Light modding.
The move follows an initial period of confusion over whether Dying Light would support mods at all. An early patch to the game appeared to disable modding capabilities - something Techland later said had been a mistake.
UPDATE 2/2/15 4.20pm: Dying Light developer Techland has told Eurogamer that the game's latest PC patch was not intended to block mods, and that this change would soon be reverted.
"With the recent patch (1.2.1) on Steam we blocked cheating to make sure the game's PvP system (Be The Zombie) would not be abused. This, however, had the side-effect of hindering mod-makers from making changes to the game," Techland said in a statement.
"Creating obstacles for modders has never been our intention. We are now working on a quick patch that will re-enable common tweaks while stopping cheating in the game's multiplayer mode.
"At Techland, we have always supported the mod community, and loved seeing how our own game can be changed by the players. A big part of the original Dead Island's success was the passion and creativity of mod-makers from our community. We want the same for Dying Light."
There's no word on whether the mods which were already blocked will now be allowed.
ORIGINAL STORY 2/2/15 9.25am: Techland's new PC patch for zombie survival shooter Dying Light has restricted the ability to mod the game.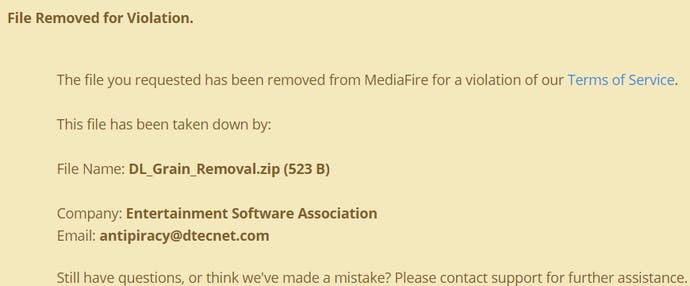 The patch notes for update 1.2.1 state that the fix was implemented to "block cheating by changing the game's data files".
But the mod files themselves have been targeted, too.
Fans had managed to disable the game's always-active film grain via a small 523-byte file, which was then shared via sites such as MediaFire and TinyUpload.
That file is now unavailable - it has been removed due to a anti-piracy claim by the Electronic Software Association (ESA) using the Digital Millennium Copyright Act (DMCA).
Reddit users discovered the DMCA ruling and quickly spread word of the find. But it is unclear whether the claim originates from developer Techland or publisher Warner Bros - or both.
Previous Techland title Dead Island supported an extensive array of mods - the studio's upcoming demon hack-and-slash game Hellraid was originally born out of a Dead Island gun mod.
We've contacted Techland for more information.