Dying Light gets DLC based on Techland's unreleased Hellraid in July
Flicker of life.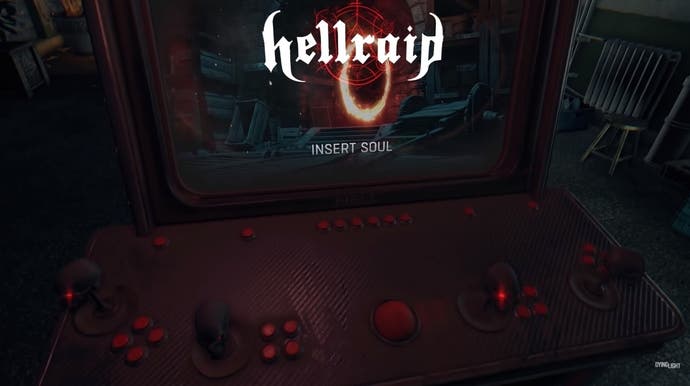 Dying Light gets DLC based on Techland's unreleased dark fantasy game Hellraid in July.
Hellraid is Techland's on-hold first-person fantasy game pitched as a mashup of The Elder Scrolls and Dying Light, and the spiritual successor to Hexen and Witchhaven.
With the future of Hellraid as a standalone game in doubt, Techland has incorporated it into first-person zombie game Dying Light as DLC. Both games are of course very different, so Techland created a fun in-game portal between their worlds - triggered by an arcade machine. Here's the official blurb:
"You might wonder how we tied the DLC's significantly different setting to Dying Light's post-apocalyptic reality. The answer to that question is a strange device found in the Tower's basement after an odd power outage. It looks like an arcade machine but in fact it's a portal between worlds. Use it and you'll emerge in a grim fortress overrun by Hell's minions."
Dying Light's Hellraid mode sounds pretty self-contained. It has new demonic enemies, new fantasy weapons, as well as its own progression system that unlocks new swords, hammers and axes.
"These are more than just pieces of equipment - they're trophies," Techland said. "Each run through the dungeon will reward you with coins that you can spend to proudly wield Hellraid weapons in Harran. Every time you revisit the fortress, you'll have a choice to increase the prize by picking up bounties. Whether you choose to test your skills alone or in co-op (up to four people), you'll face a considerable challenge."
Dying Light - Hellraid, as it's known, comes out on PC, PlayStation 4 and Xbox One on 23rd July priced £7.99. If you pre-order on Steam now you get beta access for this weekend - 26th-29th June.