153 Sea of Thieves players named their pets after the game's executive producer
It's pretty Neate.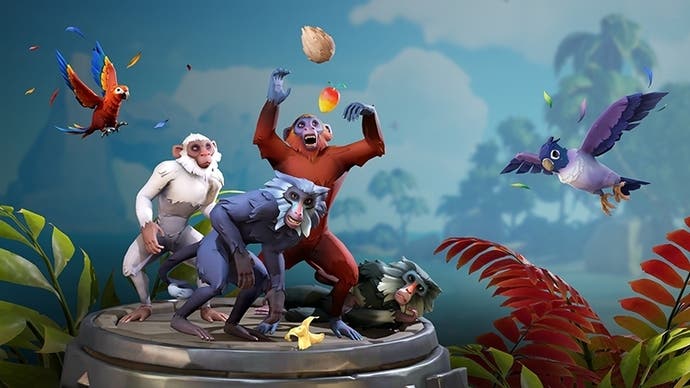 Ahead of next week's Sea of Thieves update to bring in some spooky new Halloween content, Rare has released some interesting stats on the newly featured pets - including how many players have picked out certain popular names for their feathered or furry new companions.
Unsurprisingly, the most popular monkey names include some clearly Disney-inspired ideas, with Jack and Rafiki taking the top two spots. Next up is Polly and Blue (presumably of Rio fame) for the parrots - but as can be seen from the infographic below, the more interesting names have been left off entirely.
In homage to the game's executive producer, 153 pets have earned the illustrious title of Joe Neate. There are plenty Antonios monkeying around on the high seas too (70 to be exact) - a name you might recall from this little stream mishap last month.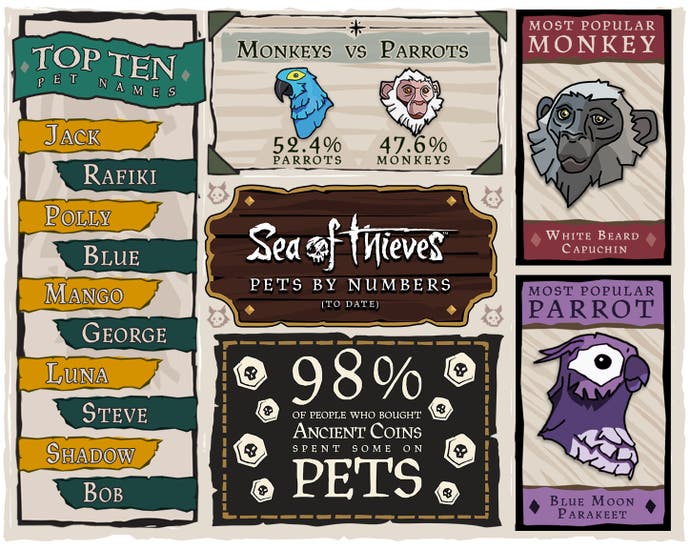 On top of the pet info, it's that time of year when all the games begin their Halloween celebrations - Bloodborne's started last week, Apex Legends' kicks off next week, and now we have a date for Sea of Thieves' Fort of the Damned update.
16th October is when the update will go live, though we don't know much about it right now. More info is expected at the beginning of next week. However, we do know Fort of the Damned is said to be a more "challenging" event, and will differ from last year's Festival of the Damned.
We also got a little more information on the potential of private servers coming to Sea of Thieves. Though it isn't being worked on right now, head of community, Joe Neate, said it is on a "mid-term roadmap". Back in July, Neate told Eurogamer it was something they were looking to provide in the future, so this is a nice bit of confirmation the developer has the feature somewhere in the pipeline.
As well as all this, the dev update goes into detail about a few of the quality of life changes coming into the game, such as a wider variety of feminine clothes and changes to how loudly your pets freak out when you're in combat.
Now is as good a time as any to get started in Sea of Thieves - after all, the army of Joe Neate monkeys and parrots isn't going to build itself.