Fresh Zelda: Breath of the Wild footage introduces a new area, offers glimpse at Zelda
And a new bird race!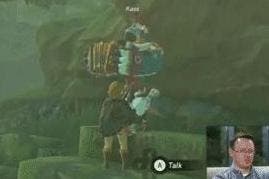 The Legend of Zelda: Breath of the Wild director Eiji Aounuma presented new footage of the upcoming open-world adventure at The Game Awards this morning.
Here's a quick tease of the game shown during the Awards pre-show, which gives us a glimpse at... is that Princess Zelda?
And here's the real meat of the showing - a quest into a fresh area of the game we've not seen before:
This new zone is called Zonai Ruins. Look closely and you'll see the game's Morrowind-like quest log.
We also see some more specifics of its combat system. Parry just before evading a hit and you can unleash a "flurry rush" of strikes. Furthermore, you can forego your shield, dedicating both hands to wielding a heavy weapon.
The Legend of Zelda: Breath of the Wild will be out in 2017 on Wii U and Nintendo Switch. Eurogamer reported last month that the game would not make the Switch console's March release date, however.