Two Point Hospital is adding a free co-operative challenge feature later this month
And it's available in beta now.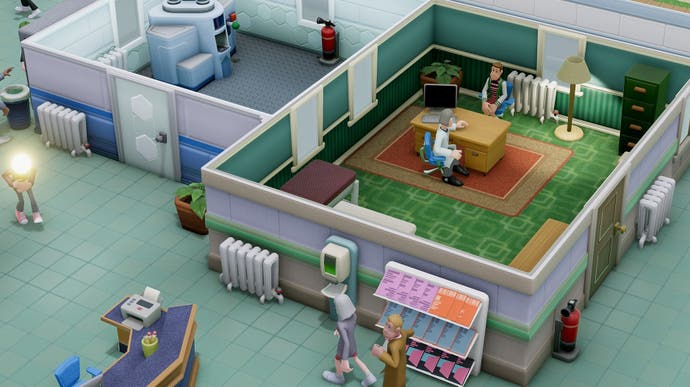 Developer Two Point Studios' enormously entertaining medical management sim Two Point Hospital is getting a new co-operative challenge feature, and it's coming to Steam on April 30th.
The Superbug Initiative, as the new addition will officially be known, sets players - either working together with invited friends or in large-scale, global community projects - a series of challenges to complete. Each sequence consists of a number of connected nodes, with each one offering a different challenge (such as capturing three ghosts) that must be tackled independently, within the confines of each participant's own hospital.
Once enough participants have completed the challenge, a new node unlocks and a fresh task begins. Success, says Two Point Studios, will reveal "cutting edge technology and rare items for your hospitals", with new sequences promised regularly. You can see a few snippets of the new feature in action, courtesy of the Superbug Initiative announcement video below.
Two Point Hospital's new co-operative challenge feature will be made available to all players from April 30th. However, Two Point Studios is also beta-testing the Superbug Initiative ahead of release. Those that would like to get involved immediately can join the beta now by locating the game in their Steam library, then right-clicking to reveal its options menu. Next, select "properties", "betas", then "twopointhospital_patch_beta" to begin.
Two Point Hospital, a spiritual successor to Bullfrog's classic Theme Hospital, has been well-supported since its launch last August. To date, it's received a number of free updates, adding the likes of a sandbox-y Freeplay mode and Steam Workshop functionality, plus two paid-DLC updates in the form of Pebberley Island and Bigfoot. The Superbug Initiative update will be free.