Two Point Hospital gets some movie magic in this month's Culture Shock expansion
Plus free new items for Sega's 60th birthday.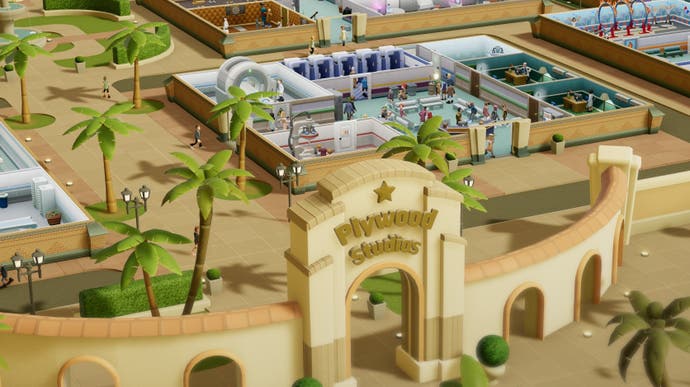 Developer Two Point Studios' comedic medical management sim Two Point Hospital is getting a bit of an entertainment-themed makeover as part of its newly announced Culture Shock DLC expansion, which comes to Steam on 20th October.
"Two Point County is having an artistic crisis," explains the developer of its fifth Two Point Hospital expansion. "Fortunately, you're on hand to answer the call of artist-in-residence Zara Fitzpocket, chief guardian of all things arty and the county's very own culture vulture, as she seeks to resuscitate the music scene, the silver screen, and all artwork in between".
To that end, Culture Shock introduces three new specially themed hospital maps for purchasers to work their medical magic on: Plywood Studios, where players will "look to launch a hit medical drama with washed-up film star Roderick Cushion", outdoor music event Mudbury festival, and, lastly, the extravagant, VIP-centric Fitzpocket Academy.
Additionally, Culture Shock brings three new animated cure machines, a total of 36 new illnesses (including 12 new visual illnesses), new gameplay elements, plus new music, DJ, and tannoy lines. The whole package will cost £6.99 when it comes to Steam on 20th October, and there's a 10% launch discount.
In other Two Point Hospital news, players can now download a free new DLC item pack, released to coincide with publisher Sega's 60th birthday celebrations. This includes the Sega Out Run machine, Sega Dream Catcher machine, Sega Periscope Arcade Game, and the Space-Harrier-inspired One-eyed Mammoth.