Get 66% off Two Point Hospital as things get spooky
"Apparently 666% wasn't a valid discount."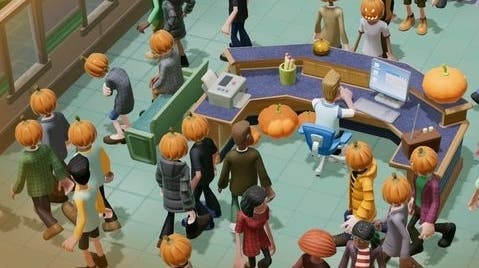 Spooooooky Mode is back at Two Point Hospital and to celebrate, Two Point Studios is offering its "biggest discount yet" with 66 per cent off the hospital sim game for the next 24-hours or so.
The new mode boasts nine "new spooky tracks", a pumpkin-headed variant of Lightheadedness, flying bats, "spooky and mysterious lighting changes across some levels" and, less spooky but nonetheless welcomed, UI updates to main menu and in-game HUD.
There's also a "frightening selection of replacement spooky decorations" up for grabs too, including a pumpkin-infested Carnivorous Plant to create a true botanical nightmare, the Newsagents' stand and The Arcade Machine have been web-adorned, and "orange is most definitely in this season for our beloved Gnome". Reception has also "been pimped, haunted house style", there's spooky bed-pans in the Nurse Station, and "pretty much every picture of a dog now has a rather unusual element to it..."
Commenting on the changes, the developer said it tried for a discount more fitting with the spooky season but "apparently 666% wasn't a valid discount".
In other Two Point Hospital news, though initially due in late 2019 the console versions of Two Point Hospital have been delayed to the first half of 2020.
"Making a management simulation game on three consoles (and making it the best it possibly can be on all three), is a tricky programming puzzle," developer Two Point Studios explained in a recent blog post. "We have to take the game apart and figure out how to fit it into what is essentially a smaller box. That takes a bit more time and engineering work.
"So, we're going to take a bit longer. We expect a new release date for Two Point Hospital Console to be in the first half of 2020 and we'll be sure to keep you right up to date with our progress. We know you'll be a bit disappointed by this news, but hopefully you understand why we're doing it: quality is the most important thing and we want you to have the very best experience."