Two Point Hospital on consoles delayed to 2020
Reschedule that appointment.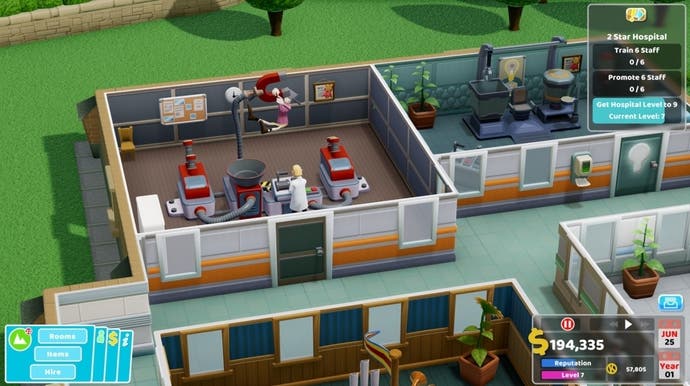 The console versions of Two Point Hospital have been delayed to the first half of 2020. They were due out late 2019.
Why the delay? "Put simply: making a management simulation game on three consoles (and making it the best it possibly can be on all three), is a tricky programming puzzle," explained developer Two Point Studios in a blog post.
"We have to take the game apart and figure out how to fit it into what is essentially a smaller box.
"That takes a bit more time and engineering work.
"So, we're going to take a bit longer. We expect a new release date for Two Point Hospital Console to be in the first half of 2020 and we'll be sure to keep you right up to date with our progress.
"We know you'll be a bit disappointed by this news, but hopefully you understand why we're doing it: quality is the most important thing and we want you to have the very best experience."
The hospital management sim, already out on PC, is also due out on PlayStation 4, Xbox One and Nintendo Switch. If you're unfamiliar, the game is the work of former Lionhead alumni Gary Carr, Mark Webley and Ben Hymers. Notably, Carr and Webley both previously worked at Bullfrog Productions, the legendary British developer responsible for the likes of Theme Park, Dungeon Keeper, Magic Carpet, and, of course, Theme Hospital.
Former Eurogamer video extraordinaire Johnny Chiodini was impressed enough to call Two Point Hospital "a pitch perfect retread that manages to improve on a classic", in his review of the PC version.