Two Point Hospital is going tropical in new DLC expansion Pebberley Island
Out this month on PC.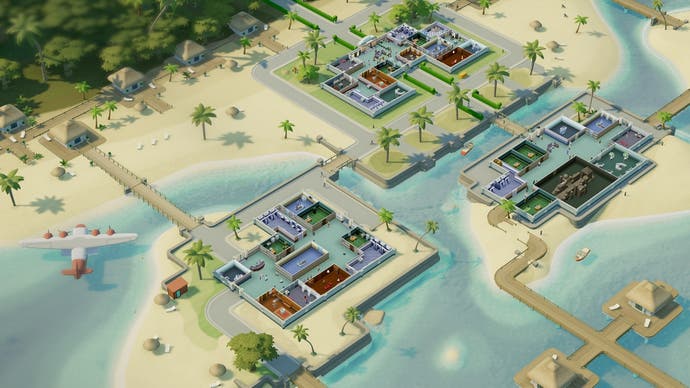 Wonderful hospital management sim Two Point Hospital is getting a new tropical-themed DLC expansion, Pebberley Island, on March 18th.
It's developer Two Point Studios' second DLC offering for the game, following on from the snowy, seasonally appropriate Bigfoot expansion, which released last December. "Blaze a sterilised trail through a tropical island for an eccentric millionaire in search of a fabled source of death-defying water," says the developer of DLC number two.
It brings three new scenarios - equating to three new hospitals - starting with the extreme weather of "idyllic atoll paradise" Pebberley Reef. Next up is the "dense, unexplored country" and sentient flora of Overgrowth, and finally, Topless Mountain - featuring a "horde mode" with waves of sick tourists "that'll keep you on your toes right to the last moment."
You can also expect three new treatments rooms, and 34 new illnesses - ten of which are "full new visual illnesses". These include Wanderust ("Prolonged feelings of sameness have led to dull, tedious pain and a craving for adventure") and Blank Look ("The sufferer's facial features have receded out of existence and must be coaxed back with subtle, hydraulic machinery").
Lastly, the DLC adds a new selection of decorative items for a bit of extra hospital pizazz, including bamboo benches, pink plastic birds, and ice sculptures.

Two Point Hospital's Pebberley Island expansion will cost £6.99 when it comes to Steam on March 18th, and there's a pre-order discount of 10%, bringing that down to £6.29.